The Spectrum of Malignant Breast lesions by Fine Needle Aspiration Cytology in a Teaching Hospital
Dr. Mallikarjun. A. Pattanashetti

MBBS, MD Pathology, Assistant Professor, Department of Pathology, Gadag Institute of Medical Sciences, Gadag, Karnataka, India

Dr. Manika Alexander

MBBS, MD Pathology, Associate Professor, Department of Pathology, Gadag Institute of Medical Sciences, Gadag, Karnataka, India
Keywords:
Breast cytology, Malignant breast lesions, FNAC
Abstract
Background: Fine needle aspiration cytology (FNAC) is one of the preliminary tests done to detect malignant breast lesions, which help in early detection and management. Studying the cytology features of various malignant breast diseases was the aim of this study.
Methods: This study is a cross-sectional retrospective study conducted in the Department of Pathology from 2015 to 2020. Clinical details and cytology features were collected from the Department records.
Results: A total of 75 cases were collected during the study period. All the cases were females. The spectrum of lesions was composed of Ductal carcinoma followed by one point each of Mucinous carcinoma, Malignant Phyllodes tumour and Lobular Carcinoma.
Conclusions: FNAC helps in rapid diagnosis and early management of malignant breast lesions.
Downloads
Download data is not yet available.
References
Globocan Observatory 2019 Globocan Observatory W (2019a) Cancer today - world. Int Agency Res Cancer876:2018–2019. [ Internet] https://gco.iarc.fr/today/data/factsheets/populations/900- world-fact-sheets.pdf.
Jessica Aline Tomelin de Cursi, Mariângela Esther Alencar Marques, Cristina Andrea Campos de Assis Cunha Castro,Fernando Carlos Schmitt and Cleverson Teixeira Soares.Fine-Needle Aspiration Cytology (FNAC) is a reliable diagnostic tool for small breast lesions (≤ 1.0 cm): a 20-year retrospective study Surgical and Experimental Pathology 2020 (2020) 3:29:1-8 https://doi.org/10.1186/s42047-020-00081-0.
Manfrin E, Falsirollo F, Remo A, Reghellin D, Mariotto R, Dalfior D, et al. Cancer size, histotype, and cellular grade may limit the success of fine-needle aspiration cytology for screen-detected breast carcinoma. Cancer. 2009 Dec 25;117(6):491-9. doi: 10.1002/cncy.20053.
Ali and Parwani, Ali ZS, Parwani AV. Breast cytopathology. Springer, Baltimore, p 189
Bueno Angela SP, Viero RM, Soares CT. Fine needle aspirate cell blocks are reliable for detection of hormone receptors and HER-2 by immunohistochemistry in breast carcinoma. Cytopathology. 2013 Feb;24(1):26-32. doi: 10.1111/j.1365-2303.2011.00934.x.
Guray M, Sahin A.A. Benign breast diseases: classification, diagnosis, and management. Oncologist. 2006 May;11(5):435-49. doi: 10.1634/theoncologist.11-5-435.
Ferlay, J. F. "GLOBOCAN 2000. Cancer incidence, mortality and prevalence worldwide, version 1.0." IARC cancerbase (2001).
Dixon JM, Mansel RE. ABC of breast diseases. Symptoms assessment and guidelines for referral. BMJ. 1994 Sep 17;309(6956):722-6. doi: 10.1136/bmj.309.6956.722.
Smith, Mindy A., and Leslie A. Shimp. 20 common problems in women's health care. McGraw-Hill, Health Professions Division, 2000.
Notani, Chenoy R. Epidemiology of Breast Carcinoma in Indian Scenario. Guidelines for Breast Pathology reporting. Tata Memorial Hospital, 1998;1-4.
Precancerous Breast Disease:Epidemiological,Pathological, and Clinical consideration. In Rosen's Breast pathology, Paul peter Rosen Editor. Chapter 10, 3rd edition, Lippincott Williams and Wilkins, 2009: 264-84.
Mehta, Prachi, Srikant Nema, and Sanjeev Narang. "Role of p53 and Ki-67 in prognostication of carcinoma breast." Indian Journal of Pathology and Oncology 6.2 (2019): 261-265.
Lakhani, Sunil R., et al. "WHO Classification of Tumours of the Breast." (2012).
Scholl AR, Flanagan MB. Educational Case: Invasive Ductal Carcinoma of the Breast. AcadPathol. 2020 Jan 21;7:2374289519897390. doi: 10.1177/2374289519897390.
Koss, Leopold G., and Myron R. Melamed, eds. Koss' diagnostic cytology and its histopathologic bases. Vol. 1. Lippincott Williams & Wilkins, 2006.
Saunders C, Baum M. The Breast. In: Russel R, Williams N, Bulstrode C, editors. Bailey and Love's Short Practice of Surgery. 23rd ed. Hachette (U.K.): Hodder Arnold; 2000
Rahman MZ, Islam S. Fine Needle Aspiration Cytology of Palpable Breast Lump: A Study of 1778 Cases. Surgery 2013 S12: 001. doi: 10.4172/2161-1076. S12-001.
Singh, A., A. Haritwal, and B. M. Murali. "Pattern of breast lumps and diagnostic accuracy of fine needle aspiration cytology; a hospital based study from Pondicherry, India." Internet J Pathol 11.2 (2011): 1-6.
Khemka, A., Chakrabarti, N., Shah, S., & Patel, V. Palpable breast lumps: fine-needle aspiration cytology versus histopathology: a correlation of diagnostic accuracy. Internet J Surg, 18.1 (2009).
Madan, M., Sharma, M., Mannan, R., Manjari, M., Kaur, J., & Garg, S. Cytomorphological study of spectrum of breast lesions and determination of efficacy of FNAC in the diagnosis of various breast lesions. J Evol Med Dent Sci, 4.55 (2015): 9581-7.
Rahman MZ, Sikder AM, Nabi SR. Diagnosis of breast lump by fine needle aspiration cytology and mammography. Mymensingh Med J. 2011 Oct;20(4):658-64.
Muddegowda PH, Lingegowda JB, Kurpad R, Konapur P, Shivarudrappa A, Subramaniam P. The value of systematic pattern analysis in FNAC of breast lesions: 225 cases with cytohistological correlation. J Cytol. 2011 Jan;28(1):13-9. doi: 10.4103/0970-9371.76942.
Khemka, A., Chakrabarti, N., Shah, S., & Patel, V. Palpable breast lumps: fine-needle aspiration cytology versus histopathology: a correlation of diagnostic accuracy. Internet J Surg, 18.1 (2009).
Sandhu DS, Sandhu S, Karwasra RK, Marwah S. Profile of breast cancer patients at a tertiary care hospital in north India. Indian J Cancer. 2010 Jan-Mar;47(1):16-22. doi: 10.4103/0019-509X.58853.
Modi, Palak, HarenOza, and JignasaBhalodia. "FNAC as preoperative diagnostic tool for neoplastic and non-neoplastic breast lesions: A teaching hospital experience." Indian J Med Res 4 (2014): 274-8.
Georgieva RD, Obdeijn IM, Jager A, Hooning MJ, Tilanus-Linthorst MM, van Deurzen CH. Breast fine-needle aspiration cytology performance in the high-risk screening population: a study of BRCA1/BRCA2 mutation carriers. Cancer Cytopathol. 2013 Oct;121(10):561-7. doi: 10.1002/cncy.21308.
Bajwa, Rakhshindah, and Tariq Zulfiqar. "Association of fine needle aspiration cytology with tumor size in palpable breast lesions." Biomedica 26 (2010): 124-9.
Sunita, H., T. Urmila, and D. C. Sharma. "Cytomorphological study breast lesions with sonomammo-graphic correlation." J Evol Med Dent Sci 4 (2015): 137-42.
Panwar H, Ingle P, Santosh T, Singh V, Bugalia A, Hussain N. FNAC of Breast Lesions with Special Reference to IAC Standardized Reporting and Comparative Study of Cytohistological Grading of Breast Carcinoma. J Cytol. 2020 Jan-Mar;37(1):34-39. doi: 10.4103/JOC.JOC_132_18.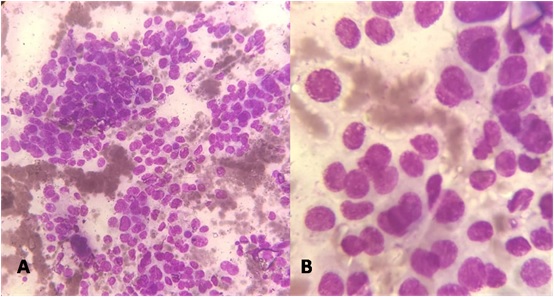 CITATION
DOI: 10.17511/jopm.2021.i04.05
How to Cite
Dr. Mallikarjun. A. Pattanashetti, & Dr. Manika Alexander. (2021). The Spectrum of Malignant Breast lesions by Fine Needle Aspiration Cytology in a Teaching Hospital. Tropical Journal of Pathology and Microbiology, 7(4), 181-187. https://doi.org/10.17511/jopm.2021.i04.05
Copyright (c) 2021 Author (s). Published by Siddharth Health Research and Social Welfare Society
This work is licensed under a Creative Commons Attribution 4.0 International License.