Cytomorphological study of Benign breast lesions in a Tertiary Care Hospital
Dr. Manika Alexander

MBBS, MD Pathology, Associate Professor, Department of Pathology, Gadag Institute of Medical Sciences, Gadag, Karnataka, India

Dr. Mallikarjun. A. Pattanashetti

MBBS, MD Pathology, Assistant Professor, Department of Pathology, Gadag Institute of Medical Sciences, Gadag, Karnataka, India
Keywords:
Breast cytology, Benign breast disease, FNAC
Abstract
Background: Benign breast disease is one of the most common breast lesions in the reproductive age group. Fine needle aspiration cytology (FNAC) is one of the preliminary tests done to detect breast lesions which help in early detection and management. Studying the cytology features of various benign breast diseases was the aim of this study.
Methods: This study is a cross-sectional retrospective study conducted in the Department of Pathology from 2015 to 2020. Clinical details and cytology features were collected from the Department records.
Results: A total of 430 cases were collected during the study period. Age groups ranged from 16-40 years. All the cases were females. The spectrum of lesions was composed of fibroadenoma, fibrocystic change, breast abscess, fibroadenosis, granulomatous mastitis, etc.
Conclusions: Breast lumps are a common cause of anxiety and apprehension among patients. FNAC helps in rapid diagnosis and early management of lesions. It also helps in preventing unnecessary invasive surgeries in non-neoplastic and benign breast diseases.
Downloads
Download data is not yet available.
References
Elmadhoun WM, Almobarak AO, Ibrahim AM, Bushara S, Noor SK, Husain NE, et al. Cytomorphology of palpable breast lesions: Diagnostic utility of FNAC in a developing country. Diagn Cytopathol. 2015 Oct;43(10):825-9. doi: 10.1002/dc.23320.
Garud HT, Sheet D, Mahadevappa M, Chatterjee J, Ray AK, Ghosh A. Breast fine needle aspiration cytology practices and commonly perceived diagnostic significance of cytological features: A pan- India survey. J Cytol. 2012 Jul;29(3):183-9. doi: 10.4103/0970-9371.101168.
Liew PL, Liu TJ, Hsieh MC, Lin HP, Lu CF, Yao MS, et al. Rapid staining and immediate interpretation of fine-needle aspiration cytology for palpable breast lesions: diagnostic accuracy, mammographic, ultrasonographic and histopathologic correlations. Acta Cytol. 2011;55(1):30-7. doi: 10.1159/000320869.
Smith MJ, Heffron CC, Rothwell JR, Loftus BM, Jeffers M, Geraghty JG. Fine needle aspiration cytology in symptomatic breast lesions: still an important diagnostic modality? Breast J. 2012 Mar-Apr;18(2):103-10. doi: 10.1111/j.1524-4741.2012.01223.x.
Goehring C, Morabia A. Epidemiology of benign breast disease, with special attention to histologic types. Epidemiol Rev. 1997;19(2):310-27. doi: 10.1093/oxfordjournals.epirev.a017960.
Friedenreich C, Bryant H, Alexander F, Hugh J, Danyluk J, Page D. Risk factors for benign proliferative breast disease. Int J Epidemiol. 2000 Aug;29(4):637-44. doi: 10.1093/ije/29.4.637.
Almobarak AO, Elhassan TM, Elhoweris MH, Awadalla HM, Elmadhoun WM, Ahmed MH. Cytomorphologic patterns of breast lesions in Sudanese patients: lessons learned from fine needle aspiration cytology. Asian Pac J Cancer Prev. 2014;15(8):3411-3. doi: 10.7314/apjcp.2014.15.8.3411.
Santen, R. J. "Benign Breast Disease in Women. [Updated 2017 Jan 11]." Endotext [Internet]. South Dartmouth (MA): MDText. com, Inc (2000).
Sangma MB, Panda K, Dasiah S. A clinico-pathological study on benign breast diseases. J Clin Diagn Res. 2013 Mar;7(3):503-6. doi: 10.7860/JCDR/2013/5355.2807.
Adesunkanmi AR, Agbakwuru EA. Benign breast disease at Wesley Guild Hospital, Ilesha, Nigeria. West Afr J Med. 2001 Apr-Jun;20(2):146-51.
Ihekwaba FN. Benign breast disease in Nigerian women: a study of 657 patients. J R Coll Surg Edinb. 1994 Oct;39(5):280-3.
Fiorica JV. Fibrocystic changes. Obstet Gynecol Clin North Am. 1994 Sep;21(3):445-52.
Greenberg R, Skornick Y, Kaplan O. Management of breast fibroadenomas. J Gen Intern Med. 1998 Sep;13(9):640-5. doi: 10.1046/j.1525-1497.1998.cr188.x.
Albasri AM. Profile of benign breast diseases in western Saudi Arabia. An 8-year histopathological review of 603 cases. Saudi Med J. 2014 Dec;35(12):1517-20.
Kaur N, Agarwal N, Panwar P, Mishra K. Clinicopathologic profile of benign breast conditions in Indian women: prospective study based on aberrations of normal development and involution classification. World J Surg. 2012 Sep;36(9):2252-8. doi: 10.1007/s00268-012-1671-4.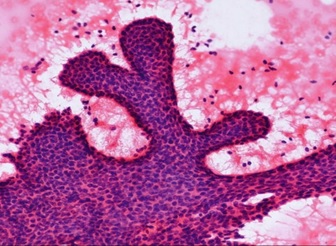 CITATION
DOI: 10.17511/jopm.2021.i04.04
How to Cite
Dr. Manika Alexander, & Dr. Mallikarjun. A. Pattanashetti. (2021). Cytomorphological study of Benign breast lesions in a Tertiary Care Hospital. Tropical Journal of Pathology and Microbiology, 7(4), 176-180. https://doi.org/10.17511/jopm.2021.i04.04
Copyright (c) 2021 Author (s). Published by Siddharth Health Research and Social Welfare Society
This work is licensed under a Creative Commons Attribution 4.0 International License.