The utility of Fine Needle Aspiration Cytology in the Diagnosis of Lymphadenopathy
Dr. Annu Elizabeth Prakash

Assistant Professor, Department of Pathology, Sree Narayana Institute of Medical Sciences, Ernakulam, Kerala, India

Dr. Navya Narayanano

Associate Professor, Department of Pathology, Sree Narayana Institute of Medical Sciences, Ernakulam, Kerala, India

Dr. Siyad Pokkakillath Mohamed

Consultant, Department of pathology, Westfort Hospital, Thrissur, Kerala, India

Dr. Rasmi Unnikrishnan

Assistant Professor, Department of Pathology, Sree Narayana Institute of Medical Sciences, Ernakulam, Kerala, India
Keywords:
Fine needle aspiration cytology, Granulomatous lymphadenitis, Lymphadenopathy, Lymph node metastasis
Abstract
Introduction: The causes of lymphadenopathy may be varied ranging from reactive to neoplastic. Fine Needle Aspiration Cytology(FNAC) is a simple and inexpensive diagnostic tool to sample cells from superficial and accessible sites.
Aims: This study was undertaken to assess the utility of FNAC in evaluating lymphadenopathy and to study the cytomorphological spectrum of lymph node lesions in our region.
Settings and Design: A cross-sectional study of two years duration, on patients with lymphadenopathy who came to the Pathology Department for FNAC.
Methods and materials: Cytology findings of Lymph node lesions were classified into four categories and were compared with histopathology diagnosis as the gold standard.
Statistical Analysis: Data was tabulated according to various parameters. Sensitivity, Specificity, PPV, NPV, and Diagnostic accuracy for detecting malignancy were calculated.
Results: The age range of patients included in the present study ranged from 9 to – 78 years. The mean age is 48.92 years and the median is 52 years. The cytological diagnosis was classified as reactive in 20 cases (32.7%), inflammatory in 16 cases (26.2%), lymphoma in 3 cases (4.9%), and 22 cases (36.1%) were metastasis from other sites. Following histopathology, the cases were diagnosed to be 19 reactive lymphadenopathies, 14 inflammatory lesions, 5 lymphomas, and 23 metastasis. The most common site of lymphadenopathy was the cervical region.
Conclusions: FNAC has high sensitivity and specificity in differentiating benign lesions from malignant ones. The age, clinical findings, and supporting investigations should be taken into account while diagnosing a lesion as benign or malignant.
Downloads
Download data is not yet available.
References
Meenakshisundaram K, Rajeswari K, Rajalakshmi V. Diagnostic accuracy of Fine needle aspiration cytology in lymphadenopathy – our experience in a tertiary care hospital. Indian J Pathol Oncol. 2016;15(3):82-85. doi: 10.5958/2394-6792.2016.00017.X.
Upadhyay GP, Thakker RM. Evaluation of fine needle aspiration cytology as the initial diagnostic test in cases of cervical lymphadenopathy. Int J Res Med Sci. 2016;4(12):5103-5107. doi: 10.18203/2320-6012.ijrms20164066.
Qadri SK, Hamdani NH, Shah P, Baba KM. Metastatic lymphadenopathy in Kashmir valley: a clinicopathological study. Asian Pac J Cancer Prev. 2014;15(1):419-422. doi: 10.7314/APJCP.2014.15.1.419.
Vimal S, Dharwadkar A, Chandanwale SS, Vishwanathan V, Kumar H. Cytomorphological study of lymph node lesions : A study of 187 cases. Med J Dr. D. Y. Patil Vidhyapeeth. 2016;9(1):43-50. doi: 10.4103/0975-2870.172428.
Malhotra AS, Lahori M, Nigam A, Khajuria A. Profile of lymphadenopathy: An institutional based cytomorphological study. Int J App Basic Med Res. 2017;7(2):100-103. doi: 10.4103/2229-516X.205812.
Nidhi P, Sapna T, Shalini M, Gupta K. FNAC in Tuberculous Lymphadenitis: Experience from a Tertiary Level Referral Centre. Indian J Tuberc. 2011;58(3):102-107.
Chakravarty-Vartak US, Vartak SS, Nichat PB. Metastatic Lymphadenopathy by Fine-needle Aspiration Cytology. Int J Sci Stud. 2016;4(3):192-196. doi: 10.17354/ijss/2016/350.
Ageep AK. Assessment of Adult Peripheral Lymphadenopathy in Red Sea State, Sudan. Int J Trop Dis Heal. 2014;2(1):24-32. doi: 10.9734/IJTDH/2012/1008.
Hemalatha A, Shruti PS, Kumar MU, Bhaskaran A. Cytomorphological Patterns of Tubercular Lymphadenitis Revisited. Ann Med Health Sci Res. 2014;4(3):393-396. doi: 10.4103/2141-9248.133466.
Bhosale AA, Munavarah SA, Jeybalan N. Fine needle aspiration cytomorphological spectrum (FNAC) of peripheral lymph node lesions at a tertiary care Teaching medical college & hospital. Indian J App Res. 2019;9(3):35-36.
Stewart CJ, Duncan JA, Farquharson M, Richmond J. Fine needle aspiration cytology diagnosis of malignant lymphoma and reactive lymphoid hyperplasia. J Clin Pathol. 1998;51(3):197-203. doi: 10.1136/jcp.51.3.197.
Koo V, Lioe TF, Spence RA. Fine needle aspiration cytology (FNAC) in the diagnosis of granulomatous lymphadenitis. Ulster Med J. 2006;75(1):59-64.
Wilkinson AR, Mahore SD, Maimoon SA. FNAC in the diagnosis of lymph node malignancies: A simple and sensitive tool. Indian J Med Paediatr Oncol. 2012;33(1):21-24. doi: 10.4103/0971-5851.96964.
Konar K, Ghosh S, Ghosh T, Bhattacharya S, Sanyal S. Pitfalls in the cytodiagnosis of metastatic squamous cell carcinoma in the head and neck: A retrospective study. J Cytol. 2008;25(4):119-122. doi: 10.4103/0970-9371.50795.
Avninder S, Rakheja D, Bhatnagar A. Clear cell odontogenic carcinoma: a diagnostic and therapeutic dilemma. World J Surg Onc. 2006;4:91. doi: 10.1186/1477-7819-4-91.
Ghartimagar D, Ghosh A, Ranabhat S, Shrestha MK, Narasimhan R, Talwar OP. Utility of fine needle aspiration cytology in metastatic lymph nodes. J Pathol Nepal. 2011;1(2):92-95. doi: 10.3126/jpn.v1i2.5399.
Chakrabarti P R, Varma A, Kiyawat P, Gupta K, Cytological Diagnosis Of Metastatic Melanoma: A Case Report. Indian J Pathol Oncol. 2015;2(2):84-86. doi: 10.18231.
Kamaal M, Maheshwari U, Dhar R. Diagnostic Value of Fine Needle Aspiration Cytology in Enlarged Cervical Lymph Nodes in a Tertiary Care Hospital in Navi Mumbai, Maharashtra, India. J Med Sci. 2017;4(4):160-163. doi: 10.5005/jp-journals-10036-1163.
Hirachand S, Lakhey M, Akhter J, Thapa B. Evaluation of fine needle aspiration cytology of lymph nodes in Kathmandu Medical College, Teaching hospital. Kathmandu Univ Med J (KUMJ). 2009;7(26):139-142. doi: 10.3126/kumj.v7i2.2707.
Hafez NH, Tahoun NS. Reliability of fine needle aspiration cytology (FNAC) as a diagnostic tool in cases of cervical lymphadenopathy. J Egypt Natl Canc Inst. 2011;23(3):105-114. doi: 10.1016/j.jnci.2011.09.009.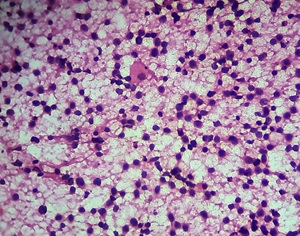 CITATION
DOI: 10.17511/jopm.2020.i08.03
How to Cite
Dr. Annu Elizabeth Prakash, Dr. Navya Narayanano, Dr. Siyad Pokkakillath Mohamed, & Dr. Rasmi Unnikrishnan. (2020). The utility of Fine Needle Aspiration Cytology in the Diagnosis of Lymphadenopathy. Tropical Journal of Pathology and Microbiology, 6(8), 472-480. https://doi.org/10.17511/jopm.2020.i08.03
Copyright (c) 2021 Author (s). Published by Siddharth Health Research and Social Welfare Society
This work is licensed under a Creative Commons Attribution 4.0 International License.