A study to identify various bacteria in conjunctiva among the diabetic and non-diabetic individuals
Dr S Srinivasa Sarma

Assistant Professor, Department of Microbiology, Rangaraya Medical College, Kakinada, Andhra Pradesh, India

Dr. T Jaya Chandra

2. Associate Professor, Department of Microbiology, GSL Medical College, Rajahmundry, Andhra Pradesh, India
Keywords:
Conjunctiva, Cataract, Diabetes, Prevalence, Among
Abstract
Introduction: Diabetes mellitus is a multi-factorial disease that can affect all ocular structures. With this a study was conducted to isolate and identify the organisms from the conjunctival flora of normal and diabetic population.
Materials and methods: Study was conducted in department of Microbiology, GSL Medical College, Rajahmundry. Surgically removed cataract lens were collected from diabetic and nondiabetic individuals in sterile nutrient broth and transported immediately to Microbiology laboratory for culture and sensitivity testing, processed and identified as per the standard protocol. Isolates were subjected to antibiotic sensitivity analysis using Kirby Bauer disc diffusion method.
Results: During the study period, 30 samples each were collected from diabetic and non-diabetic individuals who underwent cataract. Culture positive results were more (76.6%) in diabetic patients; Isolate wise, gram positive cocci were 53.3%, 57%, gram positive bacilli (GPB) were 26.6% each and gram-negative bacilli (GNB) were 3.3%, 19.8% respectively in non-diabetic and diabetic patients. statistically the difference was not significant. And the isolates were increased with age.
Conclusion: The prevalence of isolation was almost similar among the non-diabetics and diabetic population. In both groups, rate of isolation was increased with age and no significant drug resistance was observed.
Downloads
Download data is not yet available.
References
Jawetz E, Melnnick LJ, Adelberg AE. Medical Microbiology 21st ed. Prentice Hall International, USA; 1989;18:275-278.
Manav G, Bilgin L, Gezer A. Conjunctival flora in normal population. Turk J Ophthalmol. 1992;12:121-124.
Satish K, Jaya Chandra T. Bacterial flora in the conjunctiva among the patients undergoing cataract surgery. Int J Res Med Sci. 2019;7(4):1208-1211. doi: http://dx.doi.org/10.18203/2320-6012.ijrms20191326.
Suresha K, Mandavaa K, Kindob JA. Conjunctival flora in diabetics & normal population – A comparative study. Sri Ramachandra J Med. 2014;7(2):1-4.
Cohen SM, Flynn HW JR, Murray TG, Smiddy WE. Endophthalmitis after pars plana vitrectomy, the postvitrectomy endophthalmitis study group. Ophthalmol. 1995;102(5):705-712. doi: https://doi.org/10.1016/S0161-6420(95)30965-7.
Speaker M, Milch FA, Shah MK, Eisner W, Kreiswirth BN. Role of external bacterial flora in the pathogenesis of acute postoperative endophthalmitis. Ophthalmol. 1991;98(5):639-649. doi: https://doi.org/10.1016/S0161-6420(91)32239-5.
Phillips II WB, Tasman WS. Postoperative endophthalmitis in association with diabetes mellitus. Ophthalmol. 1994;101(3):508-518. doi: https://doi.org/10.1016/S0161-6420(13)31268-8.
Desai P, Minassian DC, Reidy A. National cataract survey 1997-1998: a report of results of the clinical outcomes. Br J Ophthalmol. 1999;83(12):1336-1340. doi: http://dx.doi.org/10.1136/bjo.83.12.1336.
Doft BH, Wisniewski SR, Kelsey SF, Fitzgerald SG, Endophthalmitis Vitrectomy Study Group. Diabetes and postoperative endophthalmitis in the endophthalmitis vitrectomy study. Arch Ophthalmol. 2001;119(5):650-656. doi:10.1001/archopht.119.5.650.
Mainous III AG, Baker R, Koopman RJ, Saxena S, Diaz VA, Everett CJ et al. Impact of the population at risk of diabetes on projections of diabetes burden in the United States: an epidemic on the way. Diabetologia. 2007;50:934-940. doi 10.1007/s00125-006-0528-5.
Frese T, Sandholzer H, Voigt S, Voigt R. Epidemiology of practitioners diabetes mellitus in German general consultation results of the SESAM 2-study. Exp Clin Endocrinol Diabetes. 2008;116(6):326-328. doi: 10.1055/s-2008-1046805.
Magliano DJ, Shaw JE, Shortreed SM, Nusselder WJ, Liew D, Barr EL et al. Lifetime risk and projected population prevalence of diabetes. Diabetol. 2008;51(12):2179-2186. doi: 10.1007/s00125-008-1150-5. Epub 2008 Sep 23.
Bailey & Scott's Diagnostic Microbiology, Karan Fabiano Editor. Laboratory cultivation and isolation of bacteria, methods for bacterial identification. 12th edition. Andrew Allen Publisher; 2012.
Chandra TJ, Lakshmi Prasanna, AV Rao. A study on isolation and identification of nosocomial infections causing bacteria on mobile phones of health care workers. Calicut Med J. 2011;9(1):e2.
ME Fernandez-Rubio, L Rebolledo-Lara, M Martinez-Garci´a, M Alarco´ n-Toma s Corte´ s-Valde´ s. The conjunctival bacterial pattern of diabetics undergoing cataract Surgery. Eye. 2010;24:825-834.
Cowie CC, Rust KF, Byrd-Holt DD, Eberhardt MS, Flegal KM, Engelgau MM et al. Prevalence of diabetes and impaired fasting glucose in adults in the US population: National Health and Nutrition Examination Survey 1999–2002. Diab Care. 2006;29(6):1263-1268.
Adam M, Balcı M, Bayhan HA, İnkaya CA, Uyar M, Gürda C. Conjunctival Flora in Diabetic and Nondiabetic Individuals. Turkish J Ophthalmol. 2015;45(5):193-196. doi: 10.4274/tjo.33230.
Natalia PM, Renaldo DM, Luciene BS. Aerobic bacterial microbiota of the conjunctiva in diabetic patients with normal and altered glycolated hemoglobin levels in two regions in Brazil. Arq Bras Talmol 2014;77(6):351-354. doi: 10.5935/0004-2749.20140088.
Shanmugam P, M J, Susan S L. The bacteriology of diabetic foot ulcers, with a special reference to multidrug resistant strains. J Clin Diagn Res. 2013;7(3):441-445. doi: 10.7860/JCDR/2013/5091.2794. Epub 2013 Mar 1.
Gupta A, Orlans HO, Hornby SJ, Bowler IC. Microbiology and visual outcomes of culture-positive bacterial endophthalmitis in Oxford, UK. Graefes Arch Clin Exp Ophthalmol. 2014; 252(11):1825-1830. doi: 10.1007/s00417-014-2658-7. Epub 2014 Jun 11.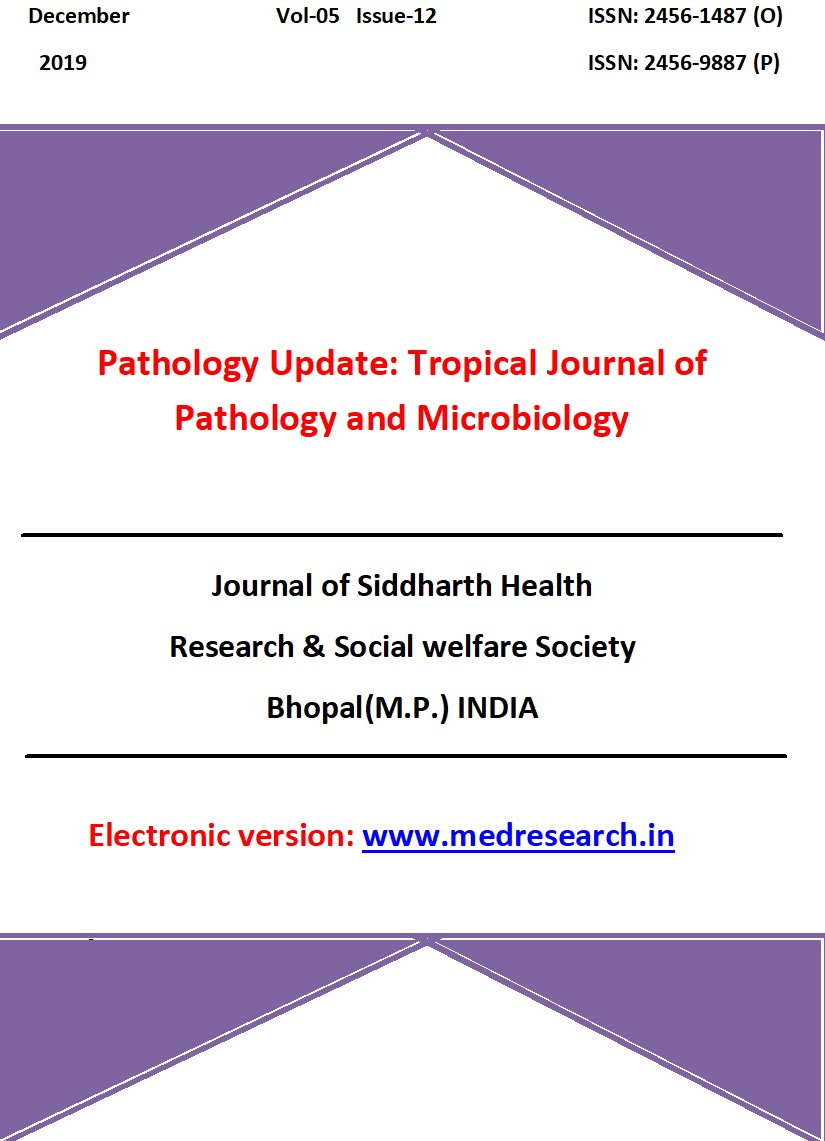 CITATION
DOI: 10.17511/jopm.2019.i12.09
How to Cite
Sarma, S. S., & Dr. T Jaya Chandra. (2019). A study to identify various bacteria in conjunctiva among the diabetic and non-diabetic individuals. Tropical Journal of Pathology and Microbiology, 5(12), 1021-1025. https://doi.org/10.17511/jopm.2019.i12.09