Crescents in renal biopsies and crescentic glomerulonephritis - A 5 year study from South India
Dr. Gayatri Ravikumar

Department of Pathology, St. John Medical College, Sarjapur Road, Koranmangala, Bangalore, India

Dr. Pritilata Rout

Department of Pathology, St. John Medical College, Sarjapur Road, Koranmangala, Bangalore, India
Keywords:
Crescents, Crescentic glomerulonephritis, immune complex mediated, pauci-immune ANCA negative vasculitis
Abstract
Background: Crescents indicate active disease with rapidly deteriorating renal function. Many primary renal diseases can be associated with crescents, however only a few conditions presents as crescentic glomerulonephritis(CrGN) . The incidence varies in different population.
Aims and objective: The aim of the study was to know the incidence of CrGN and that of crescents in various glomerulopathies along with their clinicopathological associations.
Material and methods: Renal core biopsies over 5 year period were collected retrospectively from pathology archives and reviewed for crescents and CrGN. Clinical , serological, Immunoflourescence and follow up details were collected.
Results: A total of 1629 renal biopsies were received. Crescents were identified in 9.69% and 2.08% were CrGN. Males and females were equally distributed. Paediatric population constituted 24%. The most common presentation was nephritic syndrome. Cellular crescents were seen in 81 cases, fibro cellular/ fibrous in 55 cases and both in 22 cases. In immune complex(IC) mediated group, lupus nephritis (LN) showed crescents in 31.7%, followed by PIGN (29.67%) and IgAN (25.2%). Vasculitis group had 79% crescents. All cases of anti GBM disease and pauci immune ANCA negative renal limited vasculitis(PI-RLV) had crescents. The most common CrGNs were anti GBM disease (100%), followed by vasculitis (37%) and PI-RLV (33%) and least in IC group (5% in PIGN and IgAN and 3.5% in LN). Complete remission was seen in 32.2%.
Conclusion: Crescents in renal biopsies are not rare. Although CrGN is more common in vasculitis and anti-GBM disease, the incidence of IC-GN is more in our population and a significant number may show crescents.
Downloads
Download data is not yet available.
References
1. Jennette JC. Crescentic glomerulonephritis.In: Jennette JC,Olson JL,Schwartz MM,Silva FG,eds.Heptinstall's Pathology of the Kidney,5th edn, Chapter 14.Lippincott-Raven,Philadelphia,1998;625-56.

2. Jennette JC, Thomas DB. Crescentic glomerulonephritis. Nephrol Dial Transplant.2001; 16(suppl 6):80-82 DOI: http://dx.doi.org/10.1093/ndt/16.suppl_6.80.

3. Mathieson PW. The ins and outs of glomerular crescent formation. Clin Exp Immunol. 1997 Nov;110(2):155-7. [PubMed]

4. Jennette JC , Nickeleit V. Anti Glomerular Basement Membrane Glomeruloephritis and Goodpasture's syndrome.In:Jennette JC,Olsen JL,Schwartz MM, Silva FG,editors.Heptinstall's Pathology of the kidney.6th ed. Philadelphia: Lippincott Williams & Wilkins; 2007.p.613- 641.

5. Osler S. Extracapillary glomerulonephritis: A semiquantitative light microscopical study of 59 patients. Acta Pathol Microbiol Scand[A] 1974;Suppl 249:7.

6. Gupta R, Singh L, Sharma A, Bagga A, Agarwal SK, Dinda AK. Crescentic glomerulonephritis: A clinical and histomorphological analysis of 46 cases. Ind J Pathol Micro .2011; 54(3): 497-500 DOI: http://dx.doi.org/10.4103/0377-4929.85081.

7. Tang Z, Wu Y, Wang Q, Zeng C, Yao X, Hu W, Chen H, Liu Z, Li L. Clinical spectrum of diffuse crescentic glomerulonephritis in Chinese patients. Chin Med J (Engl). 2003 Nov;116(11):1737-40.

8. Jennette JC, Falk RJ. Antineutrophil Cytoplasmic autoantibodies and associated diseases: A review. Am J Kid Dis 1990;15(6):517-25.DOI: http://dx.doi.org/10.1016/S0272-6386(12)80521-X.

9. Andrassy K, Kuster S, Waldherr R, Ritz E. Rapidly progressive glomerulonephritis, analysis of prevalence and clinical course. Nephron 1991; 59(2):206-12. DOI: http://dx.doi.org/10.1159/000186552.

10. Zent R, Van Zyl Smit R, Duffield M, Cassidy MJ. Crescentic Glomerulonephritis at Goote Shuur Hospital, South Africa, not a benign disease. Clin Nephrol 1994; 42(1):22-9. [PubMed]

11. Pettersson EE, Sundelin B, Heigl Z. Incidence and outcome of pauci-immune necrotizing and crescentic glomerulonephritis in adults. Clin Nephrol. 1995 Mar;43(3):141-9. [PubMed]

12. Choudhury TA, Singh RG; Usha, Singh S, Singh TB, Rathore SS; Prabhakar. Clinicopathologic spectrum of crescentic glomerulonephritis: a hospital-based study. Saudi J Kidney Dis Transpl. 2014 May;25(3):689-96.

13. Jardim HM, Leake J, Risdon RA, Barratt TM, Dillon MJ. Crescentic glomerulonephritis in children. Pediatr Nephrol. 1992 May;6(3):231-5. [PubMed]

14. Srivastava RN, Moudgil A, Bagga A, Vasudev AS, Bhuyan UN, Sunderam KR. Crescentic glomerulonephritis in children: a review of 43 cases. Am J Nephrol. 1992; 12(3):155-61.DOI: http://dx.doi.org/10.1159/000168438.

15. Dewan D, Gulati S, Sharma RK, Prasad N, Jain M, Gupta A, et al. Clinical spectrum and outcome of crescentic glomerulonephritis in children in developing countries. Pediatr Nephrol. 2008;23(3):389-94. DOI: http://dx.doi.org/10.1007/s00467-007-0647-3.

16. Sinha A,Puri K, Hari P, Dinda A K,Bagga A. Etiology and outcome of crescentic glomerulonephritis. Indian Pediatrics.2013; 50(3):283-288 DOI: http://dx.doi.org/10.1007/s13312-013-0095-z.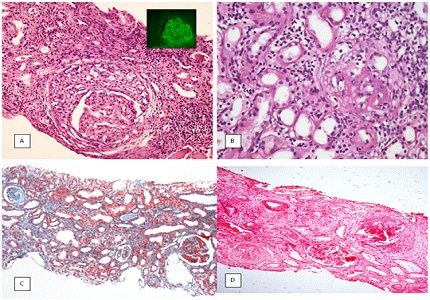 CITATION
DOI: 10.17511/jopm.2017.i02.18
How to Cite
Dr. Gayatri Ravikumar, & Dr. Pritilata Rout. (1). Crescents in renal biopsies and crescentic glomerulonephritis - A 5 year study from South India. Tropical Journal of Pathology and Microbiology, 3(2), 174-180. https://doi.org/10.17511/jopm.2017.i02.18