Clinico-Pathological Spectrum of Laryngeal Lesions Over Seven years ina Tertiary Hospital
Sohaila Fatima

Assistant Professor, Department of Pathology, King Khalid University, Abha, , KSA

Rabab Nasir Mohamed Badr

Department of Laboratory Medicine, Aseer Central Hospital, Abha, KSA Aseer Central Hospital, Abha, KSA

Bouvier Francis Valere D'sa

Department of Laboratory Medicine, Aseer Central Hospital, Abha, KSA Aseer Central Hospital, Abha, KSA

Wajih Ahmed Siddiqui

Department of Hemato-Oncology, Aseer Central Hospital, Abha, KSA Aseer Central Hospital, Abha, KSA

Nihal Ibrahim Mirza

Department of Laboratory Medicine, Aseer Central Hospital, Abha, , KSA Aseer Central Hospital, Abha, KSA
Keywords:
clinico-pathology, laryngeal lesions, tertiary hospital
Abstract
A 38yr old male was incidentally detected to have chronic liver disease with portal hypertension. Hegives a family history of liver disease. On complete workup, the arsenic levels in his family memberswere found to be high. His liver biopsy showed features of Hepatoportal sclerosis. Two years later,his liver imaging showed a suspicious nodule in the Right lobe, following which he underwent a livedonor liver transplant. Histopathology of the explanted liver revealed, areas of cavernoushemangioma, epithelioid hemangioendothelioma with a focus of diffusely infiltrating Angiosarcoma,in a background of Hepatoportal sclerosis.
Downloads
Download data is not yet available.
References
1. Dhingra PS, Dhingra S. Diseases of ear, nose and throat & head and neck surgery. seventh edition. Elsevier, 2018. ISBN: 978-81-312-4884-3 e-Book ISBN: 978-81-312-4939-0
2. Rosai and Ackerman's Surgical Pathology. 11th ed. vol 2. Mosby St. Louis, Missouri; 2017.
3. Wareing MJ, Millard R, Yalamanchili S. Chapter 30. Benign Laryngeal Lesions. In: Lalwani AK. eds. CURRENT Diagnosis & Treatment in Otolaryngology—Head & Neck Surgery, 3e. McGraw Hill; 2012. https://accessmedicine.mhmedical.com/content.aspx?bookid=386&sectionid=39944068
4. Scott-Brown's Otorhinolaryngology Head and Neck Surgery, Volume 3, eighth edition. Editors: Watkinson JC, Clarke RW. CRC Press Taylor & Francis Group. Boca Raton, 2018. https://doi.org/10.1201/9780429443558
5. National Health Information Center Saudi Cancer Registry. Cancer Incidence Report Saudi Arabia 2017. https://nhic.gov.sa/eServices/Documents/2017.
6. Saudi Arabia - Global Cancer Observatory,2020. https://gco.iarc.fr › 682-saudi-arabia-fact-sheets.
7. Mitchell RN, Schoen FJ. Blood Vessels. In: Kumar V, Abbas AK, Aster JC editors. Robbins and Cotran pathologic basis of disease, 9th edition. Philadelphia, PA: Elsevier/Saunders; 2015.p.483-522.
8. DeSanto LW, Devine KD, Weiland LH. Cysts of the larynx—classification. Laryngoscope. 1970;80(1):145-176.
9. Tumours of the hypopharynx, larynx, trachea and parapharyngeal space. In: EI-Naggar AK, Chan JKC, Grandis JR, Takata T, Slootweg PJ. World Health Organization Classification of Tumours. Pathology and genetics of head and neck tumours. Lyon: IARC Press; 2017.p. 81-104.
10. Koroulakis A, Agarwal M. Laryngeal Cancer. [Updated 2021 Aug 11]. In: StatPearls [Internet]. Treasure Island (FL): StatPearls Publishing; 2022 Jan-. Available from: https://www.ncbi.nlm.nih.gov/books/NBK526076/
11. Aaltonen LM, Rautiainen N, Sellman J, Saarilahti K, Mäkitie A, Rihkanen H, Laranne J, Kleemola L, Wigren T, Sala E, Lindholm P, Grenman R, Joensuu H. Voice quality after treatment of early vocal cord cancer: a randomized trial comparing laser surgery with radiation therapy. Int J Radiat Oncol Biol Phys. 2014 ;90(2):255-60. [PubMed]
12. Forastiere AA, Ismaila N, Lewin JS, Nathan CA, Adelstein DJ, Eisbruch A, Fass G, Fisher SG, Laurie SA, Le QT, O'Malley B, Mendenhall WM, Patel S, Pfister DG, Provenzano AF, Weber R, Weinstein GS, Wolf GT. Use of Larynx-Preservation Strategies in the Treatment of Laryngeal Cancer: American Society of Clinical Oncology Clinical Practice Guideline Update. J Clin Oncol. 2018 ;36(11):1143-1169. [PubMed]
13. Rosenthal DI, Mohamed AS, Weber RS, Garden AS, Sevak PR, Kies MS, Morrison WH, Lewin JS, El-Naggar AK, Ginsberg LE, Kocak-Uzel E, Ang KK, Fuller CD. Long-term outcomes after surgical or nonsurgical initial therapy for patients with T4 squamous cell carcinoma of the larynx: A 3-decade survey. Cancer. 2015 ;121(10):1608-19. [PMC free article] [PubMed]
14. Ruytenberg T, Verbist BM, Vonk-Van Oosten J, Astreinidou E, Sjögren EV, Webb AG. Improvements in High Resolution Laryngeal Magnetic Resonance Imaging for Preoperative Transoral Laser Microsurgery and Radiotherapy Considerations in Early Lesions. Front Oncol. 2018; 8:216. [PMC free article] [PubMed]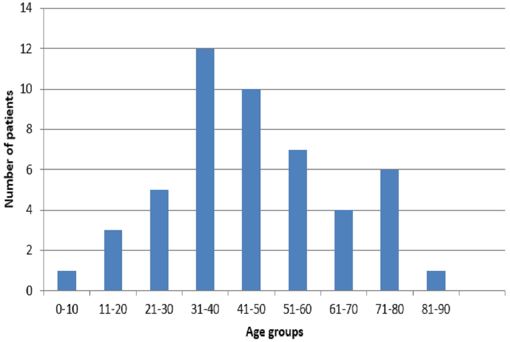 How to Cite
Sohaila Fatima, Rabab Nasir Mohamed Badr, Bouvier Francis Valere D'sa, Wajih Ahmed Siddiqui, & Nihal Ibrahim Mirza. (2022). Clinico-Pathological Spectrum of Laryngeal Lesions Over Seven years ina Tertiary Hospital. Tropical Journal of Pathology and Microbiology, 8(2), 41-46. Retrieved from https://pathology.medresearch.in/index.php/jopm/article/view/605
Copyright (c) 2022 Author (s). Published by Siddharth Health Research and Social Welfare Society
This work is licensed under a Creative Commons Attribution 4.0 International License.