Unravelling the mystery behind an unusual case of Portal Hypertension
Rasmi Unnikrishnan

Senior Registrar, Department of Pathology, Lakeshore Hospital and Research Centre, Ernakulam, Kerala, India

Dr. Mathew Philip

HOD - Senior Consultant, Department of Gastroenterology, Lisie hospital, Ernakulam, Kerala, India

Abhishek Yadav

Senior Consultant, Lead Liver transplant surgeon, Lakeshore Hospital and Research Centre, Ernakulam, Kerala, India.

Pushpa Mahadevan

HOD - Senior consultant, Department of Pathology, Lakeshore Hospital and Research Centre, Ernakulam, Kerala,India
Keywords:
Portal hypertension, Arsenic poisoning, Hepatoportal sclerosis, Angiosarcoma
Abstract
A 38yr old male was incidentally detected to have chronic liver disease with portal hypertension. Hegives a family history of liver disease. On complete workup, the arsenic levels in his family memberswere found to be high. His liver biopsy showed features of Hepatoportal sclerosis. Two years later,his liver imaging showed a suspicious nodule in the Right lobe, following which he underwent a livedonor liver transplant. Histopathology of the explanted liver revealed, areas of cavernoushemangioma, epithelioid hemangioendothelioma with a focus of diffusely infiltrating Angiosarcoma,in a background of Hepatoportal sclerosis.
Downloads
Download data is not yet available.
References
1. H. R. Kim1, S. Y. Rha1, S. H. Cheon et al. Clinical features and treatment outcomes of advanced stage primary hepatic angiosarcoma. Annals of Oncology. 2009;20:780–787. Published January 29, 2009. Accessed
2. Chin-Ying Chien, Cheng-cheng Hwang, Chun-nan Yeh et al. Liver angiosarcoma, a rare liver malignancy, presented with intra-abdominal bleeding due to rupture- a case report. World Journal of Surgical Oncology. 2012;10(1):23
3. Mauricio Millana, Alejandro Delgadoc, Luis A. Caicedoa et al. Liver Angiosarcoma: Rare tumour associated with a poor prognosis, literature review and case report. International Journal of Surgery Case Reports. 2016; 28: 165–168. www.casereports.com. Pubished on September 29, 2016
4. Natthapat Rujeerapaiboon, Panu Wetwittayakhlang. Primary Hepatic Angiosarcoma: A Rare Liver Malignancy – Varying Manifestations but Grave Prognosis. Case Reports in Gastroenterology. 2020;14:137–149
5. H Popper, L B Thomas, N C Telles et al. Development of hepatic angiosarcoma in man induced by vinyl chloride, thorium dioxide, and arsenic. Comparison with cases of unknown etiology. Am J Pathol. Aug 1978; 92(2): 349-376
6. Jose A. Centeno, Florabel G. Mullick, Leonor Martinez et al. Pathology Related to Chronic Arsenic Exposure. Environmental Health Perspectives. 2002;110(5):883-886
7. Antonio Cuadrado Lavín, Santiago Aresti Zárate, Adela Delgado Tapia et al: A cause of portal hypertension to bear in mind. Gastroenterol Hepatol. 2008;31(2):104-9
8. C Sanz-Gracia et al. Hepatoportal sclerosis and liver angiosarcoma: an infrequent association with a possible common etiology. Gatroenterol Hepatol. Nov 2005
9. David E. Kleiner. Noncirrhotic portal hypertension. Pathology and nomenclature. Clinical liver Disease. May 2015; 5(5):123-126 https://doi.org/10.1002/cld.459
10. Fernanda Ferreira Rios, Luiz Antônio Rodrigues deFreitas et al. Hepatoportal sclerosis related to the use of herbal and nutritional supplements. Causality or coincidence? Annals of Hepatology. November 2016 ; 15(6):932-938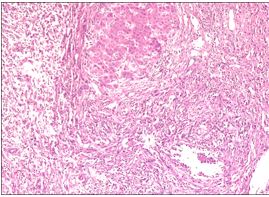 How to Cite
Rasmi Unnikrishnan, Mathew Philip, Abhishek Yadav, & Pushpa Mahadevan. (2022). Unravelling the mystery behind an unusual case of Portal Hypertension. Tropical Journal of Pathology and Microbiology, 8(2), 47-51. Retrieved from https://pathology.medresearch.in/index.php/jopm/article/view/600
Copyright (c) 2022 Author (s). Published by Siddharth Health Research and Social Welfare Society
This work is licensed under a Creative Commons Attribution 4.0 International License.