Histopathological study of lower gastrointestinal tract lesions
Dr. Vibhaben Kantilal Patel

MD Pathology, Smt. NHL Municipal Medical College, V S. General Hospital, Ahmedabad, Gujarat, India

Dr. Anjali Deepak Goyal

Associate Professor, Smt. NHL Municipal Medical College, V S General Hospital, Ahmedabad, Gujarat, India
Keywords:
Lower gastrointestinal tract, Malignant, Non-malignant
Abstract
Background: The benign lesions of the lower gastrointestinal tract are responsible for a large number of morbidities. The microscopic examination of and determination of histological types of malignant lesions help to decide treatment options and to predict prognosis. The histopathological study is the Gold standard for the diagnosis of intestinal lesions.
Aims and Objectives: To study the prevalence of various lower gastrointestinal tract lesions site-wise, age-wise and gender-wise and to compare the obtained results with other studies.
Materials and methodology: A retrospective study of 600 various lower gastrointestinal tract lesions sent for histopathological examination at Pathology department of tertiary care centre, VS General Hospital, Ahmedabad is carried out.
Results: Among all the 600 cases, non-neoplastic lesions 572 (95.34%) are far more common than neoplastic lesions 28 (4.66%).
Conclusion: Non-neoplastic lesions are common in the small intestine, while the large intestine harbors most malignant lesions.
Downloads
Download data is not yet available.
References
Gray, H. Standring S. Gray's anatomy: the anatomical basis of clinical practice. (2005): 1357Á71.
Rosai, Juan. Rosai and Ackerman's surgical pathology e-book. Elsevier Health Sciences, 2011.
Perzin KH, Bridge MF. Adenomas of the small intestine: a clinicopathologic review of 51 cases and a study of their relationship to carcinoma. Cancer. 1981 Aug 1;48(3):799-819. doi: 10.1002/1097-0142(19810801)48:3<799::aid-cncr2820480324>3.0.co;2-q.
Hiraoka S, Kato J, Tatsukawa M, Harada K, Fujita H, Morikawa T, et al. Laterally spreading type of colorectal adenoma exhibits a unique methylation phenotype and K-ras mutations. Gastroenterology. 2006 Aug;131(2):379-89. doi: 10.1053/j.gastro.2006.04.027.
Lockhart-Mummery He, Morson Bc. Crohn's Disease of The Large Intestine. Gut. 1964 Dec;5(6):493-509. doi: 10.1136/gut.5.6.493.
Canavese G, Villanacci V, Zambelli C, Bernardi A, Candelaresi G, Berardengo E, et al. Gastric metaplasia and small bowel ulcerogenesis in a case of ulcerative jejunitis not related to celiac disease. Int J Surg Pathol. 2004 Oct;12(4):415-9. doi: 10.1177/106689690401200418.
Hinoi T, Tani M, Lucas PC, Caca K, Dunn RL, Macri E, et al. Loss of CDX2 expression and microsatellite instability are prominent features of large cell minimally differentiated carcinomas of the colon. Am J Pathol. 2001 Dec;159(6):2239-48. doi: 10.1016/S0002-9440(10)63074-X.
McGregor DK, Wu TT, Rashid A, Luthra R, Hamilton SR. Reduced expression of cytokeratin 20 in colorectal carcinomas with high levels of microsatellite instability. Am J Surg Pathol. 2004 Jun;28(6):712-8. doi: 10.1097/01.pas.0000126757.58474.12.
Nanavati M,Parikh J et al. Histopathological study of intestinal lesions: International Journal OF Scientific Research, vol 3, Issue 9, September 2014 ISSN No. 2277-8179.
Abdulkareem FB, Abudu EK, Awolola NA, Elesha SO, Rotimi O, Akinde OR, et al. Colorectal carcinoma in Lagos and Sagamu, Southwest Nigeria: a histopathological review. World J Gastroenterol. 2008 Nov 14;14(42):6531-5. doi: 10.3748/wjg.14.6531.
Patel Mandakini M, Gamit B, Patel PR, Analysis of gastrointestinal malignancy: A 5 years study. Natl J, Community Med 2012; 3(3): 555-7.
Sharma, Priyank, and M. Dekaa. A study of neoplastic lesions of colorectum in a tertiary care hospital. IJSS 3.8 (2015): 88-91.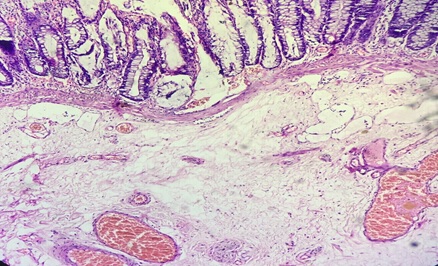 CITATION
DOI: 10.17511/jopm.2021.i04.07
How to Cite
Dr. Vibhaben Kantilal Patel, & Dr. Anjali Deepak Goyal. (2021). Histopathological study of lower gastrointestinal tract lesions. Tropical Journal of Pathology and Microbiology, 7(4), 194-200. https://doi.org/10.17511/jopm.2021.i04.07
Copyright (c) 2021 Author (s). Published by Siddharth Health Research and Social Welfare Society
This work is licensed under a Creative Commons Attribution 4.0 International License.