A comparative study of various screening tests of Asymptomatic Bacteriuria in pregnant women attending Antenatal Outpatient Department'
Dr. Savitha B Hiremath

MD Microbiology, Assistant professor, Department of Microbiology, Sri Venkateshwaraa Medical College Hospital and Research Centre, Puducherry, India

Dr. Renushree BV

MD Microbiology, Professor, Department of Microbiology, Sri Siddhartha Medical College, Tumkur, Karnataka, India
Keywords:
Asymptomatic bacteriuria, Pregnancy, Gram stain, Culture
Abstract
Introduction: Urinary tract infections are the most common bacterial infections in pregnancy. Asymptomatic bacteriuria (ASB) refers to the presence of bacteria in the urine of an individual without symptoms of urinary tract infection. ASB which occurs in 2-11% of pregnancies is a major predisposition to the development of pyelonephritis.
Aims and objectives: The aims and objectives of the study were to: Study the effectiveness of various screening tests: urine microscopy, gram stain, catalase test, leukocyte esterase test and nitrite test and to compare their sensitivity, specificity, positive predictive value and negative predictive value. Materials and
Methods: The study included 500 pregnant women attending the outpatient department over 18 months. The urine samples collected in sterile containers were screened for urine microscopy, gram stain, catalase test, leukocyte esterase test and nitrite test. The samples were processed on CLED (Cysteine lactose electrolyte deficient) agar as the standard against which other screening tests are identified.
Results: Gram's stain (89.34%) was the most sensitive of all and the least reliable test was the catalase test among the methods of screening tests.
Conclusion: Urine culture is considered to be the gold standard in detecting ASB in pregnant women. Gram's stain of urine is a good screening test when compared to other screening methods. Screening for bacteria in all trimesters is necessary to prevent the dangerous complications associated with ASB.
Downloads
Download data is not yet available.
References
Jain V, Das V, Agarwal A, Pandey A. Asymptomatic bacteriuria & obstetric outcome following treatment in early versus late pregnancy in north Indian women. Indian J Med Res. 2013 Apr;137(4):753-8.
Andabati G, Byamugisha J. Microbial aetiology and sensitivity of asymptomatic bacteriuria among ante-natal mothers in Mulago hospital, Uganda. Afr Health Sci. 2010 Dec;10(4):349-52.
Gayathree, L., Shetty, S., Deshpande, S. R., & Venkatesha, D. T. Screening for asymptomatic bacteriuria in pregnancy: An evaluation of various screening tests in Hassan District Hospital, India. J Clin Diagn Res, 4.4 (2010): 2702-6.
Widmer M, Lopez I, Gülmezoglu AM, Mignini L, Roganti A. Duration of treatment for asymptomatic bacteriuria during pregnancy. Cochrane Database Syst Rev. 2015 Nov 11;2015(11):CD000491. doi: 10.1002/14651858.CD000491.pub3.
Koneman, E. W., Allen, S. D., Janda, W. M., Schreckenberger, P. C., & Winn, W. CDiagnostic microbiology. The nonfermentative gram-negative bacilli. Philedelphia: Lippincott-Raven Publishers, (1997):253-320.
Cheesebrough M. Examination of urine. District Laboratory Practice in Tropical Countries. Part 2. UK: Cambridge University Press; 2000.p.105-15.
Collee JG, Dugid JP, Fraser AG, Marmion BP, Simmons A. Laboratory strategy in the diagnosis of infective syndromes. In: Collee JG, Fraser AG, Marmion BP, Simmons A editors. Mackie and McCartney, Practical Medical Microbiology. 14th ed. New Delhi: Elsevier; 2008.p.84-90.
Forbes, B. A., D. F. Sahm, and A. S. Weissfeld. "Infections of the Urinary Tract. Bailey and Scott's Diagnostic Microbiology." (2007): 842-55.
Thakre, S. S., Dhakne, S. S., Thakre, S. B., Thakre, A. D., Ughade, S. M., & Kale, P. Can the Griess nitrite test and a urinary pus cell count of≥ 5 cells per micro litre of urine in pregnant women be used for the screening or the early detection of urinary tract infections in rural India?. Journal of clinical and diagnostic research: JCDR, 6.9 (2012):1518.
Darzé OI, Barroso U, Lordelo M. Preditores clínicos de bacteriúria assintomática na gestação [Clinical predictors of asymptomatic bacteriuria during pregnancy]. Rev Bras Ginecol Obstet. 2011 Aug;33(8):196-200. Portuguese.
Lavanya SV, Jogalakshmi D. Asymptomatic bacteriuria in antenatal women. Indian J Med Microbiol. 2002 Apr-Jun;20(2):105-6.
Chongsomchai C, Piansriwatchara E, Lumbiganon P, Pianthaweechai K. Screening for asymptomatic bacteriuria in pregnant women: urinalysis versus urine culture. J Med Assoc Thai. 1999 Apr;82(4):369-73.
Sweet, Richard L., and Ronald S. Gibbs, eds. Infectious diseases of the female genital tract. Lippincott Williams & Wilkins, 2009.
Berger SA, Bogokowsky B, Block C. Rapid screening of urine for bacteria and cells by using a catalase reagent. J Clin Microbiol. 1990 May;28(5):1066-7. doi: 10.1128/jcm.28.5.1066-1067.1990.
Thomas M, Baldwin G. A blue catalase screening test for pyuria and haematuria. J Clin Pathol. 1971 May;24(4):320-2. doi: 10.1136/jcp.24.4.320.
Ajayi AB, Nwabuisi C, Aboyeji PO, Fowotade A, Fakeye OO. Reliability of urine multistix and gram stain in the detection of asymptomatic bacteriuria in pregnancy. West Afr J Med. 2010 Sep-Oct;29(5):339-43.
Taneja N, Chatterjee SS, Singh M, Sivapriya S, Sharma M, Sharma SK. Validity of quantitative unspun urine microscopy, dipstick test leucocyte esterase and nitrite tests in rapidly diagnosing urinary tract infections. J Assoc Physicians India. 2010 Aug;58:485-7.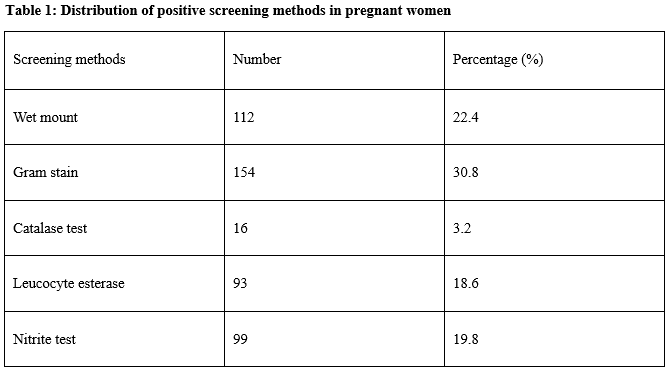 CITATION
DOI: 10.17511/jopm.2021.i04.03
How to Cite
Dr. Savitha B Hiremath, & Dr. Renushree BV. (2021). A comparative study of various screening tests of Asymptomatic Bacteriuria in pregnant women attending Antenatal Outpatient Department'. Tropical Journal of Pathology and Microbiology, 7(4), 170-175. https://doi.org/10.17511/jopm.2021.i04.03
Copyright (c) 2021 Author (s). Published by Siddharth Health Research and Social Welfare Society
This work is licensed under a Creative Commons Attribution 4.0 International License.