Malaria Seroprevalence in the Blood Donors of Malaria Endemic Regions of Northern Andhra Pradesh, India.
Dr. C. Sitalata

Assistant Professor, Department of Pathology, Maharaja Institute of Medical Sciences, Vizianagaram, Andhra Pradesh, India

Dr. K. Kalyan

Professor, Department of Pathology, Dr. PSIMS, and RF. Gannavaram, Andhra Pradesh, India
Keywords:
Malaria, Seroprevalence, Blood donors, Endemic zone
Abstract
Introduction: Transmission of malaria through blood transfusion continues to be a major threat to safe blood transfusion practice. Transfusion-transmitted malaria occurs at an estimated rate of 0.25 cases per 1 million blood units collected. It is significantly more common in endemic areas.
AIM: To study the Seroprevalence of Malaria among the blood donors in the endemic areas of Northern Andhra Pradesh.
Materials and methods: The present survey was carried out at the blood bank of Maharaja institute of medical sciences, Vizianagaram. This includes the analysis of seroprevalence of Malaria in the blood donors during the period of 1 year from February 2018 to January 2019. Two ml of the blood sample was collected in the labeled pilot tube at the time of collection of blood from donor tubing of the blood bag. The serum was separated. The samples were tested for Malaria by rapid antigen detection test.
Results: Out of the total of 3096 blood donors, replacement donors (86.91%) were more in comparison to voluntary donors (13.08%). The seroprevalence among the replacement blood donors was more compared to voluntary blood donors.
Conclusion: Voluntary blood donation, increasing awareness about blood donation in the general population, selection of repeat, non-remunerated, regular voluntary blood donors and diligent donor selection, sensitive screening tests are most important to increase blood safety and prevent transmission of Malaria through blood transfusion.
Downloads
Download data is not yet available.
References
Fernandes H, D'souza P, D'souza P. Prevalence of transfusion transmitted infections in voluntary and replacement donors. Indian of Heamatol Blood Transfus 2010;26(3):89-91. doi: 10.1007/s12288-010-0044-0.
Elghouzzi MH, Senegas A, Steinmetz T, Guntz P, Barlet V, Assal A, et al. Multicentric evaluation of the DiaMed enzyme-linked immunosorbent assay malaria antibody test for screening of blood donors for malaria. Vox Sang. 2008;94(1):33-40. doi: 10.1111/j.1423-0410.2007.00998.x.
Castillo CM, Ramírez C. Malaria screening in blood donors in Cali, Colombia. Biomedica. 2005;25:203-210.
Seed CR, Kitchen A, Davis TM. The current status and potential role of laboratory testing to prevent transfusion-transmitted malaria. Transfus Med Rev. 2005;19(3):229-240. doi: 10.1016/j.tmrv.2005.02.004.
Rodulfo H, de Donato M, Quijada I, Peña A. High prevalence of malaria infection in Amazonas state, Venezuela. Rev Inst Med Trop Sao Paulo. 2007b;49(2):79-85. doi: 10.1590/s0036-46652007000200003.
Kitchen AD, Chiodini PL 2006. Malaria and blood transfusion. Vox Sang. 2006;90(2):77-84. doi: 10.1111/j.1423-0410.2006.00733.x.
Bruce‐Chwatt LJ: Transfusion malaria. Bull World Health Organ. 1974;50(3-4):337-346.
Organization WH. New perspectives malaria diagnosis. The Organization; 2000. p. 14-15. Available at https://apps.who.int/iris/bitstream/handle/10665/66321/WHO_CDS_RBM_2000.14.pdf;jsessionid=8111BEFEC810B02B4A5CEF9AE73C2691?sequence=1.
Srikrishn A, Sitalaxmi S, Domodhar P. How safe are our safe blood donors?. Indian J Pathol Microbial. 1999;42(4):411-416.
8. Singh K, Bhat S, Shastry S. Trend in seroprevalence of hepatitis B virus infection among blood donors of coastal Karanataka. Indian J Infect Dev Ctries 2009;3(5):376-379.
Bhattacharya P, Chandra PK, Datta S, Banarjee A. Significant increase in HBV, HCV, HIV and syphilis infection among blood donors in West Bengal, Eastern India, 2004-2005. Exploratory screening reveals high frequency of occult HBV infection. World J Gastroenterol. 2013;13(27): 3730-3733. doi: 10.3748/wjg.v13.i27.3730.
Sharma RI, Patel KJ, Patel H, Dharaiya MC. Seroprevalence of transfusion transmissible infections among blood donors in tertiary care centre of Gandhinagar, Gujarat, India. Trop J Pathol Microbiol. 2018;4(4):302-307. Available from: https://pathology.medresearch.in/index.php/jopm/article/view/165.
Chavan S.K, Chavan K.B. Seroprevalence, trend of transfusion transmittable infections and co-infections rate among blood donors at tertiary care hospital – 10 years study. Int J Res Health Sci. 2014;2(4):1014-1020.
Irshad M, Peter S. Spectrum of viral hepatitis in thalassemic children receiving multiple blood transfusions. Indian J Gastroenterol. 2002;21(5):183-184.
Sulhyan Kalpana R, Anvikar Arti R, RatnaparkhiAaditi D. Seroprevalence of transfusion transmissible infections among blood donors at a tertiary care centre in Maharashtra, India. Int J Contemp Med Res. 2017;4(9):1865-1867.
Teklemariam Z, Mitiku H, Weldegebreal F. Seroprevalence and trends of transfusion transmitted infections at Harar blood bank in Harari regional state, Eastern Ethiopia: eight years retrospective study. BMC Hematol. 2018;18(1):24. doi: 10.1186/s12878-018-0115-2.
WHO African Region . Ethiopia 2006 /Regional training workshop on blood donor recruitment: pre- and post-donation counseling. 2006. Available at https://www.afro.who.int/news/regional-training-workshop-blood-donor-recruitment-pre-and-post-donation-counseling.
Centeral Statistics Agency . ICF MacroCalverton. Addis Ababa: Ethiopia demographic and health survey 2011; 2011. Available at https://dhsprogram.com/pubs/pdf/FR255/FR255.pdf.
Talib VH, Khuana SK .Hematology for Students. 1996. 1st Ed 415–416.
Morar MM, Pitman JP, McFarland W, Bloch EM. The contribution of unsafe blood transfusion to human immunodeficiency virus incidence in sub-Saharan Africa: reexamination of the 5% to 10% convention. Transfusion. 2016;6(12):3121–3132. doi: 21.1111/trf.13816.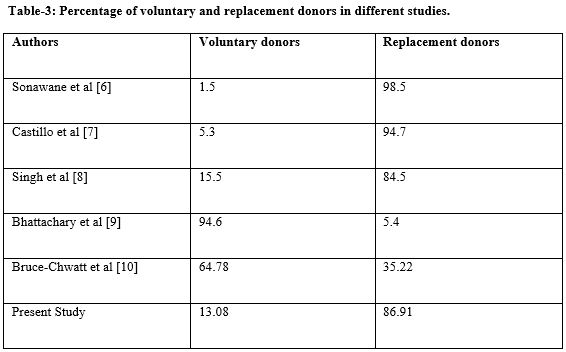 CITATION
DOI: 10.17511/jopm.2020.i08.06
How to Cite
Dr. C. Sitalata, & Dr. K. Kalyan. (2020). Malaria Seroprevalence in the Blood Donors of Malaria Endemic Regions of Northern Andhra Pradesh, India. Tropical Journal of Pathology and Microbiology, 6(8), 493-497. https://doi.org/10.17511/jopm.2020.i08.06
Copyright (c) 2021 Author (s). Published by Siddharth Health Research and Social Welfare Society
This work is licensed under a Creative Commons Attribution 4.0 International License.