Causes of sudden death - autopsy review in a tertiary referral center
Dr. S.M. Choukimath

Associate Professor, Department of Pathology, Karnataka Institute of Medical Sciences, Hubballi, Karnataka, India

Dr. Megha M. Naik

Post-Graduate, Department of Pathology, Karnataka Institute of Medical Sciences, Hubballi, Karnataka, India
Keywords:
Autopsy, Cardiac cause, Non-cardiac cause, Sudden death
Abstract
Background: The incidence of sudden death has been increasing steadily all over the world particularly in the urban population for the last 5 years.
Materials and methods: Complete analysis and review of all autopsy/post-mortem specimens received in the Department of Pathology, KIMS, Hubballi between September 2017 to June 2019 done to find out the cause of death.
Results: During the study period, a total of 153 cases of sudden death were received, age ranged from 6 months to 72 years, with male preponderance.
Conclusion: This study concludes that sudden death can occur at any age with the most common cause being cardiac diseases and few among these are preventable. Therefore, creating awareness about the risk factors and prevention of disease progression can reduce the incidence of sudden deaths.
Downloads
Download data is not yet available.
References
Goldberger JJ, Basu A, Boineau R, Buxton AE, Cain ME, Canty Jr JM, et al. Risk stratification for sudden cardiac death a plan for the future. Circulation. 2014;129[4]:516-526. doi: 10.1161/CIRCIMAGING.117.006819.
Harmaon KG, Asif IM, Klossner D, Drezner JA, Incidence of sudden cardiac death in national collegiate athletic association athletes. Circulation. 2011;123[15]:1594-600. doi: 10.1136/bjsports-2014-093872.
WHO International classification of Diseases and related health problems 10th revision(ICD 10) version for 2010. Available from apps. https://www.who.int/classifications/icd/ICD10Volume2_en_2010.pdf.
Goldman L, Sayson R, Robbins S, Cohn LH, Bettman M, Weisberg M. The value of the autopsy in three medical eras. N Eng J Med. 1983;308(17):1000-1005. doi: 10.1056/NEJM198304283081704.
Pandian JR, Laishram RS, Kumar LD, Phuritsabam P, Debnath K. Autopsy review of sudden deaths in a tertiary hospital of north-eastern India. J Med Soc. 2014;28(3):145-148. doi: 10.4103/0972-4958.148495.
Eckart RE, Scoville SL, Campbell CL, Shry EA, Stajduhar KC, Potter RN, et al. Sudden death in young adults: a 25-year review of autopsies in military recruits. Ann Int Med. 2004;141(11):829-834. doi: 10.7326/0003-4819-141-11-200412070-00005.
Rao D, Sood D, Pathak P, Dongre SD. A cause of Sudden Cardiac Deaths on Autopsy Findings; a Four-Year Report. Emergency. 2014;2(1):12. doi: 10.22037/EMERGENCY.V2I1.5766.
Thomas AC, Knapman PA, Krikler DM, Davies MJ. Community study of the causes of "natural " sudden deaths. BMJ. 1988;297(6661):1453-1456. doi: 10.1136/bmj.297.6661.1453.
Chugh SS, Kelly KL, Titus JL. Sudden cardiac death with apparently normal heart. Circulation. 2000;102(6):649-54. doi: 10.1023/A:1013254132689.
Doolan A, Semsarian C, Langlois N. Causes of sudden cardiac death in young Australians. Med J Aust. 2004;180(3):110-112. doi: 10.5694/j.1326-5377.2004.tb05830.x.
Sudha ML, Sundaram S, Purushothaman KR, Kumar PS, Prathiba D. Coronary atherosclerosis in sudden cardiac death: An autopsy study. Indian J Pathol Microbiol. 2009;52(4):486. doi: 10.4103/0377-4929.56130.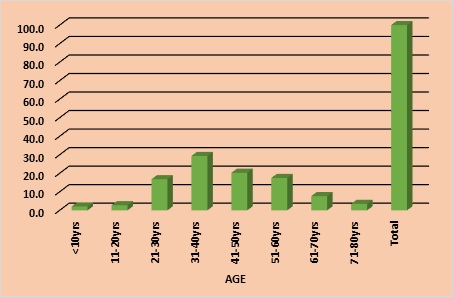 CITATION
DOI: 10.17511/jopm.2020.i08.04
How to Cite
Dr. S.M. Choukimath, & Dr. Megha M. Naik. (2020). Causes of sudden death - autopsy review in a tertiary referral center. Tropical Journal of Pathology and Microbiology, 6(8), 481-485. https://doi.org/10.17511/jopm.2020.i08.04
Copyright (c) 2021 Author (s). Published by Siddharth Health Research and Social Welfare Society
This work is licensed under a Creative Commons Attribution 4.0 International License.