Unique Features of Hashimoto's Thyroiditis in Coastal South India – a study from a tertiary care hospital
Dr. Vinodhini Asokan

Post-Graduate, Department of Pathology, SRM Medical College Hospital and Research Centre, Faculty of Medicine, SRM Institute of Science and Technology, SRM Nagar, Chennai, Tamil Nadu, India

Dr. Koshalya Rajendran

Senior Resident, Department of Pathology, SRM Medical College Hospital and Research Centre, Faculty of Medicine, SRM Institute of Science and Technology, SRM Nagar, Chennai, Tamil Nadu, India

Dr. Muthu Sudalaimuthu

Associate Professor, Department of Pathology, SRM Medical College Hospital and Research Centre, Faculty of Medicine, SRM Institute of Science and Technology, SRM Nagar, Chennai, Tamil Nadu, India
Keywords:
Hashimoto's thyroiditis, Hypothyroidism, Cytology, Histopathology
Abstract
Background: Hashimoto's thyroiditis is an autoimmune disorder of thyroid gland. It is one of the common causes of hypothyroidism and is common in females. Generally, Hashimoto's thyroiditis clinically presents as diffuse enlargement of the thyroid and nodular lesions are uncommon. But few recent studies from South India have shown that Hashimoto's frequently presents as nodular enlargement of the thyroid. Such lesions can be easily confused with nodular goitre.
Objectives and Aim: Aim of the study is to study the clinicopathological features of Hashimoto's thyroiditis and to estimate the frequency of nodular lesions in Hashimoto's thyroiditis in a tertiary care health centre in coastal South India.
Materials and Methods: The present study was done retrospectively on patients diagnosed as Hashimoto's thyroiditis by fine-needle aspiration cytology during the period June 2017 to June 2020. Their clinical details, clinical examination findings including diffuse/nodular nature of the swelling, thyroid hormone status and ultrasound findings were studied.
Results: In the present study, 102 cases of Hashimoto's thyroiditis were included, which includes 91 females and 11 males. Patients age ranged from 15 to 63 years with a peak in the fourth decade. Fifty-five cases (53.9%) were hypothyroid and 43 (42.2%) were euthyroid. Fifty cases (49%) presented as nodular lesion out of which 47 cases had multiple nodules.
Conclusion: Nodular enlargement of the thyroid is a common finding in Hashimoto's thyroiditis patients. Such cases should not be mistaken for nodular goitre as there is a risk of malignancy in Hashimoto's thyroiditis.
Downloads
Download data is not yet available.
References
Tomer Y, Huber A. The etiology of autoimmune thyroid disease, A story of genes and environment. J Autoimmune. 2009;32(3-4):231-239. doi: 10.1016/j.jaut.2009.02.007.
Caturegli P, De Remigis A, Chuang K, Dembele M, Iwama A, Iwama S. Hashimoto's thyroiditis: celebrating the centennial through the lens of the Johns Hopkins hospital surgical pathology records. Thyroid. 2013;23(2):142-150. doi: 10.1089/thy.2012.0554.
Velayutham K, Selvan S S, Unnikrishnan A G. Prevalence of thyroid dysfunction among young females in a southindian population. India J Endocr Metab. 2015;19(6):781-784. doi: 10.4103/2230-8210.167546.
Pyzik A, Grywalska E, Matuszek BM, Rolinski J. Immune disorders in hashomotos thyroiditis: What do we know so far?. J Immunol Res. 2015. doi: 10.1155/2015/979167.
Pabithadevi BM, Shantaraman K. Hashimoto's Thyroiditis–A predominantly Multinodular Thyroid Disorder in Coastal South India. Ann Pathol Lab Med. 2018;5(3):A204-208. doi: 10.21276/APALM.1638.
Abbas AK, Aster JC. Robbins and Cotran pathologic basis of disease. 9-ed. New Delhi: Elsevier; 2015.Chapter 24, The Endocrine system; p 1082-100.
Chandanwale SS, Nair R, Gambhir A, Kaur S, Pandey A, Shetty A, et al. Cytomorphological spectrum of thyroiditis: A review of 110 cases. J Thyroid Res. 2018. doi: 10.1155/2018/5246516.
Sahoo N, Naik S, Mohanty P, Sahoo PN, Das P. The cytomorphological spectrum of Hashimoto thyroiditis and its correlation with serological parameters: A study in the coastal region. J Dr. NTR University of Health Sci. 2020;9(1):25. doi: 10.4103/JDRNTRUHS.JDRNTRUHS_125_19.
Harikrishnan V, Alphanso J, Srinivasan C. A case study ina rural tertiary care center. Pacific Group E-J. 2018:5:311-315. doi: 10.21276/APALM.1755.
Zhang JW, Chen ZJ, Gopinathan A. Focal Nodular Hashimoto's Thyroiditis Comparison of Ultrasonographic Features with Malignant and Other Benign Nodules. Ann Acad Med Singap. 2016;45(8):357-363.
Bhargav P, Shekhar S. Surgical Indications for Goiter with Background Hashimoto's Thyroiditis: Institutional Experience. Indian J Surg. 2011;73(6):414-418. doi: 10.1007/s12262-011-0344-0.
Thomas T, Sreedharan S, Khadilkar UN, Deviprasad D, Kamath M P, Bhojwani KM, et al. Clinical, biochemical & cytomorphologic study on Hashimoto's thyroiditis. Indian J Med Res. 2014;140(6):729-735.
Chen YK, Lin CL, Cheng FT, Sung FC, Kao CH. Cancer risk in patients with Hashimoto's thyroiditis: a nationwide cohort study. Brit J Cancer. 2013;109(9):2496-2501. doi: 10.1038/bjc.2013.597.
Paparodis R, Imam S, Todorova-Koteva K et al.Hashimoto's Thyroiditis Pathology and Risk for Thyroid Cancer. Thyroid. 2014;24(7):1107–1114. doi: 10.1089/thy.2013.0588.
McManus C, Luo J, Sippel R, Chen H. Is thyroidectomy in patients with Hashimoto thyroiditis more risky?. J Surg Res. 2012;178(2):529-532. doi: 10.1016/j.jss.2012.09.017.
Jayaram G, Iyengar KR, Sthaneshwar P, Hayati JN. Hashimoto's thyroiditis-A Malaysian perspective. J Cytol. 2007;24(3):119. doi: 10.4103/0970-9371.41898.
Agrawal PC, Naik R, Panda KM. Diagnostic Role of Fine Needle Aspiration Cytology in Thyroiditis along with Thyroid Hormone Assay. Ann App Bio-Sci. 2016;3(1). Available at https://www.pacificejournals.com/journal/index.php/aabs/article/view/aabs747.
Staii A, Mirocha S, Todorova-Koteva K, Glinberg S, Jaume J. Hashimoto thyroiditis is more frequent than expected when diagnosed by cytology which uncovers a pre-clinical state. Thyroid Res. 2010;3(1):11. doi: 10.1186/1756-6614-3-11.
Bhatia A, Rajwanshi A, Dash RJ, Mittal BR. Lymphocytic Thyroiditis—is cytological grading significant? A correlation of grades withclinical, biochemical, ultrasonographic and radionuclide parameters. Cyto J. 2007;4(10). doi:10.1186/1742-6413-4-10.
Latina A, Gullo D, Trimarchi F et al. Hashimoto's Thyroiditis: Similar and Dissimilar Characteristics in Neighbouring Areas. Possible Implications for the Epidemiology of Thyroid Cancer. PLOS ONE, 2013;8(3):e55450. doi: 10.1371/journal.pone.0055450.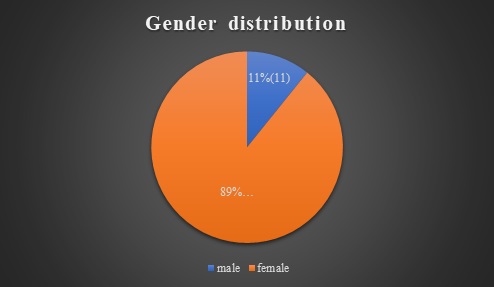 CITATION
DOI: 10.17511/jopm.2020.i08.02
How to Cite
Dr. Vinodhini Asokan, Dr. Koshalya Rajendran, & Dr. Muthu Sudalaimuthu. (2020). Unique Features of Hashimoto's Thyroiditis in Coastal South India – a study from a tertiary care hospital. Tropical Journal of Pathology and Microbiology, 6(8), 466-471. https://doi.org/10.17511/jopm.2020.i08.02
Copyright (c) 2021 Author (s). Published by Siddharth Health Research and Social Welfare Society
This work is licensed under a Creative Commons Attribution 4.0 International License.