Study of coagulation profile in malaria
Dr. Vibha K Patel

MD Pathology, Smt. NHL Municipal Medical College, V.S. General Hospital, Ahmedabad, Gujarat, India

Dr. Nirali Kalpesh Shah

Assistant Professor, Department of Pathology, Gujarat Medical Education and Research Society, Sola, Ahmedabad, Gujarat, India

Dr. Anjali Deepak Goyal

Associate Professor, NHL Municipal Medical College, V.S. General Hospital, Ahmedabad, Gujarat, India

Dr. Cherry Kalpesh Shah

Professor and Head of the Department, Smt. NHL Municipal Medical College, V.S. General Hospital, Ahmedabad, Gujarat, India

Dr. Simul Jagdish Patel

MD Pathology, Smt. NHL Municipal Medical College, V.S. General Hospital, Ahmedabad, Gujarat, India
Keywords:
Malaria, Coagulation profile, Platelet count, PT, aPTT, D-dimer
Abstract
Background: Malaria is a major health problem in many parts of India. Several factors have been attributed to increased morbidity and mortality in malaria with altered hematological and coagulation parameters. This study was conducted to compare the coagulation parameters of malaria cases with those of the healthy carriers.
Aims and objectives: To evaluate coagulation abnormalities in patients of malaria and to study the difference in coagulation parameters between malaria patients and healthy controls and to determine the level of significance of the difference.
Materials and methodology: This prospective comparative study of 300 patients with laboratory diagnosed malaria patients (cases) and 300 healthy individuals (controls) was carried out in the Department of Pathology in a tertiary care, V. S. General Hospital, Ahmedabad.
Result: Comparison of platelet count, PT, and aPTT between case groups and control groups was statistically significant (p<0.001).
Conclusion: There is a significant difference between the platelet count, PT, and aPTT values of the two groups. This indicates that in patients with malaria, there is an activation of intrinsic and extrinsic pathways of coagulation.
Downloads
Download data is not yet available.
References
Lee, G.R.,Bithel, T.C., Foerster, J.A.,Athens, J.W. and Leukens, J.N.: Wintrobe's Clinical hematology, 9th edition, London. Lea & Febiges, 1993;1(2):198-1201.
Park, K.S. Arthropod born infection, Park's textbook of Preventive & Social Medicine, 19th edition, Jabalpur,2007;5:209-220.
Mepherson, R.A. and Pincus,M.R.: Blood &Tissue Protozoa, Henry's Clinical Diagnosis & Management by Laboratory Methods, 21st edition, Elsevier,2007;67:1127-1134.
Mohanty D, Marwaha N, Ghosh K, Sharma S, Garewal G, Shah S, et al. Functional and ultrastructural changes in malarial infection. Trans R Soc Trop Med Hyg. 1988;82(3):369-375. doi: 10.1016/0035-9203(88)90122-8.
Pukrittayakamee S, White NJ, Clemens R, Chittamas S, Karges HE, Desakorn V, et al. Activation of the coagulation cascade in falciparum malaria. Trans R Soc Trop Med Hyg. 1989;83(6):762-766. doi: 10.1016/0035-9203(89)90321-0.
Mohanty D, Ghosh K, Nandwani SK, Shetty S, Phillips C, Rizvi S, et al. Fibrinolysis, inhibitors of blood coagulation, and monocyte derived coagulant activity in acute malaria. Am J Hematol. 1997;54(1):23-29. doi: 10.1002/(sici)1096-8652(199701)54:1<23::aid-ajh4>3.0.co;2-6.
Hemmer CJ, Kern P, Holst FGE, Radtke KP, Egbring R, Bierhaus A, et al. Activation of the host response in human Plasmodium falciparum malaria: relation of parasitemia to tumor necrosis factor/cachectin, thrombin-antithrombin III, and protein C levels. Am J Med 1991;91(1):37-44. doi: 10.1016/0002-9343(91)90071-5.
Francischetti IM, Seydel KB, Monteiro RQ. Monteiro. Blood Coagulation, Inflammation and Malaria. Microcirc. 2008;15(2):81-107. doi:10.1080/10739680701451516.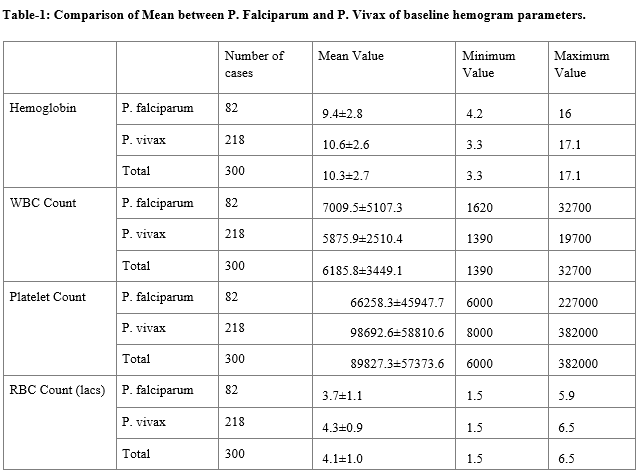 CITATION
DOI: 10.17511/jopm.2020.i08.01
How to Cite
Dr. Vibha K Patel, Dr. Nirali Kalpesh Shah, Dr. Anjali Deepak Goyal, Dr. Cherry Kalpesh Shah, & Dr. Simul Jagdish Patel. (2020). Study of coagulation profile in malaria. Tropical Journal of Pathology and Microbiology, 6(8), 459-465. https://doi.org/10.17511/jopm.2020.i08.01
Copyright (c) 2021 Author (s). Published by Siddharth Health Research and Social Welfare Society
This work is licensed under a Creative Commons Attribution 4.0 International License.