A retrospective study on histomorphological spectrum of ovarian lesions in a tertiary care hospital
Subashree Kannan

Assistant Professor, Department of Pathology, Sri Venkateshwaraa Medical College and Research Centre, Puducherry, India

Sneha Ravindran

Post-graduate, Department of Pathology, Sri Venkateshwaraa Medical College and Research Centre, Puducherry. India

S. Balaji

Post-graduate, Department of Pathology, Sri Venkateshwaraa Medical College and Research Centre, Puducherry. India
Keywords:
Histomorphological patterns, Ovarian lesion, Neoplastic lesions, Non-neoplastic lesions, Ovary
Abstract
Introduction: Gynecological morbidity is defined as any condition, disease, or dysfunction of the reproductive system which is not related to pregnancy, abortion, or childbirth. A significant number of ovarian lesions have been known to cause Gynecological morbidity among most females. With the increased use of screening modalities, ovarian lesions have increasingly been encountered for pathological analysis. It is important to evaluate the pattern of clinical presentation, corroborating with histological diagnosis.
Purpose: The present study was carried out to evaluate the histomorphological spectrum of various ovarian lesions among women in Puducherry.
Material and Methods: This retrospective study was conducted on 350 ovarian samples received for five years in the Department of Pathology, of our tertiary teaching hospital. Clinicopathological data were retrieved from the hospital records. The histomorphological analysis was reviewed and neoplastic and non-neoplastic ovarian lesions were segregated according to the World Health Organization classification.
Results: Based on histology, the predominant ovarian lesions diagnosed were non-neoplastic conditions including simple and follicular cyst, corpus luteal cyst, corpus hemorrhagic cyst, and cystic follicles constituting 40.6% on the right side and 34% on the left side. Malignancy was predominant on the right side (1.7%) while the same was 0.6% on the left side.
Conclusion: The present study has identified that non-neoplastic lesions are more common in ovaries than neoplastic lesions and it has identified that serous cystadenomas are the most common ovarian neoplastic lesions.
Downloads
Download data is not yet available.
References
Brown J, Frumovitz M. Mucinous tumors of the ovary: Current thoughts on diagnosis and management. Curr Oncol Rep. 2014;16(6):389. doi: 10.1007/s11912-014-0389-x.
Marques P, Skorupskaite K, George JT, Anderson RA. Physiology of GNRH and gonadotropin secretion. Endotext [Internet].
Cui J, Shen Y, Li R. Estrogen synthesis and signaling pathways during ageing: from periphery to brain. Trends Mol Med. 2013;19(3):197-209. doi: 10.1016/j.molmed.2012.12.007.
Thirukumar M, Ahilan S. Histopathological pattern of ovarian lesions: a Hospital based study in Batticaloa, Sri Lanka. J Diagnos Pathol. 2018;13(1):16-21. doi: 10.4038/jdp.v13i1.7736.
National Cancer Institute 2005. SEER cancer statistics review (1975-2002). Ovarian epithelial cancer (PDG): Treatment health professionals. Available at https://seer.cancer.gov/csr/1975_2017/.
Puri S, Chadha V, Pandey AK. Epidemiology of ovarian tumors in North India – A tertiary hospital-based study. Indian J Comm Fam Med. 2018;4(2):37-41. doi: 10.4103/2395-2113.251437.
Pradhan A, Sinha AK, Upreti D. Histopathological patterns of ovarian tumours at BPKIHS. Health Renaissance. 2012;10(2):87-89. doi: 10.3126/hren.v10i2.6570.
Vaddatti T, Reddy ES, Vahini G. Study of morphological patterns of ovarian neoplasms. IOSR Journal of Dental and Medical Sciences. 2013;10(3):12-20. Available at https://www.iosrjournals.org/iosr-jdms/papers/Vol10-issue6/D01061116.pdf?id=8142.
Longacre TA, Bell DA, Malpica A, Prat J, Ronnett BM, Seidman JD.WHO Classification of Tumors of the Ovary.In:Kurman RJ, Carcanglu ML, Herrington CS, Young RH, editors. WHO Classification of tumors of female reproductive organs. 4th ed. Lyon: IARC;2014.12-101. Available at https://publications.iarc.fr/Book-And-Report-Series/Who-Classification-Of-Tumours/WHO-Classification-Of-Tumours-Of-Female-Reproductive-Organs-2014.
Dheresa M, Assefa N, Berhane Y, Worku A, Mingiste B, Dessie Y. Gynecological Morbidity among women in Reproductive Age: A Systematic Review and Meta-Analysis. J Women's Health Care. 2017;6:3. doi: 10.4172/2167-0420.1000367.
Amin SM, Olah F, Babandi RM, Liman MI, Abubakar SJ. Histopathological analysis and clinical correlations of ovarianlesions in a tertiary hospital in Nigeria: A 10-year review. Ann Trop Pathol 2017;8:25-28. doi: 10.4103/atp.atp_16_17.
Prakash A, Chinthakindi S, Duraiswami R, Indira V. V I. Histopathological study of ovarian lesions in a tertiary care center in Hyderabad, India: a retrospective five-year study. Int J Adv Med. 2017;4(3):745. doi: 10.18203/2349-3933.ijam20172265.
Sharma P, Bharadwaj S. Histomorphological Spectrum of Ovarian Tumours in a Tertiary Care Centre in North India. JMSCR. 2017;7(10):841-845. doi: 10.18535/jmscr/v7i10.143.
Fatima R, Sandhya M, Sowmya TS. Study of histomorphological pattern of ovarian neoplastic and non-neoplastic lesions. Int J Res Med Sci. 2017;5(5):2095-2098. doi: 10.18203/2320-6012.ijrms20171849.
Seidman JD, Cho KR, Ronnett BM, Kurman R.J. Surface epithelial tumors of the ovary. In:Kurman RJ. Ellenson, LH., Ronnett BM, editors. Blaustein's pathology of the female genital tract.6thed. New York: Springer;2011.703.
Zaloudek CJ, Garg K. Tumors of the Female Genital Tract. 4thed. Philadelphia: Elseviers;2013.
Garg N, Anand AS, Annigeri C. Study of histomorphological spectrum of ovarian tumours. Int J Med Health Res. 2017;3(10):12-20.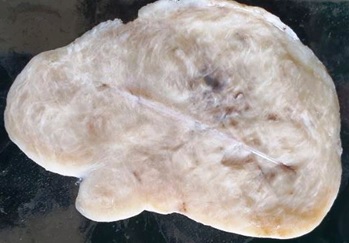 CITATION
DOI: 10.17511/jopm.2020.i07.03
How to Cite
Subashree Kannan, Sneha Ravindran, & S. Balaji. (2020). A retrospective study on histomorphological spectrum of ovarian lesions in a tertiary care hospital. Tropical Journal of Pathology and Microbiology, 6(7), 430-436. https://doi.org/10.17511/jopm.2020.i07.03
Copyright (c) 2020 Author (s). Published by Siddharth Health Research and Social Welfare Society
This work is licensed under a Creative Commons Attribution 4.0 International License.