Study of Acute Transfusion Reactions in a tertiary care hospital
Dr. Yashodhara Rajesh Gotekar

MD (Pathology), Associate Professor, Pathology, Bharati Vidyapeeth (Deemed to be University) Medical College and Hospital, Sangli, Maharashtra, India

Dr. Amruta Khade

MD, Bharati Vidyapeeth (Deemed to be University) Medical College and Hospital, Sangli, Maharashtra, India
Keywords:
Acute transfusion reactions, Blood component, FNHTR, Hemovigilance, Whole blood
Abstract
Introduction: Blood transfusion is an effective way of correcting the hematological needs of patients, but adverse effects do occur during or after transfusion. These adverse events associated with the transfusion of whole blood or one of its components are known as transfusion reactions.
Aim: To study the frequency and type of Acute Transfusion Reactions (ATRs) occurred in patients receiving blood transfusions.
Materials and Methods: This retrospective observational study was done to know acute transfusion reactions reported to Bharati Vidyapeeth (Deemed to be University) Medical College and Hospital, Blood Bank, Sangli over a period of 5 years (January 2015-December 2019).All ATRs related to whole blood and blood components were analyzed and classified on the basis of their clinical features and laboratory tests.
Results: ATRs during or after blood transfusion reported during the five year period were 77 (0.21 %) out of 35,593 units of blood /blood components transfused. ATRs reported were febrile non hemolytic transfusion reactions (FNHTR) 46 (59.74%), allergic Reactions 29 (37.66 %), anaphylactic reactions 2 (2.59 %) in order of frequency.
Conclusion: The majority of ATRs were FNHTRs followed by allergic reactions.
Downloads
Download data is not yet available.
References
Bhattacharya P, Marwaha N, Dhawan HK, Roy P, Sharma RR. Transfusion-Related Adverse. Events At The Tertiary Care Center In North India: An Institutional Hemovigilance Effort. Asian J Transfus Sci. 2011;5(2):164-170. Available at http://www.ajts.org/text.asp?2011/5/2/164/83245.
Chowdhury FS, Biswas J, Siddiqui MAE, Hoque MM, Adnan SK. Transfusion Reaction Among The Blood Recipient - A Study Of 120 Cases. J Dhaka Med Coll. 2008;17(2):67-71. doi: 10.3329/jdmc.v17i2.6585.
Sahu S, Hemlata and Verma A. Adverse events related to blood transfusion. Indian J Anaesthes. 2014;58(5):543-551. doi: 10.4103/0019-5049.144650.
Khalid S, Usman M and Khurshid M. Acute Transfusion Reactions Encountered In Patients At A Tertiary Care Center. J Pak Med Assoc. 2010;60(10):832-836.
Chavan S K., Patil G, Rajopadhye P. Adverse Blood Transfusion Reactions at Tertiary Care Hospital. Int J Res Med Sci. 2016;4(6):2402-2407. doi: 10.18203/2320-6012.ijrms20161822.
Suddock JT, Crookston KP. Transfusion reactions. InStatPearls [Internet] 2019 Jul 27. StatPearls Publishing.
Adverse Effects Of Transfusion. Clinical Transfusion Practice Guidelines for Medical Interns. World Health Organization: 26.
Sharma DK, Dutta S, Gupta A. Study Of Acute Transfusion Reactions In A Teaching Hospital Of Sikkim: A Hemovigilance Initiative. Indian J Pharmacol. 2015;47(4):370-374. doi: 10.4103/0253-7613.161257
Vartak UC, Shewale R, Vartak S, Faizal F and Majethia N. Adverse Reactions Of Blood Transfusion: A Study In A Tertiary Care Hospital. Int J Sci Study. 2016;4(2):90-94. doi: 10.17354/ijss/2016/259.
Bharucha Z. Introduction To Transfusion Medicine: DK Publishers,1990:308.
Bhardwaj K. Transfusion Guide For Clinicians. JP Medical LTD. 2012:125.
Pahuja S, Puri V, Mahajan G, Gupta P, Jain M. Reporting adverse transfusion reactions: A retrospective study from tertiary care hospital from New Delhi, India. Asian J Transfus Sci. 2017;11(1):6-12. doi: 10.4103/0973-6247.200779.
Kumar P, Thapliyal R, Coshic P and Chatterjee K. Retrospective Evaluation Of Adverse Transfusion Reactions Following Blood Product Transfusion From A Tertiary Care Hospital: A Preliminary Step Towards Hemovigilance. Asian J Transfus Sci. 2013;7(2):109-115. doi: 10.4103/0973-6247.115564.
Saran RK, editor. Transfusion medicine: technical manual. Directorate General of Health Services, Ministry of Health and Family Welfare, Government of India; 2003.
Faber JC. Haemovigilance Around The World. Vox Sang. 2002;83(1):71-76. doi: 10.1111/j.1423-0410.2002.tb05271.x.
Sidhu M, Meenia R, Yasmeen I and Akhtar N. A Study Oftransfusion Related Adverse Events At A Tertiary Care Centre In North India: An Initiative Towards Hemovigilance. Int J Advan Med. 2015;2(3):206-210. doi: 10.18203/2349-3933.ijam20150545.
Payandeh M, Zare ME, Kansestani AN, Pakdel SF, Jahanpour F, Yousefi H, et al. Descriptions of Acute Transfusion Reactions In The Teaching Hospitals Of Kermanshah University Of Medical Sciences, Iran. Int J Hematol: Oncol Stem Cell Res. 2013;7(2):11-16.
Hatayama Y, Matsumoto S, Hamada E, Kojima N, Hara A, Hino N, et al. Analysis of Acute Transfusion Reactions and Their Occurrence Times. Yonago Acta Med. 2018;61(1):87-90. doi: 10.33160/yam.2018.03.013.
Venkatachalapathy TS. A Prospective Audit of Blood Transfusion Reactions In Tertiary Care Hospital For The Use Of Blood And Blood Components. J Blood Disord Transfus. 2012;3(2):1-5. DOI: 10.4172/2155-9864.1000118.
Haslina MNN, Fakhri MAM, Saw TH and Salamah AS. An Audit on Acute Transfusion Reaction In North Eastern Malaysia. Sch J Med. 2012;2(5):60-62.
Sinha RTK, Rai P, Dey A. A Study of Transfusion Related Adverse Events at a Tertiary Care Center in Central India: A Retrospective Evaluation. J Med Sci Health. 2016;2(3):6-12. doi: 10.46347/jmsh.2016.v02i03.002.
Khoyumthem P, Rachandra K, Goswami S, Lyngdoh LN, Sharma AB, Singh AM. Acute Transfusion Reactions in A Tertiary Hospital: A 2-Year Retrospective Study. J Med Soc. 2018;32(1):47-50. doi: 10.4103/jms.jms_41_17.
Domen RE and Hoeltge GA. Allergic Transfusion Reactions: An Evaluation Of 273 Consecutive Reactions. Arch Pathol Lab Med. 2003;127(3):316-320. doi: 10.1043/0003-9985(2003)127<0316:ATR>2.0.CO;2.
Robillard P and Karl Itaj N. Incidence of Adverse Transfusion Reactions In The Quebec Hemovigilance System. Vox Sanguinis. 2002;83:120.
Popovsky MA and Taswell RF. Circulatory Overload: An Undiagnosed Consequence Of Transfusion. Vox Sanguinis. 2002; 83: 469.
Haji AG, Sharma S, Vijaykumar DK, Paul J. Transfusion Related Acute Lung Injury Presenting With Acute Dyspnoea: A Case Report. J Med Case Rep. 2008;2:336. doi: 10.1186/1752-1947-2-336.
Chapman CE, Stainsby D, Jones H, Love E, Massev E, Win N, et al. Ten Years of Haemovigilance Reports of Transfusion Related Acute Lung Injuryin The United Kingdom And The Impact Of Preferential Use Of Male Donor Plasma. Transfus. 2009;49(3):440-452. doi: 10.4097/kjae.2015.68.2.101.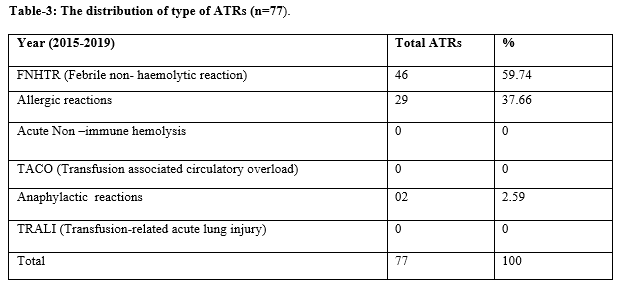 How to Cite
Dr. Yashodhara Rajesh Gotekar, & Dr. Amruta Khade. (2020). Study of Acute Transfusion Reactions in a tertiary care hospital. Tropical Journal of Pathology and Microbiology, 6(6), 410-416. https://doi.org/10.17511/jopm.2020.i06.07
Copyright (c) 2020 Author (s). Published by Siddharth Health Research and Social Welfare Society
This work is licensed under a Creative Commons Attribution 4.0 International License.