Transfusion pattern of blood products in a blood bank at a tertiary care hospital
Dr. Jeevaraj Giridharan

Assistant Professor, Trichy SRM Medical College Hospital and Research Centre, Irungalur, Trichy, Tamil Nadu, India

Dr. V. Sarada

Trichy SRM Medical College Hospital and Research Centre, Irungalur, Trichy, Tamil Nadu, India
Keywords:
Blood components, Cryoprecipitate, Fresh Frozen Plasma, Packed Red Blood Cells, Platelets, Usage, Whole blood
Abstract
Objectives: Blood products in modern-day transfusion practice include, Packed Red Blood Cells, Platelets, Leucocytes, Plasma, Cryoprecipitate, and individual plasma factors. The objective was to study the pattern of usage of various blood products for the commonest clinical indications and to have an overview of the production of blood components.
Materials and Methods: In this study, usage of various blood products like Packed Red Blood Cells, Platelet concentrates, Fresh Frozen Plasma, and Cryoprecipitate were studied in the blood bank of Trichy SRM medical college hospital and research center, using blood bank records and correlating with clinical data during the period of June 2015 - June 2020.
Observation and result: The pattern of usage among 14,511 units of blood components from June 2015 – June 2020 showed the frequency of usage of Packed Red Blood Cells was more than Fresh Frozen Plasma and whole blood. The usage of whole blood was more than Platelet concentrates and Cryoprecipitate. The most frequently used component was Packed Red blood cells – 7841 units (54%). The second most frequently used component was fresh frozen plasma – 3889 units (26.8%). In the next frequency whole blood- 1955 units (13.5%), platelet concentrates - 797 units (5.5%) and cryoprecipitate – 29 units (0.2%) were used.
Conclusion: There has been an appropriate increase in the usage of blood products to meet the clinical demand in treating the patients with an increase in pathological conditions. Specific blood component transfusion should be encouraged for specific indications to reduce non-essential overload to the patients.
Downloads
Download data is not yet available.
References
Klein GH, David J. "The transfusion of blood, blood components and plasma derivatives" In: Mollison's Blood transfusion in Clinical Medicine, 12thed, Black well Pub, oxford, 2013. doi: https://www.barnesandnoble.com/w/mollisons-blood-transfusion-in-clinical-medicine-harvey-g-klein/1124347148.
RK Saran, Transfusion Medicine Technical Manual, Ministry of Health and Family welfare, Government of India, New Delhi; 2nd ed, 2003.
Verma A. Blood component therapy. Indian J Pediatr. 2008;75(7):717. doi: 10.1007/s12098-008-0136-0.
Bell EF, Strauss RG, Widness JA, Mahoney LT, Mock DM, Seward VJ, et al. Randomized Trial of Liberal Versus Restrictive Guidelines for Red Blood Cell Transfusion in Preterm Infants. Pediatr. 2005;115(6):1685-1691. doi: 10.1542/peds.2004-1884.
Jain R, Jose B, Coshic P, Agarwal R, Deorari AK. Blood and blood component therapy in neonates. The Indian J Pediatr. 2008;75(5):489-495. doi: 10.1007/s12098-008-0076-8.
Murray NA, Roberts IAG. Neonatal transfusion practice. Arch Dis Child Fet Neonate. 2004;89(2):101-107. doi: 10.1136/adc.2002.019760.
Chandarya R, Wander GS, Gupta P. Blood component therapy: Which, When and how much. J Anaesthesiol. Clin Pharmacol. 2011;27(2):278. doi: 10.4103/0970-9185.81849.
Richa Jain, Bipin Jose, Poonam Coshic, Ramesh Agarwal, Ashok K Deorari, "AIIMS– NICU protocols" 2008.
British Committee for Standards in Haematology. Accessed on April 20, 2008.
Choudhury N, Phadke S. Transfusion transmitted diseases. Indian J Pediatr. 2001;68:951-958. doi: 10.1007/BF02722595.
Roberts I, Murray NA. Neonatal thrombocytopenia: causes and management. Arch Dis Child Fet Neonate. 2003;88(5):F359-364. doi: 10.1136/fn.88.5.F359
Tucci M. Goal-directed blood transfusion therapies Current Concepts in Pediatric Critical Care. Refresher Course available at http//sccmcms.scom.org accessed on April 15, 2008.
Luban NLC. Massive transfusion in Neonates. Transfus Med Rev. 1995;9(3):200-214. doi: 10.1016/S0887-7963(05)80110-5.
Galel SA, Fontaine MJ. Hazards of Neonatal Blood Transfusion. Neo Reviews. 2006;7(2):e 69-75.
Yang X, Ahmed S, Chandrasekaran V. Transfusion-related acute lung injury resulting from designated blood transfusion between mother and child: a report of two cases. Am J Clin Pathol. 2004;121(4):590-592. doi: 10.1309/kntu-ctna-gl5w-7r1r.
Mamatha SV, Chaithra H., Susmitha NS, Anand R. A Retrospective study of analysis of reasons for discard of blood and blood components. Trop J Pathol Microbiol. 2018;4(3):276-280. doi: 10.17511/jopm.2018.i03.07.
Galel SA Therapeutic techniques: Selection of Blood Components for Neonatal Transfusion. Neo Rev. 2005;6;e351-e355.
Giridharan J, Ramalingam GR. Study of blood component therapy in neonates. Int J Sci Res. 2015;4(3):196-200.
Royal College of Physicians of Edinburgh. Consensus statement on red cell transfusion. Transfus Med. 1994;4:177-178.
Hass FJIM, van Rhenen DJ, Neonatology in: Blood Transfusion Guidelines. Hass FJIM, van Rhenen DJ eds, National Users sanquin Blood Supply, Netherland. 2011: p146-164.
Marwaka N, Chaudry RK. Blood Groups; Blood Transfusion: AIDS in : de Gruchy's Clinical Haematology in Medical Practice. Saxena R, Pati HP eds, Wiley India New Delhi. 2013: p 432-451.
Khodabux CM, Hach KEA, Von Lindern JS, Brouwers H, Walther FJ, Brand A. A comparative study on transfusion practice and outcome in two Dutch tertiary neonatal centres. Transfus. Med. 2009;19(4):195-201. doi: 10.1186/1471-2431-11-48.
Jeanne AL, Ness PM. Current approaches to Red Cell Transfusion, Seminars in Hematology, Vol 33, no 4, 1996.
Ala FA, Greaves M, Jones J, Levin M, Machin SJ, Morgan C, et al. Guidelines for the use of fresh frozen plasma, Tansfus Med. 1992;2(1):57-63. doi: 10.1111/j.1365-3148.1992.tb00135.x.
Voak D, Cann R, Finney RD, Fraser ID, Mitchell R, Murphy MF, Guidelines for administration of blood products: transfusion of infants and neonates, Transfus Med. 1994;4(1):63-69. doi: 10.1111/j.1365-3148.1994.tb00245.x.
Unit BS, World Health Organization. Developing a national policy and guidelines on the clinical use of blood: recommendations. World Health Organization; 1998.
Petz, Lawrence, D. and Swisher, Scott, N. Clinical Practice of Transfusion Medicine, Sec Edn, Chuchill Livingstone, 1989.
Opelz G. Analysis of the 'NIMA effect' in renal transplantation. Collaborative Transplant Study. Clin Transpl. 1990;63-67. doi: 10.1038/s41409-018-0345-8.
Race RR, Sanger, Ruth. Blood Groups in Man, 6th Ed, Blankwell Scientific Publication, Oxford.1975. doi: 10.1002/ajpa.1330120223.
Robinson J., Malik A, Partha P, Bodmer JG, Marsh SG. IMGT/HLA database-a sequence database for the human major histocompatibility complex. Tissue Antigens. 2000:55(3):280-287. doi: 10.1034/j.1399-0039.2000.550314.x.
Rowley SD, Bensinger WI, Gooley TA, Buckner CD, et al. The effect of cell concentration of bone marrow and peripheral blood stem cell cryopreservation. Blood. 1994;83(9):2731-2736. doi: 10.1182/blood.V83.9.2731.2731.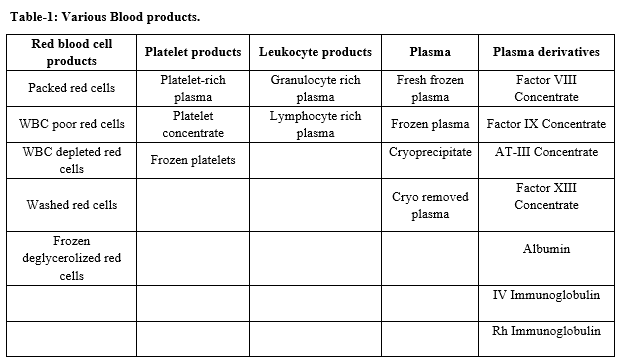 How to Cite
Dr. Jeevaraj Giridharan, & Dr. V. Sarada. (2020). Transfusion pattern of blood products in a blood bank at a tertiary care hospital. Tropical Journal of Pathology and Microbiology, 6(6), 401-409. https://doi.org/10.17511/jopm.2020.i06.06
Copyright (c) 2020 Author (s). Published by Siddharth Health Research and Social Welfare Society
This work is licensed under a Creative Commons Attribution 4.0 International License.