Epidemiological and histopathological study of thyroid lesions in a tertiary care hospital in south India
Dr. Adayalam Chandana

Assistant Professor, Department of Pathology, Sri Balaji Vidyapeeth Deemed to be University, Kancheepuram district, Tamil Nadu, India

Dr. Gomathi. R.

Associate Professor, Department of Pathology, Sri Balaji Vidyapeeth Deemed to be University, Kancheepuram district, Tamil Nadu, India

Dr. Prakashiny S. S

Assistant Professor, Department of Pathology, Sri Balaji Vidyapeeth Deemed to be University, Kancheepuram district, Tamil Nadu, India
Keywords:
Thyroid malignancy, Microscopic variants, Papillary carcinoma, Thyroid nodules
Abstract
Introduction: Thyroid swellings are easily picked up on general physical examination. Due to various cosmetic concerns, there has been a steady increase in thyroid surgeries in recent years. Many epidemiological risk factors have been attributed to the development of various thyroid lesions and malignancies. The present study was carried out to evaluate the epidemiology and histopathological distribution of various thyroid lesions.
Material and Methods: This cross-sectional study was carried out among 130 patients presenting with visible thyroid swelling to our tertiary care institution. The post-operative specimens of the thyroid were fixed in 10% formalin, processed, embedded in paraffin blocks, 3-5μm sections cut and stained with Hematoxylin and Eosin.
Results: Out of the 152 cases of thyroid lesions analyzed, 12 (7.9%) were simple goiter, 15(9.9%) were multinodular goiter, 47 (30.9%) were adenomas, 52 (34.2%) were papillary carcinomas, 1 (0.6%) was medullary carcinoma. About 96% of the participants had a positive dietary history, 50% of them had a positive family history. Papillary carcinoma and its variants were the most commonly diagnosed lesion accounting for about 34.2% of the cases.
Conclusion: Thyroid biopsy rates are on the rise because of increased awareness. Therefore, the detection of thyroid malignancies is also on the rise. The diagnosis and management of thyroid tumors require a collective outlook on the part of the clinician and pathologist. Despite advances in imaging technology pathologists' role is very important in the diagnosis of thyroid neoplasms and in predicting the prognosis and patient outcome.
Downloads
Download data is not yet available.
References
Unnikrishnan AG, Kalra S, Baruah M. Endocrine society of India management guidelines for patients with thyroid nodules: A position statement. Indian J Endocrinol Metab. 2011;15(1):2-8. doi: 10.4103/2230-8210.77566.
Mettler FAJR, Wiest PW, Locken JA. CT scanning: patterns of use and dose. J Radiol Prot. 2000;20(4):353-359. doi: 10.1088/0952-4746/20/4/301.
Linton OW, Mettler FA, Locken JA. National conference on dose reduction in CT, with an emphasis on pediatric patients. Am J Roentgenol. 2003;181(2):321-329. doi: 10.2214/ajr.181.2.1810321.
Pearce MS, Salotti JA, Little MP, Hugh KM. Radiation exposure from CT scans in childhood and subsequent risk of leukaemia and brain tumours: a retrospective cohort study. The Lancet. 2012;380(9840):499-505. doi: 10.1016/S0140-6736(12)60815-0.
Ron E. Cancer risks from medical radiation. Health Physics. 2003;85(1):47-59. doi: 10.1097/00004032-200307000-00011.
Feildt-rasmussem U, Iodine and cancer. Thyroid. 2001;11(5):483-486. doi: 10.1089/105072501300176435.
Dijkstra B, Prichard RS, Lee A, Smyth PPA, Crotty T. Changing patterns of thyroid carcinoma. Irish J Med Sci. 2007;176(2):87-90. doi: 10.1007/s11845-007-0041-y.
Harach, HR, Escalante DA, Onativia, A, Lederer Outes J, Saravia Day E, Williams ED. Thyroid carcinoma and thyroiditis in an endemic goitre region before and after iodine prophylaxis. Acta Endocrinologica. 1985;108(1):55-60. doi: 10.1530/acta.0.1080055.
Mathur A, Moses W, Rahbari, R, Khanafshar E, Duh QY, Clark O, et al. Higher rate of BRAF mutation in papillary thyroid cancer over time: a single-institution study. Cancer. 2011;117(19):4390-4395. doi: 10.1002/cncr.26072.
Peterson E, De P, Nuttall R. BMI, diet and female reproductive factors as risks for thyroid cancer: a systematic review. PLoS One. 2012;7(1): 54-76. doi: 10.1371/journal.pone.0029177.
Bichoo R, Mishra A, Kumari N. Poorly Differentiated Thyroid Carcinoma and Poorly Differentiated Area in Differentiated Thyroid Carcinoma: Is There Any Difference?. Langenbecks Arch Surg. 2019;404(1):45-53. doi: 10.1007/s00423-019-01753-6.
Hedinger C, Williams D, Sobin LH. The WHO histological classification of thyroid tumors-A commentary on the 2nd edition. Cancer. 1989;63(2): 908-911. doi: 10.1002/1097-0142(19890301)63:5<908::AID-CNCR2820630520>3.0.CO;2-I.
Srinivas MN, Amogh VN, Gautam MS, Prathyusha IS, Vikram NR, Retnam MK, et al. A prospective study to evaluate the reliability of thyroid imaging reporting and data system in differentiation between benign and malignant thyroid lesions. J Clin Imaging Sci. 2016;6(5):908-911. doi: 10.4103/2156-7514.177551.
Gupta M, Gupta S, Gupta VB. Correlation of Fine Needle Aspiration Cytology with Histopathology in the Diagnosis of Solitary Thyroid Nodule. J Thyroid Res. 2010;45(2):1-5. doi: 10.4061/2010/379051.
Rafla S. Anaplastic tumors of the thyroid. Cancer. 1969;23(1): 657-668. doi: 10.1002/1097-0142(196903)23:3<668::AID-CNCR2820230321>3.0.CO;2-8.
Prabha V, Bhuvaneswari MG. Study of Histopathological Spectrum of Thyroid Lesions: An Observational Study. Int J Sci Stud. 2019;7(1):1-4. Available from https://www.ijss-sn.com/uploads/2/0/1/5/20153321/44_ijss_apr_oa44_-_2019.pdf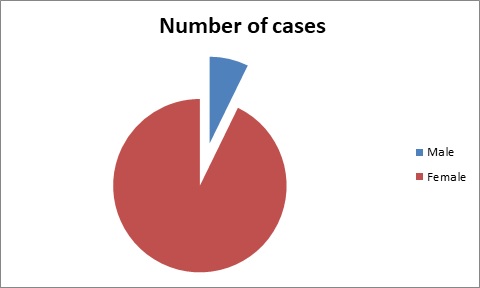 How to Cite
Dr. Adayalam Chandana, Dr. Gomathi. R., & S, D. P. S. (2020). Epidemiological and histopathological study of thyroid lesions in a tertiary care hospital in south India. Tropical Journal of Pathology and Microbiology, 6(6), 381-386. https://doi.org/10.17511/jopm.2020.i06.03
Copyright (c) 2020 Author (s). Published by Siddharth Health Research and Social Welfare Society
This work is licensed under a Creative Commons Attribution 4.0 International License.