Triple-negative bilateral synchronous infiltrating lobular cancer in an elderly male: A rare case report
Dr. Prasath Sathiah

Assistant Professor, Department of Pathology, Trichy SRM Medical College Hospital and Research Center, Trichy, India

Dr. Debasis Gochhait

Associate Professor, Department of Pathology, Jawaharlal Institution of Postgraduate Medical Education and Research, Puducherry, India
Keywords:
Breast cancer, Gynecomastia, Pleural effusion
Abstract
Breast malignancy in males is rare, because of the absence of lobules. Here we are presenting the case of 65 male patients presented with bilateral breast enlargement. On examination also shows a bilateral pleural effusion. Sonomammogram shows features of gynecomastia. A bone scan shows multiple skeletal metastases involving all over the body. Trucut biopsy from both breasts shows tumor with features of infiltrating lobular carcinoma. Immunohistochemistry revealed this tumor as triple-negative. Plural fluid cytology examination shows evidence of metastasis adenocarcinoma deposits.
Downloads
Download data is not yet available.
References
Giordano SH, Cohen DS, Buzdar AU, Perkins G, Hortobagyi GN. Breast carcinoma in men: a population‐based study. Cancer. 2004;101(1):51-57. doi: https://doi.org/10.1002/cncr.20312.
Sanchez AG, Villanueva AG, Redondo C. Lobular carcinoma of the breast in a patient with Klinefelter's syndrome. A case with bilateral, synchronous, histologically different breast tumors. Cancer. 1986;57(6):1181-1183. doi: https://doi.org/10.1002/1097-0142(19860315)57:6%3C1181::aid-cncr2820570619%3E3.0.co;2-t.
Sasco AJ, Lowenfels AB, Pasker-de Jong P. Review article: epidemiology of male breast cancer. A meta-analysis of published case-control studies and discussion of selected aetiological factors. Int J Cancer 1993;53(4):538-549. doi: https://doi.org/10.1002/ijc.2910530403.
Goss PE, Reid C, Pintilie M, Lim R, Miller N. Male breast carcinoma: a review of 229 patients who presented to the Princess Margaret Hospital during 40 years: 1955-1996. Cancer. 1999;85(3):629-639. doi: https://doi.org/10.1002/(sici)1097-0142(19990201)85:3%3C629::aid-cncr13%3E3.0.co;2-v.
Basham VM, Lipscombe JM, Ward JM et al. BRCA1 and BRCA2 mutations in a population-based study of male breast cancer. Breast Cancer Res 2002;4(1):R2. doi: https://dx.doi.org/10.1186%2Fbcr419.
Yildirim E, Berberoglu U. Male breast cancer: a 22-year experience. Eur J Surg Oncol. 1998;24(6):548-552. doi: https://doi.org/10.1016/s0748-7983(98)93608-3.
Giordano SH, Buzdar AU, Hortobagyi GN. Breast cancer in men. Ann Intern Med. 2002;137(8):678-687. doi: https://doi.org/10.7326/0003-4819-137-8-200210150-00013.
Stierer M, Rosen H, Weitensfelder W, Hausmaninger H, Teleky B, Jakesz R, et al. Male breast cancer: Austrian experience. World J Surg. 1995;19(5):687-692. doi: https://doi.org/10.1007/BF00295904.
Scott-Conner CE, Jochimsen PR, Menck HR, Winchester DJ. An analysis of male and female breast cancer treatment and survival among demographically identical pairs of patients. Surg. 1999;126(4):775-780.
Nahleh ZA, Srikantiah R, Safa M, Jazieh AR, Muhleman A, Komrokji R. Male breast cancer in the veterans affairs population: a comparative analysis. Cancer. 2007;109(8):1471-1477. doi: https://doi.org/10.1002/cncr.22589.
Bloom KJ, Govil H, Gattuso P, Reddy V, Francescatti D. Status of HER-2 in male and female breast carcinoma. Am J Surg. 2001;182(4):389-392. doi: https://doi.org/10.1016/s0002-9610(01)00733-4.
Muir D, Kanthan R, Kanthan SC. Male versus female breast cancers. A population-based comparative immunohistochemical analysis. Arch Pathol Lab Med. 2003;127(1):36-41. doi: https://doi.org/10.1043/0003-9985(2003)127%3C36:mvfb%3E2.0.co;2.
Dong C, Hemminki K. Second primary breast cancer in men. Breast Cancer Res Treat. 2001;66(2):171-172. doi: https://doi.org/10.1023/a:1010639429207.
Auvinen A, Curtis RE, Ron E. Risk of subsequent cancer following breast cancer in men. J Natl Cancer Inst. 2002;94(17):1330-1332. doi: https://doi.org/10.1093/jnci/94.17.1330.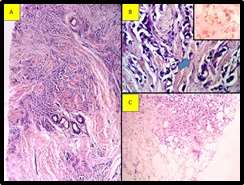 How to Cite
Sathiah, P., & Gochhait, D. (2020). Triple-negative bilateral synchronous infiltrating lobular cancer in an elderly male: A rare case report. Pathology Update: Tropical Journal of Pathology and Microbiology, 6(4), 345-348. https://doi.org/10.17511/jopm.2020.i04.14
Copyright (c) 2020 Author (s). Published by Siddharth Health Research and Social Welfare Society
This work is licensed under a Creative Commons Attribution 4.0 International License.