Paraganglioma of the urinary bladder
Dr. Sohaila Fatima

Assistant Professor, Department of Pathology, King Khalid University, Abha, Saudi Arabia

Omaia Mahdy

Specialist, Department of Laboratory Medicine, Aseer Central Hospital, Abha,Saudi Arabia

Shiza Wajih Siddiqui

Medical Student, Dubai Medical College, United Arab Emirates
Keywords:
Paragangliomas, Extra-adrenal pheochromocytomas, Urinary bladder
Abstract
Paragangliomas are extra-adrenal pheochromocytomas. They are catecholamine-secreting neoplasms developing from the chromaffin cells derived from the ectodermic neural system. They are rare neoplasms that account for less than 0.06% of all urinary bladder tumors and 6% of all extra-adrenal pheochromocytomas. They arise from chromaffin tissue of the sympathetic nervous system within the layers of the bladder wall. They can be present in any part of the bladder with a predilection for the detrusor muscle with the most common sites being the dome and trigone.They may be nonfunctional or functional. The most common symptoms are hypertension and hematuria. Functional tumors usually present with symptoms of excessive catecholamine secretion. The patient typically suffers from hypertensive crises that may be accompanied by headache, palpitations, hot flushes, and sweating. Postmicturition hypotension and syncope are another common presentations. They share a genetic basis and can be related to a number of hereditary conditions.They are usually benign but there are no reliable morphologic criteria by which to separate the benign from the malignant forms. Here we present a 22 years old female with hematuria which on histopathology proved to be paraganglioma of the urinary bladder.
Downloads
Download data is not yet available.
References
McKenney JK. Bladder. In: Goldblum, JR; Lamps, LW; McKenney, JK; Myers, JL, editors. Rosai and Ackermans surgical pathology. 11th ed. Mosby St. Louis, Missouri; 2017.p 1066-1096.
Leestma JE, Price EB Jr. Paraganglioma of the urinary bladder. Cancer. 1971;28(4):1063‐1073. doi: https://doi.org/10.1002/1097-0142(1971)28:4%3C1063::AID-CNCR2820280433%3E3.0.CO;2-R.
MochH , Humphrey PA, Ulbright TM , Reuter V. WHO Classification of Tumours of the Urinary System and Male Genital Organs. International Agency for Research on Cancer, Lyon, France; 2016.
Cheng L, Leibovich BC, Cheville JC, Ramnani DM, Sebo T J, Neumann RM, et al. Paraganglioma of the urinary bladder Can biologic potential be predicted?. Cancer, 2010;88(4):844-852. doi: https://doi.org/10.1002/(SICI)1097-0142(20000215)88:4<844::AID-CNCR15>3.0.CO;2-I.
Menon S, Goyal P, Suryawanshi P,Tongaonkar H, Joshi A, Bakshi G, et al. Paraganglioma of the urinary bladder: A clinicopathologic spectrum of a series of 14 cases emphasizing diagnostic dilemmas. Indian J Pathol Microbiol. 2014;57(1):19-23. doi: https://doi.org/10.4103/0377-4929.130873.
Lenders JWM, Duh QY, Eisenhofer G,Gimenez-Roqueplo AP, Grebe SKG, Murad MH, et al. Pheochromocytoma and Paraganglioma: An Endocrine Society Clinical Practice Guideline. J Clin Endocrinol Metabol.2014;99(6):1915-1942. doi: https://doi.org/10.1210/jc.2014-1498.
Feng N, Zhang WY, Wu XT. Clinicopathological analysis of paraganglioma with literature review. World J Gastroenterol. 2009;15(24):3003-3008. doi: https://doi.org/10.3748/wjg.15.3003.
Thompson LD. Pheochromocytoma of the Adrenal gland Scaled Score (PASS) to separate benign from malignant neoplasms: a clinicopathologic and immunophenotypic study of 100 cases. Am J Surg Pathol. 2002;26(5):551-566. doi: https://doi.org/10.1097/00000478-200205000-00002.
Elgazzar AH, Gelfand MJ, Washburn LC, Clark J, Nagaraj N, Cummings D, et al. I-123 MIBG scintigraphy in adults. A report of clinical experience. Clin Nucl Med. 1995;20(2):147-152. doi: https://doi.org/10.1097/00003072-199502000-00011.
Hamrahian AH, Ioachimescu AG, Remer EM, Motta-Ramirez G, Bogabathina H, Levin HS, et al. Clinical utility of noncontrast computed tomography attenuation value (hounsfield units) to differentiate adrenal adenomas/hyperplasias from nonadenomas: Cleveland Clinic experience. J Clin Endocrinol Metab. 2005;90(2):871-877. doi: https://doi.org/10.1210/jc.2004-1627.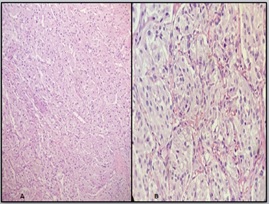 CITATION
DOI: 10.17511/jopm.2020.i04.11
How to Cite
Fatima, S., Mahdy, O., & Wajih Siddiqui, S. (2020). Paraganglioma of the urinary bladder. Tropical Journal of Pathology and Microbiology, 6(4), 333-335. https://doi.org/10.17511/jopm.2020.i04.11
Copyright (c) 2020 Author (s). Published by Siddharth Health Research and Social Welfare Society
This work is licensed under a Creative Commons Attribution 4.0 International License.