Tumors and tumor-like lesion of the oral cavity: A study of 100 cases at tertiary care hospital
Dr. Shaikh Parvin Abdul Rauf

Post-graduate, Department of Pathology, Government Medical College and Hospital, Aurangabad, Maharashtra, India

Dr. Bharat R Sonwane

Associate Professor, Department of Pathology, Government Medical College and Hospital, Aurangabad, Maharashtra, India
Keywords:
Oral cancer, Tobacco-related product, Tumors of the oral cavity
Abstract
Introduction: Oral cancer is a major health problem in some parts of the world especially developing countries. Oral cancer is the sixth most common cancer in the world whereas in India it is the most prevalent cancer. In India increase in incidence is seen in states like Uttar Pradesh, Madhya Pradesh, Gujarat, Bihar, and Maharashtra.
Material & Methods: A total of 100 cases have been studied over a period of two years & two months. The surgical pathology specimens received for histopathological diagnosis were examined microscopically, and the diagnosis was confirmed.
Results: Amongst 100 cases studied, 72 (72%) cases were malignant, 12(12%) were benign, 12 (12%) were tumor-like lesions and 4 (4%) cases were premalignant conditions. The youngest patient was 4 years of age and the oldest of 84 years. The male: female ratio was2.3:1. Tobacco chewing was the commonest habit observed in patients with a malignant tumor. Buccal mucosa was the commonest site of tumors and tumor-like lesions.
Conclusions: It is the need of the hour to create awareness among people about the early approach to hospital, maintenance of oral hygiene by cultivating good oral habits, and periodic oral check-ups.
Downloads
Download data is not yet available.
References
Subhe N, Ali E, Hassawi BA. Tumors and Tumor like lesions of the Oral Cavity: A Study of 303 Cases. Med J Tikrit. 2010;1(161):177-183.
Mehrotra R, Pandya S, Chaudhary AK, Kumar M, Singh M. Prevalence of oral pre-malignant and malignant lesions at a tertiary level hospital in Allahabad, India. Asian Pac J Cancer Prev. 2008;9(2):263-265.
Neville BW, Day TA. Oral cancer and precancerous lesions. CA: Cancer J Clinic. 2002;52(4):195-215. doi: https://doi.org/10.3322/canjclin.52.4.195.
Mitra SK, Misra RK, Rai R, Rai P, Arya ML. Study of expression patterns of cytokeratin 8 and 18 in oral cancers. Trop J Pathol Microbiol. 2016;2(3):83-88. Available from: https://pathology.medresearch.in/index.php/jopm/article/view/19.
Grace EA Parkins, G Armah, Patrick A Tumours and tumourlike lesions of the lower face at Korle Bu Teaching Hospital, Ghana – an eight-year study. World J Surg Oncol. 2007;5(48). doi: https://doi.org/10.1186/1477-7819-5-48.
Riaz, N, Warriach RA. Tumors and Tumour- Like Lesions of the Oro - Facial Region at Mayo Hospital, Lahore - A Five Year Study. Annals of King Edward Med University. 2011;17(2):123-129. doi: https://doi.org/10.21649/akemu.v17i2.285.
Ray JG, Ganguly M, Rao BHS, Mukherjee S, Mahato B. Clinico - epidemiological profile of oral potentially malignant and malignant conditions among areca nut , tobacco and alcohol users in Eastern India : A hospital-based study. J Oral Maxillofac Pathol. 2013;17(1):45-50. doi: http://dx.doi.org/10.4103/0973-029X.110720.
Pires FR, Ramos AB, Bittencourt J Oliveira C De, Tavares AS, et al. Oral squamous cell carcinoma: clinicopathological features from 346 cases from a single Oral Pathology service during an 8-year period. J Appl Oral Sci. 2013;21(5):460-467. doi: http://dx.doi.org/10.1590/1679-775720130317.
Ahluwalia H, Gupta SC, Singh M, Mishra V, Singh PA, Walia DK. Spectrum of Head and Neck Malignancies in Allahabad. Indian J Orolaryngol Head Neck Surg. 2001;53(1):16-21. doi: http://dx.doi.org/10.1007/BF02910972.
Khandekar SP, Bagdey PS, Tiwari RR. Oral Cancer and Some Epidemiological Factors : A Hospital Based Study. Indian J Community Med. 2006;31(3):157-159.
Agrawal, KH, Rajderkar S. Clinico-epidemiological profile of oral cancer: A hospital based study. Indian J Comm Health. 2012;24(2):80-84. Available from: https://www.iapsmupuk.org/journal/index.php/IJCH/article/view/227.
Mehta NV, Dave KD, Gonsai RN, Goswami HM, Patel PS, Kadam TB. Histopathological Study of Oral Cavity Lesions: A Study On 100 Cases. Int J Cur Res Rev. 2013;5(10):110-116.
Parikh S, Prajapati H, Shah NR. Histopathological Study of Oral Cavity Lesions. Int J Sci Res. 2013; 2(11):430-432.
Rajesh N, Sreelakshmi K, Ramesh K. Profile of Oral Cancer Patients Attending Tertiary Care Centre, Bellary, Karnataka, India. Int J Curr Res Aca Rev 2014;2(8):46-52.
Bal MS, Jain A, Bodal VK, Kaur J, Sohal BS, Suri AK, et al. A Clinico-Pathological Study of 200 Cases of Oral Cavity Lesions. Res J Pharma Biol Chem Sci. 2014;5(6):1035-1040.
Masamatti SS, Gosavi AV. Histopathological Study of Malignant Oral Tumors: A Five-Year Study. Int J Sci Stud. 2016;4(3):30-34. doi: http://dx.doi.org/10.17354/ijss/2016/312.
Gupta M, Choudhary H, Gupta N, Gupta A. Histopathological study of neoplastic lesions of oral cavity and oropharynx. Int J Res Med Sci. 2016;4(5):1506–1510. doi: http://dx.doi.org/10.18203/2320-6012.ijrms20161219.
Atram MA, Bhalavi V, Dantkale S. A Clinicopathological study of tumors and tumor like lesions of oral cavity. Indian J Bas App Med Res. 2016;5(3):146-153.
Vescovi P, Meleti M, Merigo E, Manfredi M, Corradi D, Giovannacci I, et al. Soft tissue chondroma of the oral cavity: an extremely rare tumour localized on the hard palate. Case Reports Med. 2014;2014. doi: https://doi.org/10.1155/2014/414861.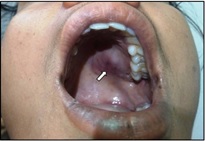 CITATION
DOI: 10.17511/jopm.2020.i04.01
How to Cite
Abdul Rauf, S. P., & R Sonwane, B. (2020). Tumors and tumor-like lesion of the oral cavity: A study of 100 cases at tertiary care hospital. Tropical Journal of Pathology and Microbiology, 6(4), 265-274. https://doi.org/10.17511/jopm.2020.i04.01
Copyright (c) 2020 Author (s). Published by Siddharth Health Research and Social Welfare Society
This work is licensed under a Creative Commons Attribution 4.0 International License.