Cellular analysis of bronchoalveolar lavage fluid in various lung lesions
Dr. Kajal B. Punyashetty

Professor, Department of Pathology, Navodaya Medical College, Raichur, Karnataka, India

Dr. Padma Shree Solanki

Navodaya Medical College, Raichur, Karnataka, India

Dr. Anand A. S.

Professor and Head, Department of Pathology, Navodaya Medical College, Raichur, Karnataka, India
Keywords:
Automated six-part analyzer, Bronchoalveolar lavage fluid, Lung diseases
Abstract
Introduction: Bronchoalveolar lavage (BAL) is a standard tool in the diagnosis of lung diseases. Cellular analysis of BAL fluid when deviates from normal are indicative of an inflammatory/infiltrative process. This study involves an analysis of BAL fluid performed manually and also using an automated analyzer which offers a rapid and reliable method for analysis of unprocessed BAL fluid.
Aims and Objectives: To utilize the cellular analysis of bronchoalveolar lavage (BAL) fluid in the diagnosis of various lung diseases.
Materials and Methods: 37 patients with pulmonary diseases of varying etiologies were included in this study. Fiberoptic bronchoscopy with BAL was performed. BAL fluid was run in SYSMEX XNL/350 six-part analyzer which gave total and differential cell count (mononuclear and polymorphonuclear cells). The sample was also centrifuged, sediment smears prepared and differential cell counts were determined.
Results: Total WBC count ranged from 31 cells/µl to 94 cells/µl with the maximum increase seen in asthma. Mononuclear cells were increased in the majority of cases, being 84% in pneumoconiosis with the predominance of macrophages. An increase in lymphocytes was seen in Non-Specific Interstitial Pneumonia (45.3%) and Bronchiolitis Obliterans Organising Pneumonia (35.3%), neutrophils in Usual Interstitial Pneumonia (26.2%) and eosinophils in Chronic Eosinophilic Pneumonia (55.5%) and asthma (8.4%). There were 58% mononuclear cells and 42% polymorphonuclear cells in tuberculosis. There were two cases of adenocarcinoma and one case of squamous cell carcinoma in the present study.
Conclusion: BAL cell differentials when combined with additional clinical and radiographic information help secure a confident diagnosis in lung diseases and help clinicians to make therapeutic decisions.
Downloads
Download data is not yet available.
References
Meyer K C. The role of bronchoalveolar lavage in interstitial lung disease. Clin Chest Med. 2004;25(4):637-649. doi: https://doi.org/10.1016/j.ccm.2004.08.001.
Kilinc G, Kolsuk E A. The role of bronchoalveolar lavage in diffuse parenchymal lung diseases. Curr Opin Pulm Med. 2005;11(5):417-421. doi: https://doi.org/10.1097/01.mcp.0000175522.49353.e1
Pacinin IFM, Camargos PAM, Marguet C. Cell profile of BAL fluid in children and adolescents with and without lung disease. J Bras Pneumol. 2010;36(3):372-391. doi: https://doi.org/10.1590/S1806-37132010000300016.
Welker L, Jorres R A, Costabel U, Magnussen H. Predictive value of BAL cell differentials in the diagnosis of interstitial lung diseases. Eur Respir J. 2004;24:1000-1006. doi: https://doi.org/10.1183/09031936.04.00101303.
Meyer K C. The clinical utility of bronchoalveolar lavage in interstitial lung disease- is it really useful? Expert Rev Respir Med. 2014;8(2):133-135. doi: https://doi.org/10.1586/17476348.2014.879827.
Heaney L G, McKirgan J, Stanford C F, Ennis M. Electronic cell counting to measure total cell numbers in bronchoalveolar lavage fluid. Eur Respir J. 1994;7:1527-1531. doi: https://doi.org/10.1183/09031936.94.07081527.
Natiello M, Kelly G, Lamca J, Zelmanovic D, Chapman R W, Phillips J E. Manual and automated leucocyte differentiation in bronchoalveolar lavage fluids from rodent models of pulmonary inflammation. Comp Clin Pathol. 2009;18:101-111. doi: https://doi.org/10.1007/s00580-008-0772-9.
Lee W, Chung W S, Hong K S, Huh J. Clinical usefulness of bronchoalveolar lavage cellular analysis and lymphocyte subsets in diffuse interstitial lung diseases. Ann Lab Med. 2015;35(2):220-225. doi: https://doi.org/10.3343/alm.2015.35.2.220.
Nagai S, Kitaichi M, Itoh H, Nishimura K, Izumi T, Colby T V. Idiopathic nonspecific interstitial pneumonia/fibrosis: comparison with idiopathic pulmonary fibrosis and BOOP. Eur Respir J. 1998;12:1010-1019. doi: https://doi.org/10.1183/09031936.98.12051010.
Ozaki T, Nakahira S, Tani K, Ogushi F, Yasuoka S, Ogura T. Differential cell analysis in bronchoalveolar lavage fluid from pulmonary lesions of patients with tuberculosis. Chest. 1992;102(1):54-59. doi: https://doi.org/10.1378/chest.102.1.54.
Cordeiro C R, Jones J C, Alfaro T, Ferreira A J. Bronchoalveolar lavage in occupational lung diseases. Semin RespirCrit Care Med. 2007;28(5):504-513. doi: https://doi.org/10.1055/s-2007-991523.
Kayacan O, Beder S, Karnak D. Cellular profile of bronchoalveolar lavage fluid in Turkish miners. Postgrad Med J. 2003;79(935):527-530. doi: http://dx.doi.org/10.1136/pmj.79.935.527.
Wilson J W, Djukanovic R, Howarth P H, Holgate S T. Lymphocyte activation in bronchoalveolar lavage and peripheral blood in atopic asthma. Am Rev Respir Dis. 1992;145(4):958-960. doi: https://doi.org/10.1164/ajrccm/145.4_Pt_1.958.
Sampsonas F, Kontoyiannis D P, Dickey B F, Evans S E. Performance of a standardized Bronchoalveolar lavage protocol in a comprehensive cancer center. Cancer. 2011;117(15):3424-3433. doi: https://doi.org/10.1002/cncr.25905.
Lee JY, Park HJ, Kim YK, Yu S, Chong YP, Kim SH, et al. Cellular profiles of bronchoalveolar lavage fluid and their prognostic significance for non-HIV-infected patients with Pneumocystis jirovecii pneumonia. J Clin Microbiol. 2015;53(4):1310-1316. doi: https://doi.org/10.1128/JCM.03494-14.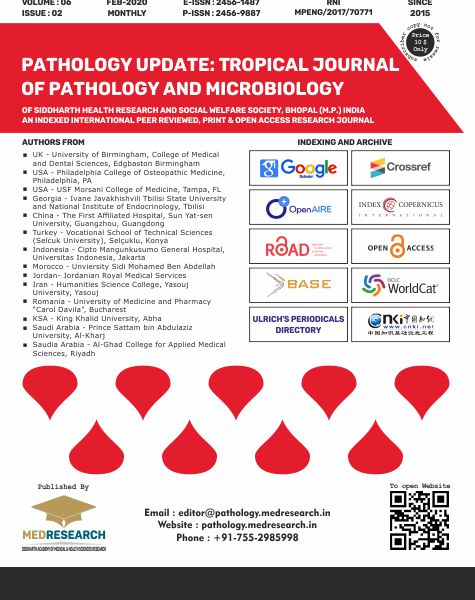 How to Cite
B. Punyashetty, K., Shree Solanki, D. P., & A. S., A. (2020). Cellular analysis of bronchoalveolar lavage fluid in various lung lesions. Pathology Update: Tropical Journal of Pathology and Microbiology, 6(2), 168-174. https://doi.org/10.17511/jopm.2020.i02.09
Copyright (c) 2020 Author (s). Published by Siddharth Health Research and Social Welfare Society
This work is licensed under a Creative Commons Attribution 4.0 International License.