Clinicopathological profile of uterine fibroid at a medical college hospital
Dr Anjani Kaushal

Assistant Professor, Department of Pathology, Mata Gujari Memorial Medical College and Lions Seva Kendra Hospital, Kishanganj, Bihar, India

Dr. Debi Prosad Das Gupta

Associate Professor, Department of Pathology, Mata Gujari Memorial Medical College and Lions Seva Kendra Hospital Kishanganj, Bihar, India

Dr Ajay Kumar

Associate Professor, Department of Pathology, Mata Gujari Memorial Medical College and Lions Seva Kendra Hospital, Kishanganj, Bihar, India
Keywords:
Observational study, Pathological changes, Uterine fibroid
Abstract
Introduction: Leiomyomas are usually asymptomatic. Symptoms may be seen depending on their size, location and hormonal effects. It is the most common uterine tumour seen in gynaecological practice. Knowledge of clinical features and histopathological changes are helpful.
Methods: The present cross-sectional study included 109 cases of uterine fibroid. Clinical details and findings of histopathological examination were noted.
Results: Most of the patients belonged to the age group of 50-60 years. Menstrual irregularities were seen in 71.6% of cases. 39.4% suffered from abdominal pain and infertility was seen in 11.9% cases. In 70.6% of cases, proliferative endometrium was found. Secretory endometrium was seen in 13.8% and atrophic in 10.1%. Most of the cases had intramural fibroid (58.7%). It was subserosal in 19.3% cases and submucosal in 4.6%. Hyaline degeneration was seen in 20.2% cases, cystic degeneration in 4.6% and myxoid degeneration in 3.7%. 67.9% of cases did not show any degeneration.
Conclusion: Hyaline degeneration, myxoid degeneration and cystic degeneration are the commonly seen secondary changes. Proper diagnosis and timely management are essential for the management of these tumours.
Downloads
Download data is not yet available.
References
Gowri M, Mala G, Murthy S, Nayak V. Clinicopathological study of uterine leiomyomas in hysterectomy specimens. JEMDS. 2013;2 (46):9002-9009. doi: https://doi.org/10.14260/jemds/1563.
Nivethithai P, Nikhat S, Rajesh B. Uterine Fibroids: A Review. Indian J Pharm Pract. 2010;3(1):6-11.
Kaur H, Gulati A. Pathophysiology of fibroids. Ind J Pathol Oncol. 2014;1(1):14-17.
Dayal S, Kumar A, Verma A. Clinicopathologic Correlation of Leiomyoma With Clinical Findings and Secondary Changes in a Rural Population of North India. Am J Clin Pathol. 2014;141(2):275-279. doi: https://doi.org/10.1309/AJCPSLMZ1TOC4JCF.
Subrata P, Srabani C, Anuradha S, Prakash PJ, Kingshuk B, Mrinal S. A retrospective clinico-pathological study of hysterectomy cases in a tertiary care hospital in India – a review of 950 cases. Bangladesh J Med Sci 2018;17(1):88–92. https://doi.org/10.3329/bjms.v17i1.35287.
Kulkarni MR, Dutta I, Dutta DK. Clinicopathological Study of Uterine Leiomyomas: A Multicentric Study in Rural Population. J Obstet Gynecol India. 2016;66(S1):S412–S416. https://doi.org/10.1007/s13224-015-0773-y.
Uterine leiomyoma. https://emedicine.medscape.com/article/405676-overview (accessed April 9, 2019).
Nisolle M, Gillerot S, Casanas-Roux F, Squifflet J, Berliere M, Donnez J. Immunohisto-chemical study of the proliferation idex, oestrogen receptor and progesterone receptors A and B in leiomyomata and normal myometrium during the menstrual cycle and under gonadotrophin-releasing hormone agoist therapy. Hum Reprod 1999;14(11):2844-2850. doi: https://doi.org/10.1093/humrep/14.11.2844.
Patient Booklet: Uterine Fibroids 2003.
Zaloudek C, Hendrickson M, Soslow R. Mesenchymal tumors of uterus. In: Blaustein Pathology of the female genital tract. 6th ed. 2011.
Samaila MO, Adesiyun A, Agunbiade O, Mohammed D. A clinicopathological assessment of hysterectomies in Zaria. Eur J Gen Med. 2009;6(3):150-153. doi: https://doi.org/10.29333/ejgm/82660.
Lahori M, Malhotra A, Sakul S, Khajuria A, Goswami K. Clinicopathological spectrum of uterine leiomyomas in a state of Northern India: a hospital based study. Int J Reprod Contracept Obstet Gynecol. 2016;5(7):2295-2299. doi: https://doi.org/10.18203/2320-1770.ijrcog20162114.
Jalandhara J, Mehta K, Desai R, Parakh P, CHoudhary G. Clinicopathological study of uterine leiomyomas: A multicentric study in rural population. IJMHR. 2018;4(6):16-18.
Bhatta S, Bhandari S, Osti BP. Histopathological study of Uterine Leiomyoma in Hysterectomy Specimens. Ann Clin Chem & Lab Med. 2018;3(2):16-20. doi: https://doi.org/10.3126/acclm.v3i2.20739.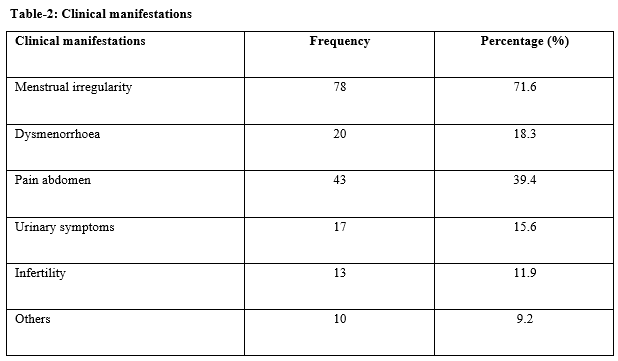 CITATION
DOI: 10.17511/jopm.2020.i02.07
How to Cite
Kaushal, A., Das Gupta, D. D. P., & Kumar, A. (2020). Clinicopathological profile of uterine fibroid at a medical college hospital. Tropical Journal of Pathology and Microbiology, 6(2), 155-160. https://doi.org/10.17511/jopm.2020.i02.07
Copyright (c) 2020 Author (s). Published by Siddharth Health Research and Social Welfare Society
This work is licensed under a Creative Commons Attribution 4.0 International License.