Elevated procalcitonin in a haematological disorder: case report
Dr. Raghunath D.

Consultant, GEM Hospital and Research Center, Ramanathapuram, Tamil Nadu, India

Dr. Shankar Balasubramanian

Registrar, GEM Hospital and Research Center, Ramanathapuram, Tamil Nadu, India

Dr. Dhivahar G.

Consultant, GEM Hospital and Research Center, Ramanathapuram, Tamil Nadu, India

Dr. Shivanshu Misra

Surgical Gastroenterologist and Advanced Laparoscopic Surgeon, GEM Hospital and Research Center, Ramanathapuram, Tamil Nadu, India
Keywords:
Serum procalcitonin, Biochemical marker, Sepsis, Acute myeloid leukemia (AML)
Abstract
Serum procalcitonin (PCT) is a biochemical marker of sepsis being routinely used in critical care setting for rapid diagnosis and early initiation of antimicrobial agents. Serial monitoring of procalcitonin also correlates well with the progression of sepsis. Though procalcitonin has a high specificity for bacterial sepsis, there are conditions associated with elevation of procalcitonin in the absence of sepsis which need to be considered when there are no signs of improvement with treatment in a patient suspected to have sepsis. We present a case of acute myeloid leukemia (AML) with elevated procalcitonin in a patient with no evidence of sepsis or autoimmune disorder. After initiation of chemotherapy, the patient's general condition improved and there was a dramatic fall in procalcitonin level.
Downloads
Download data is not yet available.
References
Claeys R, Vinken S, Spapen H, verElst K, Huyghens L, Gorus FK. Plasma procalcitonin and C-reactive protein in acute septic shock: clinical and biological correlates. Crit Care Med. 2002;30(4):757-762. doi: https://doi.org/10.1097/00003246-200204000-00006.
Carrol ED, Thomson AP, Hart CA. Procalcitonin as a marker of sepsis. Int J Antimicrob Agents. 2002;20(1):1-9. doi: https://doi.org/10.1016/s0924-8579(02)00047-x.
Jekarl DW, Lee SY, Lee J, Park YJ, Kim Y, Park JH, et al. Procalcitonin as a diagnostic marker and IL-6 as a prognostic marker for sepsis. Diagnos Microbiol Infect Dis. 2013;75(4):342-347. doi: https://doi.org/10.1016/j.diagmicrobio.2012.12.011.
Dornbusch HJ, Strenger V, Sovinz P, Lackner H, Schwinger W, Kerbl R, et al. Non-infectious causes of elevated procalcitonin and C-reactive protein serum levels in pediatric patients with hematologic and oncologic disorders. Support Care Cancer. 2008;16(9):1035-1040. doi: https://doi.org/10.1007/s00520-007-0381-1.
Sakr Y, Sponholz C, Tuche F, Brunkhorst F, Reinhart K. The role of procalcitonin in febrile neutropenic patients: review of the literature. Infection. 2008;36(5):396-407. doi: https://doi.org/10.1007/s15010-008-7374-y
Jimeno A, García‐Velasco A, del Val O, González‐Billalabeitia E, Hernando S, Hernández R, et al. Assessment of procalcitonin as a diagnostic and prognostic marker in patients with solid tumors and febrile neutropenia. Cancer: Interdisciplinary International J Am Cancer Soc. 2004;100(11):2462-2469. doi: https://doi.org/10.1002/cncr.20275.
Svaldi M, Hirber J, Lanthaler AI, Mayr O, Faes S, Peer E, et al. Procalcitonin‐reduced sensitivity and specificity in heavily leucopenic and immunosuppressed patients. Brit J Haematol. 2001;115(1):53-57. doi: https://doi.org/10.1046/j.1365-2141.2001.03083.x.
Al-Nawas B, Shah PM. Procalcitonin in patients with and without immunosuppression and sepsis. Infect. 1996;24(6):434-436. doi: https://doi.org/10.1007/bf01713044.
Ruokonen E, Nousiainen T, Pulkki K, Takala J. Procalcitonin concentrations in patients with neutropenic fever. Europe J Clinic Microbiol Infect Dis. 1999;18(4):283-285. doi: https://doi.org/10.1007/s100960050277.
Sarmati L, Beltrame A, Dori L, Maffongelli G, Cudillo L, De Angelis G, et al. Procalcitonin is a reliable marker of severe systemic infection in neutropenic haematological patients with mucositis. Am J Hematol. 2010;85(5):380-383. doi: https://doi.org/10.1002/ajh.21685.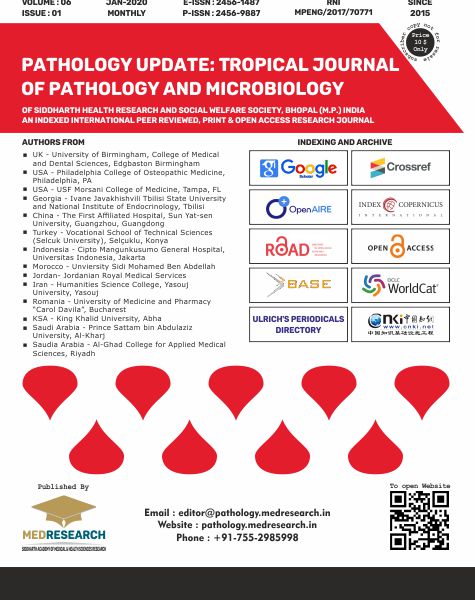 CITATION
DOI: 10.17511/jopm.2020.i01.18
How to Cite
D., R., Balasubramanian, S., G., D., & Misra, D. S. (2020). Elevated procalcitonin in a haematological disorder: case report. Tropical Journal of Pathology and Microbiology, 6(1), 108-111. https://doi.org/10.17511/jopm.2020.i01.18
Copyright (c) 2020 Author (s). Published by Siddharth Health Research and Social Welfare Society
This work is licensed under a Creative Commons Attribution 4.0 International License.