Uterine sarcomas: A clinicopathological analysis of 13 cases in a tertiary care centre
Dr. Pavithra. P.

Associate Professor, Department of Pathology, Melaka Manipal Medical College, Manipal Academy of higher education, Manipal.

Dr. Brij Mohan Kumar Singh

Associate Professor, Department of Pathology, Kasturba Medical College, Manipal Academy of Higher Education, Manipal, India

Dr Varun Kumar Singh

Assistant Professor, Department of Pathology, Melaka Manipal Medical College, Manipal Academy of higher education, Manipal, India

Dr. Nikitha Valerina Kairanna

Assistant Professor, Department of Pathology, Kasturba Medical College, Manipal Academy of higher education, Manipal, India

Dr. Namrata Rao

Assistant Professor, Department of Pathology, Melaka Manipal Medical College, Manipal Academy of higher education, Manipal, India

Dr. Tanvi Shetty

Associate Professor, Department of Pathology, Melaka Manipal Medical College, Manipal Academy of higher education, Manipal, India

Dr. Padmapriya J.

Associate Professor, Department of Pathology, Kasturba Medical College, Manipal Academy of higher education, Manipal, India
Keywords:
Adenosarcoma, Carcinosarcoma, Leiomyosarcoma, PEComa, Uterine sarcomas
Abstract
Introduction: Uterine sarcomas are rare tumors arising from mesodermal tissue of uterus which accounts for 1-3% of all female genital tract malignancies. They are characterized by rapid clinical progression and poor outcome. The purpose of this study was to analyze the clinicopathological features of uterine sarcoma and their treatment outcome.
Materials and Methods: A retrospective review of clinical and pathological characteristics of patients with primary uterine sarcoma was done at Kasturba Hospital, Manipal between January 2013 and December 2018. Patients were staged using the 2018 FIGO histological classification for uterine cancer.
Results: A total of 13 patients with uterine sarcoma were reviewed. All cases were multiparous women with the median age of presentation of 51.5 years (range: 40-80 years). The histopathological types were carcinosarcoma (five cases), endometrial stromal sarcoma (four cases), leiomyosarcoma (two cases), one case each of adenosarcoma and PEComa. Ten cases were FIGO clinical stage I, two in stage II and one in stage III. All patients underwent a total abdominal hysterectomy, whereas adjuvant chemotherapy and radiotherapy were given for only four patients. All cases were followed up clinically and radiologically with no recurrence over a maximum follow-up period of 12 months.
Conclusion: Uterine sarcoma is an uncommon neoplasm with carcinosarcoma being the most common. The prognosis of uterine sarcomas depends on the histological subtype, grade and stage of the tumor at diagnosis. Adjuvant radiotherapy helps in better local control and reduces the recurrence rate.
Downloads
Download data is not yet available.
References
Major F J, Blessing J A, Silverberg S G, Morrow C P, Creasman W T, Curie J L, Yordan E BMF. Prognostic factors in early stage uterine sarcoma: a Gynecologic Oncology Group study. Cancer. 1993;71(4):1702-1709.
Dinh TA, Oliva EA, Fuller AF Jr, Lee H GA. The treatment of uterine leiomyosarcoma. Results from a 10-year experience (1990-1999) at the Massachusetts General Hospital. Gynecol Oncol. 2004;92(2):648-652. doi: https://doi.org/10.1016/j.ygyno.2003.10.044.
Kelly KLJ, Craighead PS. Characteristics and management of uterine sarcoma patients treated at the Tom Baker Cancer Centre. Int J Gynecol Cancer. 2005;15(1):132-139. doi: https://doi.org/10.1111/j.1048-891x.2005.15014.x.
Schick U, Bolukbasi Y, Thariat J, Abdah-Bortnyak R, Kuten A, Igdem S, et al. Outcome and prognostic factors in endometrial stromal tumors: A rare cancer network study. Int J Radiat Oncol Biol Phys. 2012;82(5):e757-e763. doi: https://doi.org/10.1016/j.ijrobp.2011.11.005.
Iwasa Y, Haga H, Konishi I, Kobashi Y, Higuchi K, Katsuyama E, et al. Prognostic factors in uterine carcinosarcoma: A clinicopathologic study of 25 patients. Cancer. 1998;82(3):512-519.
Sutton G, Brunetto VL, Kilgore L, Soper JT, McGehee R, Olt G, et al. A phase III trial of ifosfamide with or without cisplatin in carcinosarcoma of the uterus: A Gynecologic Oncology Group study. Gynecol Oncol. 2000;79(2):147-153. doi: https://doi.org/10.1006/gyno.2000.6001.
Giuntoli RL, Metzinger DS, DiMarco CS, Cha SS, Sloan JA, Keeney GL, et al. Retrospective review of 208 patients with leiomyosarcoma of the uterus: Prognostic indicators, surgical management, and adjuvant therapy. Gynecol Oncol. 2003;89(3):460-469. doi: https://doi.org/10.1016/s0090-8258(03)00137-9.
Sait HK, Anfinan NM, Sayed ME El, Alkhayyat SS, Ghanem AT, Abayazid RM, et al. Uterine sarcoma. Saudi Med J. 2014;35(10):1215-1222.
Gadducci A, Cosio S, Romanini A, Genazzani AR. The management of patients with uterine sarcoma: A debated clinical challenge. Crit Rev Oncol Hematol. 2008;65(2):129-142. doi: https://doi.org/10.1016/j.critrevonc.2007.06.011.
Kanthan R, Senger J-L. Uterine Carcinosarcomas (Malignant Mixed Müllerian Tumours): A Review with Special Emphasis on the Controversies in Management. Obstet Gynecol Int. 2011. doi: https://doi.org/10.1155/2011/470795.
Banik T, Halder D, Gupta N DP. Malignant Mixed Mu¨ llerian Tumor of the Uterus: Diagnosis of a Case by Fine-Needle Aspiration Cytology and Review of Literature. Diagn Cytopathol. 2011;40(7):635-657. https://doi.org/10.1002/dc.21681.
Ramondetta LM, Burke TW, Jhingran A, Schmandt R, Bevers MW, Wolf JK, et al. A phase II trial of cisplatin, ifosfamide, and mesna in patients with advanced or recurrent uterine malignant mixed müllerian tumors with evaluation of potential molecular targets. Gynecol Oncol. 2003;90(3):529-536. doi: https://doi.org/10.1016/s0090-8258(03)00332-9.
D'Angelo E, Prat J. Uterine sarcomas: A review. Gynecol Oncol [Internet]. 2010;116(1):131-139. doi: http://dx.doi.org/10.1016/j.ygyno.2009.09.023.
Puliyath G, Nair MK. Endometrial stromal sarcoma: A review of the literature. Indian J Med Paediatr Oncol. 2012;33(1):1–6.
Ashraf-Ganjoei T, Behtash N, Shariat M, Mosavi A. Low grade endometrial stromal sarcoma of uterine corpus, a clinico-pathological and survey study in 14 cases. World J Surg Oncol. 2006;4:2-6. doi: https://doi.org/10.1186/1477-7819-4-50.
Livi L, Paiar F, Shah N, Blake P, Villanucci A, Amunni G, et al. Uterine sarcoma: Twenty-seven years of experience. Int J Radiat Oncol Biol Phys. 2003;57(5):1366-1373. doi: https://doi.org/10.1016/S0360-3016(03)00750-8.
Berkowitz RS GD. Uterine cancer. In: Berek JS HNW& W, editor. Practical Gynecologic Oncology. 4th ed. 2005. p. 431-432.
Hyman DM, Grisham RN, Hensley ML. Management of advanced uterine leiomyosarcoma. Curr Opin Oncol. 2014;26(4):422-427. doi: https://doi.org/10.1097/CCO.0000000000000094.
Indraccolo U, Luchetti G IS. Malignant transformation of uterine leiomyomata. Eur J Gynaecol Oncol. 2008;29(5):543-544.
Tinelli A. Uterine Leiomyosarcoma : A Rare Cancer Much as Complicated to Prevent , Diagnose and Treat. Austin J Obs Gynecol. 2014;1(5):3-5.
Gurram MK, Pulivarthi S, McGary CT, Defillo A. Brain and multiorgan metastases from uterine leiomyosarcoma. Tumori. 2014;100(1):8-13. doi: https://doi.org/10.1700/1430.15829.
Harter P, El-Khalfaoui K, Heitz F, Du Bois A. Operative and conservative treatment of uterine sarcomas. Geburtshilfe Frauenheilkd. 2014;74(3):267-270. doi: https://dx.doi.org/10.1055%2Fs-0034-1368204.
Park JY, Kim DY, Suh DS, Kim JH, Kim YM, Kim YT, et al. Prognostic factors and treatment outcomes of patients with uterine sarcoma: Analysis of 127 patients at a single institution, 1989-2007. J Cancer Res Clin Oncol. 2008;134(12):1277-1287. doi: https://doi.org/10.1007/s00432-008-0422-2.
Morice P, Rodrigues A, Pautier P, Rey A, Camatte S AD. Surgery for uterine sarcoma: reviewof literature and recommendation for the standard surgical procedure. Gynecol Obs Fertil. 2003;32(2):147-150. doi: http://doi.org/10.1016/s1297-9589(03)00061-4.
Cliuang, J T., Van Velden, D. J. J. GJB. Carcinosarcoma and mixed mesodermal tumors of the uterine corpus. Obs Gynecol. 1970;35(5):766-780.
Kitazume Y, Shibuya H, Sekiguchi M, Nakaminato S, Taura S, Sato S, et al. Adenosarcoma of the uterus: A case report. Japanese J Clin Radiol. 2010;55(13):1773-1777. doi: https://dx.doi.org/10.5795/jjscc.20.149.
Sinha A, Phukan JP, Sengupta S, Guha P. Mullerian adenosarcoma of uterus with sarcomatous overgrowth and heterologous component associated with stromal deposit in omentum: A case report and review of the literature. Case Rep Med. 2012. doi: https://doi.org/10.1155/2012/820378.
Fukunaga M. Perivascular epithelioid cell tumor of the uterus: Report of four cases. Int J Gynecol Pathol. 2005;24(4):341-346. doi: https://doi.org/10.1097/01.pgp.0000168515.83557.89.
Folpe AL, Mentzel T, Lehr H, Fisher C, Balzer BL, Weiss SW. Perivascular Epithelioid Cell Neoplasms of Soft Tissue and Gynecologic Origin A Clinicopathologic Study of 26 Cases and Review of the Literature. Am J Surg Pathol. 2005;29(12):1558-1575. doi: https://doi.org/10.1097/01.pas.0000173232.22117.37.
Çelik H, Kefeli M, Çetinkaya M, Yıldız L. Perivascular epithelioid cell tumor (PEComa) of the uterine cervix in a patient with tuberous sclerosis complex: A literature review. Turk Patoloji Derg. 2018;34(1):82-86. doi: https://doi.org/10.5146/tjpath.2014.01274.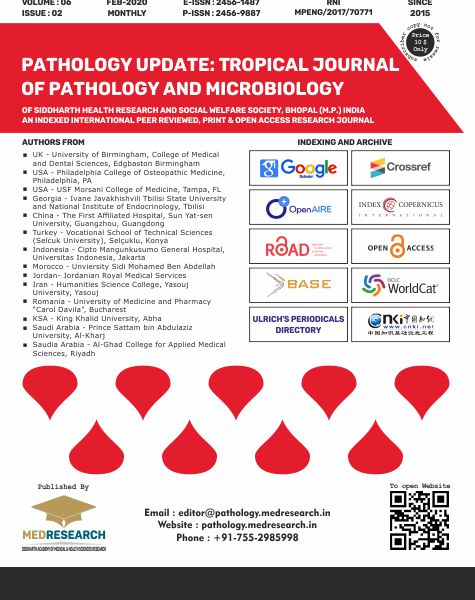 How to Cite
P, P., Singh, B. M. K., Singh, V. K., Kairanna, N. V., Rao, N., Shetty, T., & J, P. (2020). Uterine sarcomas: A clinicopathological analysis of 13 cases in a tertiary care centre. Pathology Update: Tropical Journal of Pathology and Microbiology, 6(2), 139-145. https://doi.org/10.17511/jopm.2020.i02.05
Copyright (c) 2020 Author (s). Published by Siddharth Health Research and Social Welfare Society
This work is licensed under a Creative Commons Attribution 4.0 International License.