Current scenario of dwarf threadworm, Strongyloides stercoralis infections in Southern Rajasthan, a systemic review
Dr. Upasana Bhumbla

Assistant Professor, Department of Microbiology, Geetanjali Medical College and Hospital, Udaipur, Rajasthan, India

Dr. Aditi Kothari

2nd year. Postgraduate, Department of Microbiology, Geetanjali Medical College and Hospital, Udaipur, Rajasthan, India

Dr. Jatin Rao

2nd year. Postgraduate, Department of Microbiology, Geetanjali Medical College and Hospital, Udaipur, Rajasthan, India

Dr. A.S. Dalal

Professor and Head, Department of Microbiology, Geetanjali Medical College and Hospital, Udaipur, Rajasthan, India
Keywords:
Strongyloides stercoralis, Filariform, Rhabditiform
Abstract
Strongyloides stercoralis is an intestinal nematode in humans. It is estimated that tens of millions people are infected worldwide, although no precise estimate is available. Although most infected individuals are asymptomatic, S. stercoralis is capable of transforming into a fulminant fatal illness under certain conditions associated with a compromise of host immunity. Strongyloides stercoralis has a complex biology with two separate life cycles, the freeliving cycle and the parasitic cycle. Filariform larvae in the soil infect the human host by penetration of intact skin to begin the parasitic cycle. The larvae enter circulation, are transported to the lungs, penetrate alveolar spaces, ascend the bronchial tree, are swallowed and reach the small bowel. The larvae migrate into the lumen and are either passed into feces or mature into filariform larvae, which can infect the intestinal mucosa or skin of the perianal region to restart the parasitic cycle. Rhabditiform larvae passed into feces can become infectious filariform larvae directly or go through a free-living cycle of development in the soil. This adaptability allows for the parasite's survival in the absence of mammalian hosts. Pulmonary symptoms such as a cough and tracheal irritation, mimicking bronchitis, occur as larvae migrate through the lungs several days later. Gastrointestinal symptoms (diarrhea, constipation, anorexia, abdominal pain) begin about 2 weeks after infection, with larvae detectable in the stool after 3 to 4 weeks.Techniques are periodically used to improve the sensitivity to detect Strongyloides larvae in stool samples. Various other standard methods that increase the sensitivity of diagnosis are larval concentration and culture methods, including Baermann, formalin-ethyl acetate sedimentation techniques, Harada-Mori, charcoal filter paper, and blood agar culture plate methods.
Downloads
Download data is not yet available.
References
Gupta N, Choudhary A, Mirdha B R, Kale P, Kant K, Ghosh A. Strongyloides stercoralis Infection: A Case Series from a Tertiary Care Center in India. J Glob Infect Dis. 2017;9(2):86-87. doi: https://doi.org/10.4103/0974-777X.204694.
Arora DR, Arora BB. Textbook of Medical Parasitology CBS Publishers, 3rd Edition 2013. Isosporabelli; Chapter 5;97-99.
Tripathi KD. Essentials of medical pharmacology, JP Medical Ltd; 6th edition; pp 764.
Arakaki T, Iwanaga M, Kinjo F, Saito A, Asato R, Ikeshiro T. Efficacy of agar plate culture in detection of strongyloidesstercoralis infection. J Parasitol. 1990;76(3):425-428.
Parija SC. Textbook of medical parasitology, 3rd edition 2006, pp. 294-300.
Bhumbla U. Strongyloidiasis in seronegative patient: A case report. Med Sci. 2014;6(22):94-96.
Varatharajalu R, Kakuturu R. Strongyloides stercoralis: current perspectives. Dovepress. 2016;5:23-33. doi: https://doi.org/10.2147/RIP.S75839.
Jourdan PM, Lamberton PHL, Fenwick A, Addis DG. Soil-transmitted helminth infections. Lancet. 2017;391(10117):252-265. doi: https://doi.org/10.1016/S0140-6736(17)31930-X.
Hailemariam G, Kassu A, Abebe G, Abate E, Damte D, Mekonnen E, et al. Intestinal parasitic infections in HIV/AIDS and HIV seronegative individuals in a teaching hospital, Ethiopia. Jpn J Infect Dis. 2004;57(2):41-43
Ghoshal UC, Alexender G, Ghoshal U, Tripathi S, Krishnani N. Strongyloides stercoralis infestation in a patient with severe ulcerative colitis. Indian J Med Sci. 2006;60(3):106-110. doi: https://doi.org/10.4103/0019-5359.22761.
Blatt JM, Cantos GA. Evaluation of techniques for the diagnosis of Strongyloides stercoralis in human immunodeficiency virus (HIV) positive and HIV negative individuals in the city of Itajai, Brazil. Brazil J Infect Dis. 2003;7(6):402-408. doi: http://dx.doi.org/10.1590/S1413-86702003000600008.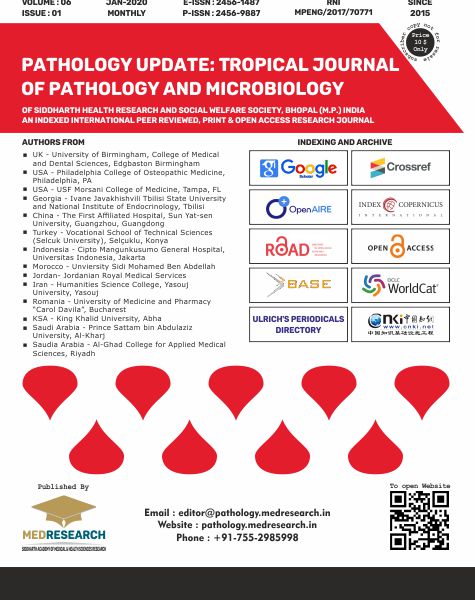 How to Cite
Bhumbla, U., Kothari, A., Rao, J., & Dalal, A. (2020). Current scenario of dwarf threadworm, Strongyloides stercoralis infections in Southern Rajasthan, a systemic review. Pathology Update: Tropical Journal of Pathology and Microbiology, 6(1), 112-115. https://doi.org/10.17511/jopm.2020.i01.19
Copyright (c) 2020 Author (s). Published by Siddharth Health Research and Social Welfare Society
This work is licensed under a Creative Commons Attribution 4.0 International License.