Granulomatous pathology in salivary glands: a secondary health care center experience
Dr. Pooja Malhotra

Specialist Pathology Grade I, Department of Pathology, ESIC Model Hospital, Baddi, Himachal Pradesh, India

Dr. Ashish Saraf

Specialist Pathology, Department of Pathology, ESIC Model Hospital, Baddi, Himachal Pradesh, India

Dr. Naveen Bansal

Medical Officer, Department of Pathology, ESIC Model Hospital, Baddi, Himachal Pradesh, India
Keywords:
Salivary gland, Tuberculous parotitis, Fine needle aspiration cytology
Abstract
Introduction: The diagnosis of parotid tuberculosis requires a high degree of clinical suspicion, so as to avoid unnecessary surgery, and fine-needle aspiration cytology is an easy and reliable investigation for the same. Salivary glands are suitable for unguided fine needle aspiration cytology (FNAC) because of their superficial location.
Methods: The present study involved a total of 42 cases of salivary gland swellings in which fine needle aspiration cytology was performed in the department of pathology of our hospital from December 2011 to August 2019.
Results: The prevalence of granulomatous inflammation among salivary gland swellings was 38.1 % (n=16). Anti-tubercular treatment was given in 5 patients, all of whom showed improvement after anti-tubercular treatment. Therefore, 5 out of the total of 16 cases were a case of tuberculous parotitis (31.2 %).
Conclusion: Although tuberculous parotitis is a rare entity, it should be always kept in mind as a differential during the evaluation of solitary parotid mass lesion. Fine needle aspiration cytology of all mass lesions of salivary glands must be done before doing excision of salivary gland so as to avoid unnecessary surgery.
Downloads
Download data is not yet available.
References
Maurya MK, Kumar S, Singh HP, Verma A. Tuberculous parotitis: A series of eight cases and review of
literature. Natl J Maxillofac Surg. 2019;10(1):118-122. doi: https://doi.org/10.4103/njms.NJMS_34_18.
Jain A, Meher R, Wadhwa V, Raj A, Tandon S. Parotid tuberculosis: A diagnostic dilemma, Acta Oto-Laryngologica Case Reports. 2017;2(1):73-76. doi: https://doi.org/10.1080/23772484.2017.1304807.
Poorey VK, Tyagi A. Accuracy of fine needle aspiration cytology in head and neck masses. Indian J Otolaryngol Head Neck Surg. 2014;66(2):182-186. doi: https://doi.org/10.1007/s12070-014-0709-3.
Bhattacharya G, Khadanga S, Dugar D, Kumar Thatoi P, Prasad Satapathy S. Tubercular parotitis; a forgotten entity. Int J Med Res Rev. 2016;4(7):1108-1110. Available from: https://ijmrr.medresearch.in/index.php/ijmrr/article/view/637.
Thakur JS, Thakur A, Mohindroo NK, Mohindroo S, Sharma DR. Bilateral parotid tuberculosis. J Global Infect Dis. 2011;3(3):296-299. Available from: http://www.jgid.org/text.asp?2011/3/3/296/83543.
Bakshi GD, Shaikh AS, Borisa AD, Jamadar NM, Abhishek G Singh, Sameer H Vora. Primary tuberculosis of parotid gland mimicking parotid tumour. Bombay Hosp J. 2009;51(2):14-16.
Lee IK, Liu JW. Tuberculous parotitis: Case report and literature review. Ann Otol Rhinol Laryngol. 2005;114(7):547-551. doi: https://doi.org/10.1177%2F000348940511400710.
Sengupta A, Paul SS, Majumder L, Jyoti. Tuberculosis of the parotid gland-How we diagnose and manage it ? J Evidence Based Med Healthcare. 2016;3(19):798-802. doi: https://doi.org/10.18410/jebmh/2016/181.
Sharma T, Joshi D, Khurana A, Gupta V, Kapoor N. Bilaterally enlarged parotids and sicca symptoms as a presentation of sarcoidosis: Pivotal role of aspiration cytology in diagnosis. J Cytol. 2015;32(4):281-283. doi: https://doi.org/10.4103/0970-9371.171254.
Satarkar RN, Sangwaiya A, Singh P, Kalhan S, Sharma P, Saini N. Fine needle aspiration cytology-based spectrum of salivary gland lesions at a teaching institute in north India. J Pathol Microbiol .2020;5(12):976-982. Available from: https://pathology.medresearch.in/index.php/jopm/article/view/371.
Van Der Walt J.D., Leake J. Granulomatous sialadenitis of the major salivary glands. A clinicopathological study of 57 cases. Histopathol. 1987;11(2):131-144. doi: https://doi.org/10.1111/j.1365-2559.1987.tb02617.x.
Gayathri B, Kalyani R, Manjula K. Primary tuberculous parotitis. J Cytol. 2011;28(3):144-145. doi: https://doi.org/10.4103/0970-9371.83479.
Gupa V, Patankar K, Shinde A, Bhosale C, Tamhane A. Tuberculosis of the parotid gland. Case Rep Radiol. 2012; 2012:278793. doi: https://doi.org/10.1155/2012/278793.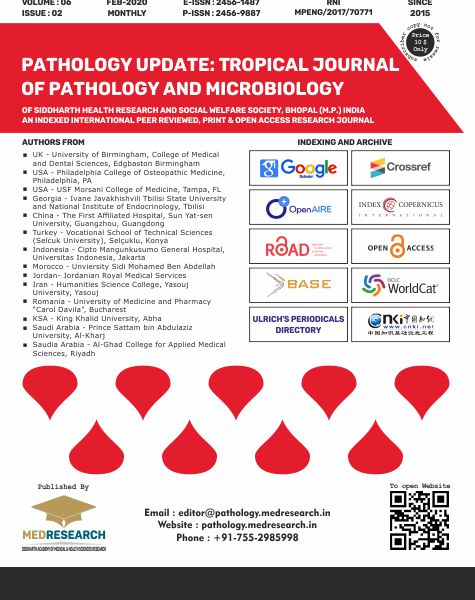 How to Cite
Malhotra, P., Saraf, A., & Bansal, N. (2020). Granulomatous pathology in salivary glands: a secondary health care center experience. Pathology Update: Tropical Journal of Pathology and Microbiology, 6(2), 118-123. https://doi.org/10.17511/jopm.2020.i02.02
Copyright (c) 2020 Author (s). Published by Siddharth Health Research and Social Welfare Society
This work is licensed under a Creative Commons Attribution 4.0 International License.