Seroprevalence and trends in transfusion transmitted infections in blood donors: a 6-year experience in a tertiary care hospital
Dr. Sadhna Bagde

Associate Professor, Department of Pathology, Government Medical College, Rajnandgaon, C.G, India

Dr. Amit Kumar Tiwari

Assistant Professor, Department of Pathology, Government Medical College, Rajnandgaon, C.G, India

Dr. Tapas Ranjan Behera

Resident, Hematology and Medical Oncoloy, Cleveland Clinic, Ohio, United States of America

Dr. Vikash Bombeshwar

Demonstrator, Department of Pathology, Government Medical College, Rajnandgaon, C.G, India

Dr. Chandrashekhar Indoria

Assistant Professor, Department of Pathology, Government Medical College, Rajnandgaon, C.G, India
Keywords:
Blood donor, Infection, Prevalence, Transfusion-transmitted infections
Abstract
Introduction: Blood transfusion continues to be a possible source of pathogens in transfused patients. The pattern of transfusion-transmitted infections (TTI) varies between regions. Knowledge of prevalence of TTIs is essential to monitor safety of blood transfusion by ensuring better practices of collection and processing of blood components. The aim of the study was to determine the prevalence of TTI in blood donors in a tertiary care hospital in central India.
Materials and Methods: A retrospective cross sectional study was performed from 2012 to 2017 in a tertiary care government hospital in central region of India. The study analyzes all voluntary and replacement blood donations received through the hospital in its blood bank and blood donation camps organized by the hospital.
Results:A total of 54,831 units of blood was collected over a period of 6 years. Prevalence of TTI in the blood donors was 1.45%. Prevalence of seroprevalence of human immunodeficiency virus (HIV), hepatitis B virus (HBV), hepatitis C virus (HCV), syphilis and malaria were 0.31 %, 0.75%, 0.065%, 0.22% and 0.1% respectively. Among all the potential donors, the most common TTI prevalence was that of Hepatitis B followed by HIV and syphilis.
Conclusion:Public awareness, careful donor selection,vigilant screening and adoption of newer techniques for inactivation of pathogens are needed to ensure safety of blood products and their transfusion.The public outreach programs such as blood donation camps could be used as a way of spreading awareness to improve the safety and efficacy of a blood donation program.
Downloads
Download data is not yet available.
References
Stramer SL, Hollinger FB, Katz LM, Kleinman S, Metzel PS, Gregory KR, et al. Emerging infectious disease agents and their potential threat to transfusion safety. Transfus. 2009;49(2):1S-29S. https://onlinelibrary.wiley.com/journal/15372995.
Fiebig EW, Busch MP. Emerging infections in transfusion medicine. Clin Lab Med. 2004;24(3):797-823. doi: https://doi.org/10.1016/j.cll.2004.05.009.
Gupta PK, Kumar H, Basannar DR, Jaiprakash M. Transfusion transmitted in infection in armed forces: prevalence and Trends. MJAFI. 2006;62(4):348-350.
Malini KP, Arasi T, Sudha K. Seroprevalence and Trends of TTI in a tertiary care hospital blood bank-A 3-year retrospective study. IAIM, 2017;4(5):122-127.
Rao P, Annapurna K. HIV status of blood donors and patients admitted in KEM Hospital, Pune. Ind J Hemat Blood Transf.1994;12:174-176.
Dolly R, Anniie S, Thaiyanayaki P, George PB, Jacob TH. Increasing prevalence of HIV antibodies among blood donors monitored iver 9 years in blood bank. Indian J Med Res. 1998;108:42-44.
Singh K, Bhat S, Shastry S. Trend in sero prevalence of Hepatitis B Virus infection among blood donors of coastal Karnatka, India. J Infect Dev Ctries. 2009;3(5):376-379.
Kakkar N, Kaur R, Dhanoa J. Voluntary donors-need for a second look. Indian J Pathol Microbiol. 2004;47(3):381-384.
Pahuja S, Sharma M, Bhaitha B, Jain M. Prevalence and trends of markers of hepatitis C Virus, hepatitis B virus and human immunodeficiency virus in Delhi blood donors. A hospital based study. Jpn J Inf Dis. 2007;60(6):389-391.
Matee MJ, Magesa PM, Lyamuya E. Sero prevalence of human immunodeficiency viruses, hepatitis B and C viruses and syphilis infections among blood donors at Muhimbili National Hospital in Dar ES Salaem, Tanzania. BMC Public Health, 2006;6:21. doi: https://doi.org/10.1186/1471-2458-6-21.
Makroo RN, Salil P, Vashist RP, Lal S. Trends of HIV infection in blood donors of Delhi. Indian J Pathol Microbiol.1996;39(2):139-142.
Awasthi S., Singh VK, Dutta S, Agarwal D, Ansari M. Arathi N. Prevalence of Blood Borne infection in Blood donors-Experience in a tertiary Teaching hospital in North India. Internet J Pathol. 2011;12(1):1-5
Agrawal VK, Sharma VP, Agrawal P, Gupta D. Seroprevalence of transfusion transmissible infection among blood donors in urban area. Asian J Med Res. 2012;1(3):112-114.
Garg S, Mathur DR, Garg DK. Comparison of seropositivity of HIV, HBV, HCV and syphilis in replacement and voluntary blood donors in western India. Indian J Pathol Microbiol. 2001;44(4):409-412.
Sing B, Verma M, Verma K. Marker for transfusion associated hepatitis in north Indian blood donors: prevalence and trend. Jpn J Infect Dis. 2004;57:49-51.
Srikrishna A, Sitalaxmi S, Prema Damodar S. How safe are our safe donors? Indian J Pathol Microbiol. 1999;42(4):411-416.
Ekadashi R, Langer S. Seroprevalence of Human Immunodeficiency Virus and syphilis in blood donors of Delhi. Indian J Microbiol. 2009;27(2):167-168. doi: http://dx.doi.org/10.4103/0255-0857.49437.
Choudhury N, Padke S. Transfusion transmitted disease. Indian J Paediatr. 2001;68:951-958. doi: https://doi.org/10.1007/BF02722595.
Sawke N, Sawke GK, Chawla S. Seroprevalence of common transfusion –transmitted infections among blood donors. People's J Sci Res. 2010;3(1):5-7.
Chandra T, Kumar A, Gupta A., Prevalence of transfusion transmitted infections in blood donors: an Indian experience. Trop Doct. 2009;39(3):152-154. doi: http://dx.doi.org/10.1258/td.2008.080330.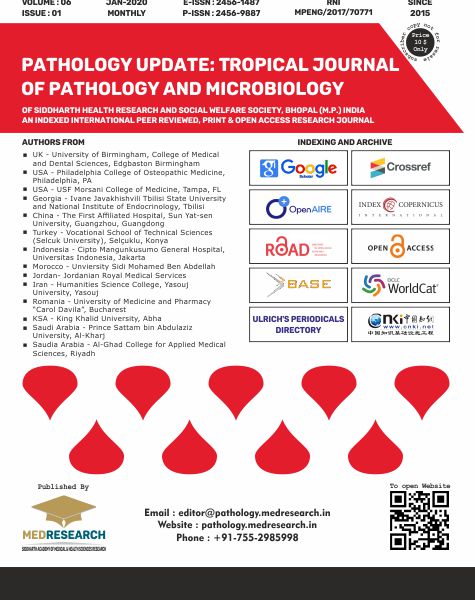 How to Cite
Bagde, S., Kumar Tiwari, A., Ranjan Behera, T., Bombeshwar, V., & Indoria, C. (2020). Seroprevalence and trends in transfusion transmitted infections in blood donors: a 6-year experience in a tertiary care hospital. Pathology Update: Tropical Journal of Pathology and Microbiology, 6(1), 18-22. https://doi.org/10.17511/jopm.2020.i01.03
Copyright (c) 2020 Author (s). Published by Siddharth Health Research and Social Welfare Society
This work is licensed under a Creative Commons Attribution 4.0 International License.