Comparison of different cytological tools with conventional diagnostic methods in diagnosis of Helicobacter pylori infection
Dr. Shashikant Adlekha

Maharaja Institute of Medical Sciences, Vizianagram, Andhra Pradesh, India

Dr Tandra Chadha

Maharaja Institute of Medical Sciences, Vizianagram, Andhra Pradesh, India
Keywords:
H pylori, Histopathology, Crush Cytology, Imprint Cytology
Abstract
Background: Helicobacter Pylori (H pylori) infection causes severe gastrointestinal morbidity and mortality worldwide.
Objective: To evaluate the usefulness of gastric crush cytology and imprint cytology with conventional histopathology and rapid urease tests. Materials and Methods: Antral biopsies were collected from 130 patients and evaluated for H Pylori infection by imprint cytology, crush cytology and histopathological examination by different stains and rapid urease test.
Results: 118 patients showed H. pylori infection by two or more methods. Giemsa histology, showed highest sensitivity, specificity, Positive predictive value (PPV), negative predictive value (NPV) and Youden's index (YI). Among cytology methods, crush cytology was found more effective in detecting H pylori infection.
Conclusion: H. pylori infection is associated with gastric mucosa changes like chronic active gastritis, atrophy, intestinal metaplasia, ulceration and carcinoma. Imprint cytology has high sensitivity and comparable predictive values to conventional diagnostic tools-histopathological examination and rapid urease test in detection of H. pylori infection.
Downloads
Download data is not yet available.
References
1. Malatey HM, Hoda N. Helicobacter pylori infection: genetic and environmental influences. Best practice &Research ClinGasteroenterol. 2007;21(2):205-14.

2. Kaore NM, Nagdeo NV, Thombare VR. Comparative evaluation of the diagnostic tests for Helicobacter pylori and dietary influence for its acquisition in dyspeptic patients: a rural hospital based study in central India. JCDR 2012;6(4):636-41.

3. Faraker CA. Diagnosis of Helicobacter pylori in gastric brush and biopsy specimens stained by Romanowsky and immunocytochemical methods: Comparison with the CLO test. Cytopathology1996;7:108-19. [PubMed]

4. Kochhar R, Bhasin DK, Rajwanshi A, Gupta SK, Malik AK, Mehta SK. Crush preparations of gastroesophageal biopsy specimens in the diagnosis of malignancy. Acta Cytol. 1990;34(2):214-6. [PubMed]

5. Bayerdörffer E, Oertel H, Lehn N, Kasper G, Mannes GA, Sauerbruch T, Stolte M. Topographic association between active gastritis and Campylobacter pylori colonisation. J ClinPathol.1989;42(8):834–39.

6. Prasad S, Mathan M, Chandy G, Rajan DP, Venkateswaran S, Ramakrishna BS, Mathan VI.: Prevalence of Helicobacter pylori in southern Indian controls and patients with gastroduodenal disease. J GastroenterolHepatol 1994;9(5):501-6. [PubMed]

7. T revisani L, Sartori S, Ruina M, Caselli M, Abbasciano V, Grandi E, Forini E. Touch cytology. A reliable and cost-effective method for diagnosis of Helicobacter pylori infection. Dig Dis Sci. 1997;42(11):2299-303. [PubMed]

8. Misra SP, Dwivedi M, Misra V, Gupta SC. Imprint cytology – a cheap, rapid and effective method for diagnosing Helicobacter pylori. Postgrad Med J 1993;69(810):291-5.

9. Debongnie JC, Donnay M, Mairesse J. Gastrospirillum hominis ("Helicobacter heilmanii"): a cause of gastritis, sometimes transient, better diagnosed by touch cytology? Am J Gastroenterol. 1995;90(3):411-6.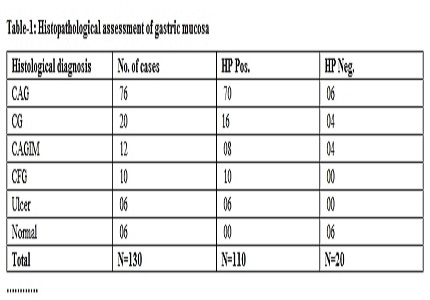 CITATION
DOI: 10.17511/jopm.2016.i03.14
How to Cite
Dr. Shashikant Adlekha, & Dr Tandra Chadha. (1). Comparison of different cytological tools with conventional diagnostic methods in diagnosis of Helicobacter pylori infection. Tropical Journal of Pathology and Microbiology, 2(3), 164-167. https://doi.org/10.17511/jopm.2016.i03.14