Idiopathic adult onset Lymphangioma circumscriptum of scrotum: An unusual case Scrotal lymphangioma circumscriptum
Dr. Nadia Shirazi

Himalayan Institute of Medical Sciences, Swami Rama Himalayan University, Jolly Grant, Dehradun, Uttarakhand, India

Dr. Rashmi Jindal

Himalayan Institute of Medical Sciences, Swami Rama Himalayan University, Jolly Grant, Dehradun, Uttarakhand, India
Keywords:
Idiopathic, dermal lymphatics, adult
Abstract
Lymphangioma circumscriptum (LC) is a lymphatic hamartoma that is usually congenital but may be acquired. It is seen in axilla, oral cavity, tongue, vulva, scrotum etc. Here we report a middle aged male who presented with multiple grouped vesicles in the scrotum with no prior history of radiotherapy or surgery. There are very few cases of idiopathic LC of scrotum in the published literature. The case is being reported because of rarity of presentation in adulthood, unusual site and absence of any underlying etiology.
Downloads
Download data is not yet available.
References
1. Kokcam I. Lymphangioma circumscriptum of the penis: A case report. Acta Dermatovenrol Alp PanonicaAdriat. 2007;16:81–2.

2. Gopal AP, Robertez AS. Cutaneous lymphangioma circumscriptum: frog spawn on the skin. Int J Dermatol2009; 48:1290-5.

3. Morris M. Lymphangiomacircumscriptum. International Atlas of rare Skin Diseases. In: Unna PG, Morris M, Duhring LA, Leloir H, editors. London: Lewis; 1889. pp. 1–4.

4. SanguezaOP, Requena L, editors. Pathology of Vascular skin lesions: Clinicopathologic correlations. New Jersey: Humana Press; 2003. Cutaneous lesions characterized by dilation of preexisting vessels; pp. 95–9.

5. Pal DK, Banerjee M, Moulik D, Biswas BK, Choudhury MK. Lymphangioma circumscriptum of the scrotum following vasectomy. Indian J Urol. 2010 Apr;26(2):294-5. doi: 10.4103/0970-1591.65408.

6. Vlastos AT, Malpica A, Follen M. Lymphangioma circumscriptum of the vulva: a review of the literature. Obstet Gynecol. 2003 May;101(5 Pt 1):946-54. [PubMed]

7. Martínez-Menchón T1, Mahiques-Santos L, Febrer-Bosch I, Valcuende-Cavero F, Fortea-Baixauli JM. Lymphangiomacircumscriptum: an example of Whimster'shypothesis..PediatrDermatol. 2004;21(6):652-4.

8. Sheu JY, Chung HJ, Chen KK, Lin AT, Chang YH, Wu HH, et al. Lymphangioma of male exogenital organs. J Chin Med Assoc 2004, 67(4):204–206.

9. Mohanty S, Arora VK, Gandhi V, Singal A, Baruah MC. Lymphangioma circumscriptum of scrotum of late onset. Indian J Dermatol VenereolLeprol. 1998 Nov-Dec;64(6):289-90.

10. Lapidoth M, Ackerman L, Amital DB, Raveh E, Kalish E, David M: Treatment of lymphangiomacircumscriptum with combined radiofrequency current and 900 nm diode laser. DermatolSurg 2006, 32:790–794. 10.1111/j.1524-4725.2006.32162.x.

11. Donald TK, David MD, Frank MH et al. Lymphangiosarcoma Arising From Lymphangioma Circumscriptum.ArchDermatol. 1979;115(8):969-972. [PubMed]

12. Haroon S, Hasan SH. Lymphangioma circumscriptum in the scrotum: a case report. J Med Case Rep. 2012 Aug 9;6:233.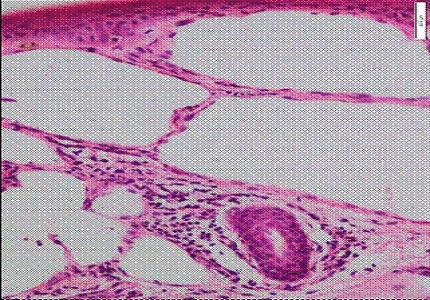 CITATION
DOI: 10.17511/jopm.2018.i01.11
How to Cite
Dr. Nadia Shirazi, & Dr. Rashmi Jindal. (2018). Idiopathic adult onset Lymphangioma circumscriptum of scrotum: An unusual case Scrotal lymphangioma circumscriptum. Tropical Journal of Pathology and Microbiology, 4(1), 63-66. https://doi.org/10.17511/jopm.2018.i01.11