Primary actinomycosis of the right upper extremity - an unusual presentation
Dr. Pratibha. S.

Department of Microbiology, Sanjay Gandhi Institute of Trauma and Orthopedics, Bengaluru, Karnataka, India

Dr. Arundhathi. S.

Department of Microbiology, Sanjay Gandhi Institute of Trauma and Orthopedics, Bengaluru, Karnataka, India

Dr. Lakshmi. K. S.

Department of Microbiology, Sanjay Gandhi Institute of Trauma and Orthopedics, Bengaluru, Karnataka, India

Praveen Kumar R.

Department of Microbiology, Sanjay Gandhi Institute of Trauma and Orthopedics, Bengaluru, Karnataka, India
Keywords:
Actinomycosis, Abscess, Discharging sinus, Extremity, Swelling
Abstract
Actinomycosis is a chronic disease characterized by multiple abscesses, granulomas, tissue destruction, extensive fibrosis and formation of sinuses. We report a case of 45 year old female with primary cutaneous actinomycosis of right upper extremity, which is a very rare site of occurrence. The patient was treated successfully with extended period antimicrobial treatment with Doxycycline (spacing) and Cefixime.
Downloads
Download data is not yet available.
References
1. Ching-Huei Yang. Primary Cutaneous Actinomycosis Of An Extremity: A Case Report J Intern Med Taiwan2010;21:290-293.

2. Jacob Bettesworth, Kirandeep Gill,Jayesh . Primary Actionomycosis of the Foot: A Case Report and Literature Review. Journal of the American College of Certified Wound Specialists 2009; 1:95-100.

3. Fayman M, Schein M, Braun S. A foreign body related actinomycosis of a finger. J Hand Surg Am. 1985 May;10(3):411-2. [PubMed]

4. Blinkhorn RJ Jr, Strimbu V, Effron D, Spagnuolo PJ. 'Punch' actinomycosis causing osteomyelitis of the hand. Arch Intern Med. 1988 Dec;148(12):2668-70.

5. Z Singh Kundu, R Singh, P Rana, R Bala, S Sangwan, P Walecha. Actinomycosis of Hand and Wrist: A Case Report. The Internet Journal of Orthopedic Surgery.2006;5(1).

6. Ashok R Nayak, ShreepadKulkarnil, Gireesh P Khodnapurand VinayakSantosh. ActinomycoticFungal Infection of Foot – A Case Report. IJBAR 2013; 04(12): 946-949.

7. Lewis MAO, Macfarlane TW, McGowan DA. A microbiological and clinical review of the acute dentoalveolar abscess. British Journal of Oral and Maxillofacial Surgery 1990; 28 (6): 359-366.

8. Gholamreza R, et al. Actinomycosis may be presented in unusual organs – report of two cases. Journal of clinical and Diagnostic Research 2009; 3(6): 1938-1941.

9. Francisco Acevedo, Rene Baudrand, Luz M. Letelier, Pablo Gaete. Actinomycosis: a great pretender. Case reports of unusual presentations and a review of theliterature. International Journal of Infectious Diseases;2008; 12: 358 – 362.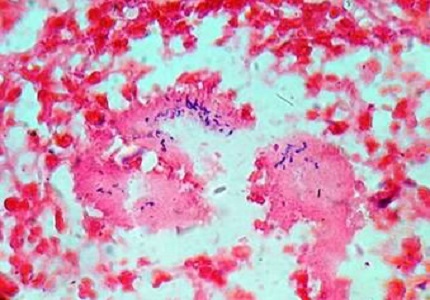 CITATION
DOI: 10.17511/jopm.2018.i01.10
How to Cite
Dr. Pratibha. S., Dr. Arundhathi. S., Dr. Lakshmi. K. S., & Praveen Kumar R. (2018). Primary actinomycosis of the right upper extremity - an unusual presentation. Tropical Journal of Pathology and Microbiology, 4(1), 59-62. https://doi.org/10.17511/jopm.2018.i01.10