A histomorphological study of trichilemmal cysts: a rural hospital experience
Dr. Siva Ranjan. D

Department of Pathology, P.K. Das Institute of Medical Sciences, Palakkad - Ponnani Road, Ottapalam, District Palakkad, Vaniamkulam, Kerala, India

Dr. G Hari Kishan Goud

Department of Pathology, P.K. Das Institute of Medical Sciences, Palakkad - Ponnani Road, Ottapalam, District Palakkad, Vaniamkulam, Kerala, India
Keywords:
Trichilemmal cyst, Cystic lesions, Histomorphological examination
Abstract
Introduction: Among Cystic lesions of skin the most common clinical diagnosis is sebaceous cyst. Cystic lesions of the skin are most commonly encountered in surgical practice. Among these cyst lesions Trichilemmal cysts are very rare and these cysts are benign non-neoplastic lesions. pilar theory says that the follicular isthmus of the external root sheath of the hair follicle as the exact origin of these pilar cysts and suggested the name trichilemmal cyst.
Objectives: The present study was undertaken to study and find out the incidence of Trichilemmal cysts in a rural area and to study the various histomorphological forms of Trichilemmal cysts which were encountered in surgical pathology in and around Konaseema region at rural hospital over a period of three years.
Methods: This was a three years retrospective study done between January 2012 to December 2014, the data retrieved from histopathology files. The paraffin embedded and H;E stained slides were removed from the files. A few old slides were re-stained again with hematoxylin and eosin, these slides studied under microscope and histomorphological features were noted.
Result: Out of 135 skin lesions which were retrieved, seven cases (5.18%) showed Trichilemmal differentiation. Out of these seven cases one case showed the features of proliferating trichilemmal cyst and other one more case showed features of malignant proliferating trichilemmal cyst. Conclusion: Extensive histomorphological examination is must for cysts showing the trichilemmal type of keratinisation, because many of these lesions may be mistakenly diagnosed as squamous cell carcinomas.
Downloads
Download data is not yet available.
References
1. Kirkham N. Tumors and cysts of the epidermis. In: Elder DE, Elenitsas R, Johnson BL, Murphy GF,editors. Lever's Histopathology of the skin. 9th ed. Philadelphia: Lippincott Williams and Wilkins; 2005. pp. 8146.

2. Rosai J. Rosai and Ackerman's surgical pathology. 9th ed. Vol. 1. St Louis: Mosby; 2004. pp. 151–3.

3. Weedon D. Skin pathology. 2nd ed. Edinburgh: Churchill Livingstone; 2002. pp. 504–7.

4. Chandrasekaran V, Parkash S, Raghuveer CV. Epidermal cysts - a clinicopathological and biochemical study. Postgrad Med J. 1980 Dec;56(662):823-7. [PubMed]

5. Warvi WN, Gates O. Epithelial Cysts and Cystic Tumors of the Skin. Am J Pathol. 1943 Sep;19(5):765-83. [PubMed]

6. Klein W, Chan E, Seykora JT. Tumors of the epidermal appendages. In: Elder DE, Elenitsas R, Johnson BL, editors. Lever's Histopathology of the Skin. 9th ed. Philadelphia: Lippincott Williams and Wilkins; 2005. pp. 882–6.

7. Kaddu S, Requena L. Malignant tumors with follicular differentiation. In: Le Boit PE, Burg G, Weedon D, Sarasin A, editors. Pathology and Genetics of Skin Tumors. Lyon: IARC press; 2006. pp. 149–51.

8. Kumar P, Chatura KR, Haravi RM, Chandrasekhar HR. Proliferating trichilemmal cyst mimicking squamous cell carcinoma. Indian J Dermatol Venereol Leprol. 2000;66:149–50. [PubMed]

9. Ye J, Nappi O, Swanson PE, Patterson JW, Wick MR. Proliferating pilar tumors: a clinicopathologic study of 76 cases with a proposal for definition of benign and malignant variants. Am J Clin Pathol. 2004 Oct;122(4):566-74. [PubMed]

10. Siddha M, Budrukkar A, Shet T, Deshpande M, Basu A, Patil N, Bhalavat R. Malignant pilar tumor of the scalp: a case report and review of literature. J Cancer Res Ther. 2007 Oct-Dec;3(4):240-3. [PubMed]

11. Bae SB, Lee KK, Kim JS, Lee JH, Lee NS, Lee GT, et al. A case of malignant proliferating trichilemmoma of the scalp with multiple metastases. Korean J Intern Med. 2001;16:40–3.

12. Hurt MA, Santa Cruz DJ. Tumors of the skin. In: Fletcher CD, editor. Diagnostic Histopathology of Tumors. 2nd ed. Vol. 2. London: Churchill Livingstone; 2000. pp. 1400–4.

13. Nair PS. A clinicopathologic study of skin appendageal tumors. Indian J Dermatol Venereol Leprol. 2008 Sep-Oct;74(5):550. [PubMed]

14. Buis PA, Verweij W, van Diest PJ. Value of histopathologic analysis of subcutis excisions by general practitioners. BMC Fam Pract. 2007;8:5. [PMC free article]

15. Ziadi S, Trimeche M, Hammedi F, Sriha B, Jomaa W, Mokni M, Korbi S. Squamous cell carcinoma arising from an epidermal inclusion cyst: A case report. N Am J Med Sci. 2010 Jan;2(1):46-7. [PubMed]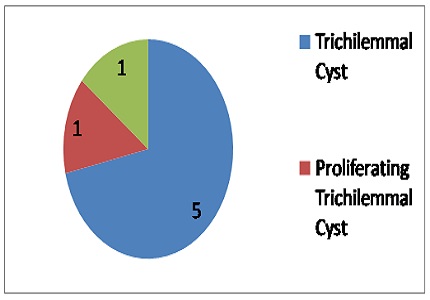 CITATION
DOI: 10.17511/jopm.2018.i01.21
How to Cite
Dr. Siva Ranjan. D, & Dr. G Hari Kishan Goud. (2018). A histomorphological study of trichilemmal cysts: a rural hospital experience. Tropical Journal of Pathology and Microbiology, 4(1), 117-120. https://doi.org/10.17511/jopm.2018.i01.21