Prevalence of sickle cell disease in tribal peoples of Valsad district region in Gujarat,India
Dr. Sunita Mistry

Department of Pathology, GMERS Medical College, Valsad, Gujarat., India

Dr. Kamlesh Shah

Department of Pathology, GMERS Medical College, Valsad, Gujarat., India

Dr. Jignasha Patel

Department of Pathology, GMERS Medical College, Valsad, Gujarat., India
Keywords:
Sickle cell disease, Tribal community, Valsad
Abstract
Background: High prevalence of sickle gene has been demonstrated in various tribal communities of Gujarat including Bhils and Dhodias of Panchmahal, Dublas, Naikas, Koli, Dhanka, Gamit, Vasava, Bariya, Varli, Vaghari, Kukna, Halpati, Chaudhari etc. The present study was conducted with an objective to document the prevalence of sickle cell diseasein Valsad district of Gujarat state.
Methodology: The study is conducted as a retrospective survey in GMERS Medical College and hospital, Valsad between January 2015 to December 2016 were screened for sickle cell anemia by sickling test (with freshly prepared sodium metabisulphite). Those found positive for sickling test, were further analyzed by HPLC (high-performance liquid chromatography) to confirm their status as either sickle cell trait or sickle cell disease.
Results: Out of 1186 cases number of male cases were 277 (23.35%) and females were 909 (76.64%) cases. The gender distribution of male to female cases is 1:3. 88.7% cases were sickle cell trait, 9.02% cases were sickle cell disease, 1.68% cases were sickle beta thalassemia, 0.25% cases were B Thalassemia Minor and 0.33% cases were B Thalassemia Major. In the present study, among the 1186 cases, 397(33.47%) were from Patel (Dhodia) community, 97 (8.17%) were from varli community, 57(4.8%) were from Halpati community and 51(4.3%) were from Dhodi community followed by other backward community.
Conclusion: It was concluded that Dhodias, Varli, Halpati and Dhodi were the most common community of sickle cell disorders in tribal peoples of Valsad district.Among the Sickling test positive cases, Sickle cell trait and sickle cell disease was the most common variant.
Downloads
Download data is not yet available.
References
1. Balgir RS. The burden of hemoglobinopathies in India and the challenges ahead. Curr Sci. 2000;79:1536-47.

2. Agarwal MB, Mehta BC. Sickle syndrome - A study of 44 cases from Bombay. Indian Paediatrics. 1980;17:793. [PubMed]

3.Kate SL, Lingojwar DP. Epidemiology of Sickle Cell Disorder in the State of Maharashtra. Int J Hum Genet. 2002;2(3):161-67.

4. Sharma RS et al: Hemoglobinopathies in Western India. Journal of Association of Physician India 1973; 2: 969-973.

5. Commissionerate of Tribal Development and Commissionerate of Health and Family Welfare, Govt. of. Gujarat, sickle cell disease control and research project Gujarat, December, 2007.

6. Census of India 2011. Office of the Registrar General and Census Commissioner. Ministry of Home Affairs, Govt of India. Available at: http://www.censusindia.gov.in, Accessed on 2 March 2017.

7. State wise Tribal Population percentage in India; Ministry of Tribal Affairs, Government of India. Available at: http://tribal.nic.in/index2asp?sublinkid =545&langid=1. Accessed on 2 March 2017.

8. Neena D, Chaudhari S, Nigam S, Joshi T, Shah M, Singh U. Prevalence of sickle cell disorder in rural pipalwada, Gujarat. National J Community Med. 2011;2(2):284-8.

9. Rupani M.P, Vasava B.C, Mallick K.H., Gharat V.V., Bansal R. Reaching Community Through School Going Children for Sickle Cell Disease in Zankhvav Village of Surat District, Western India. Online J Health Allied Scs. 2012;11(2):4. Available atURL: http://www.ojhas.org/issue42/2012-24.htm

10. Awasthy N, Aggarwal K C, Goyal P C, Prasad M S, Saluja S, Sharma M. Sickle cell disease: Experience of a tertiary care center in a nonendemic area. Ann Trop Med Public Health 2008;1:1-4

11. Kamble M, Chaturvedi P. Epidemiology of sickle cell disease in a rural hospital of central India. Indian Paediatric. 2000;37:391-6. [PubMed]

12. Association for Health Welfare in the Nilgiris& Tribal India Health Foundation. Sickle Cell Disease Center, Operations report version 1.4. www.tihf.org/scd.htm.

13. Kate S.L. Health Problems of Tribal Population Groups from the State of Maharashtra. Imuunohaematology Bulletin Oct. 23, 2000.

14. Sahu T, Sahani NC, Das S, Sahu SK. Sickle cell anemia in tribal children of Gajapati district in south Orissa. Ind J Comm Med 2003; 28: 180-183.

15. DoshiNeena, Chaudhari Sanjay, Shah Nigam, Joshi Trupti, Shah Menka, Uday Singh. Prevalence of sickle cell disorder in rural Pipalwada, Gujarat. National Journal of Community Medicine Vol 2 Issue 2 July-Sept 2011 p-284-88.

16.Saxena D. Study of prevalence of Sickle cell disease in students of three randomly selected schools of Umarpada taluka. Health line J. 2004;5(1&2):19-22.

17. Deshmukh P. et al. Prevalence of Sickle Cell Disorders in Rural Wardha. IJCM 2006; 31(1).

18. Dalal M Study of sickle cell diseases in tribal population. Thesis submitted to South Gujrat University, Surat 1994.

19. Bhatia HM, Rao VR. Genetic atlas of Indian Tribes, Bombay: Institute of Immunohaematology (ICMR); 1987.

20. Patel AP, Naik MR, Shah NM, Sharma N, Parmar P. Prevalence of common hemoglobinopathies in Gujarat: An analysis of a large population screening programme. Natl J Community Med 2012; 3 : 112-6.

21. Patel AG, Shah AP, Sorathiya SM, Gupte SC. Hemoglobinopathies in South Gujarat population and incidence of anemia in them. Indian J Hum Genet 2012; 18 : 294-8.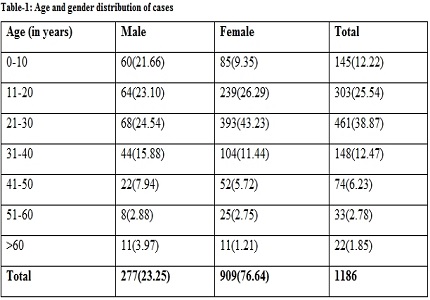 CITATION
DOI: 10.17511/jopm.2018.i01.19
How to Cite
Dr. Sunita Mistry, Dr. Kamlesh Shah, & Dr. Jignasha Patel. (2018). Prevalence of sickle cell disease in tribal peoples of Valsad district region in Gujarat,India. Tropical Journal of Pathology and Microbiology, 4(1), 109-112. https://doi.org/10.17511/jopm.2018.i01.19