Clinico pathological study of thyroid lesions in a rural tertiary care centre
Dr Sheela Lakshman rao Gaikwad

Department of Pathology, SRTR Government Medical College, Ambajogai, Maharashtra, India

Dr. Santosh Baliram Bhokare

Department of Pathology, SRTR Government Medical College, Ambajogai, Maharashtra, India

Dr.Vaibhav Vilas Deshmukh

Department of Pathology, SRTR Government Medical College, Ambajogai, Maharashtra, India

Dr Mona Dhillon

Department of Pathology, SRTR Government Medical College, Ambajogai, Maharashtra, India

Dr Shivkanya Marotrao Kale

Department of Pathology, SRTR Government Medical College, Ambajogai, Maharashtra, India
Keywords:
thyroid, malignancy, hyperplastic
Abstract
Objective: Present study is clinicopathological study of thyroid lesions in a rural tertiary care Centre. Thyroid lesions are fairly common worldwide and are commonly encountered in clinical practice in rural areas also.It causes more concern because of high probability of malignancy in solitary thyroid nodules.
Materials and Methods: Prospective study done in Dept. of pathology over a period of 6 months in a rural tertiary care centre. It included clinical examination, routine investigations and histopathological diagnosis.
Result: In our study of 40 cases, 31 were diagnosed as non-neoplastic and 9 as neoplastic. Most common clinical presentation was midline neck swelling, commonly on right side and majority of patients were diagnosed with colloid goitre (62.5%) followed by multinodular goitre (20%) on ultrasonography. The non-neoplastic to neoplastic ratio of 3.4:1.with female to male ratio of 19:1. Colloid goitre was the most common non neoplastic lesion and follicular adenoma was the most common neoplastic lesion.
Conclusion: In current study conducted in a rural tertiary care centre, thyroid lesions were common in age group of 3rd to 5th decade with female predominance. Benign lesions were common than neoplastic lesions. Histopathological diagnosis of thyroid lesions is important for early diagnosis and treatment of neoplastic lesions.
Downloads
Download data is not yet available.
References
1. Tsegaye, B., & Ergete, W. Histopathologic pattern of thyroid disease. East African Medical Journal, 2003;80(10), 525–528. http://doi.org/10.4314/eamj.v80i10.8755.

2. Burch, H. B., Burman, K. D., Reed, H. L., Buckner, L., Raber, T., & Ownbey, J. L. Fine needle aspiration of thyroid nodules: Determinants of insufficiency rate and malignancy yield at thyroidectomy. Acta Cytologica, 1996; 40(6), 1176–1183. http://doi.org/10.1159/000333977. [PubMed]

3. Gharib, H., &Goellner, J. R. Fine-needle aspiration biopsy of the thyroid: An appraisal. Annals of Internal Medicine.1993; http://doi.org/10.7326/0003-4819-118-4-199302150-00007.

4. Gupta A, Jaipal D, Kulhari S, Gupta N. Histopathological study of thyroid lesions and correlation with ultrasonography and thyroid profile in western zone of Rajasthan, India. Int J Res Med Sci 2016; 4:1204-8.

5. Ananthakrishnan N, Rao KM, Narasimhans R, Veliath, Smilet SR, Jagadish S. The Single Thyroid Nodule: A South Indian Profile of 503 Patients with Special Reference to Incidence of Malignancy. Indian J Surg. 1993; 55(10):487-92. [PubMed]

6. Baloch, Z. W., & Livolsi, V. A. Pathology of Thyroid and Parathyroid Disease. In Stenberg's d Diagnostic Surgical Pathology 2015. (pp. 533–594). [PubMed]

7. Chowdhary Jyoti, A study of thyroid nodules: Diagnostic correlation between fine needle aspiration cytology and histopathology; J Indian Med Assoc 2008; l06 (6): 389-390.

8. Hanumanthappa M. B., Gopinathan S., Rithin Suvarna, Guruprasad Rai D., Gautham Shetty. The Incidence of Malignancy in Multi-nodular Goitre: A Prospective Study at a Tertiary Academic Centre. Journal of Clinical and Diagnostic Research. 2012; 6(2): 267-270.

9. Akerman Mans, Tennval Ian, Biorklund Anders Martensson Hans, Moller Torgil. Sensitivity& Specificity of Fine Needle Aspiration Cytology in the diagnosis of Tumors of thyroid Gland, Acta cytological 1985; 29: 850 - 854. [PubMed]

10. Mazzaferri E.L. Management of Solitary Thyroid Nodule (Current concepts) The New England Journal of Medicine 1995; 328(8):553-559.

11. Prakash A, Moulik BK, Sharma LK, Kapur M, Poddar PK. Carcinoma of thyroid gland. A clinical study. Ind J Surg. 1974; 43:409-16.

12. Godinho-Matos L, Kocjan G, Kurtz A. Contribution of fine needle aspiration cytology to diagnosis and management of thyroid disease. J ClinPathol. 1992; 45:391-5.

13. K.F. Magdalene, Jose Swetha, Navya Narayanan, B Sumangala. Histopathological study of thyroid lesions in a tertiary care center in coastal belt of South India. Trop J Path Micro 2017; 3(1):77-83.doi: 10.17511/jopm.2017.i1.14.

14. Darwish, A. H., Sindi, K. A. Al, &Kafsi, J. El. Bahrain Med Bull 2006; 28(4): 4–9.

15. Borsaikia K, Patar M.Clinicopathological Study of Thyroid Swellings with Some Emphasis on Geographical and Community Distribution: A Hospital Based Analysis. Bengal Journal of Otolaryngology and Head Neck Surgery 2016; 24(2):1-6.

6. A. Elhamel, I. H. Sharif and S. A. Wassef. The Pattern of Thyroid Disease in a Closed Community of 1-1/2 Million People. Saudi Medical Journal, Vol. 9, No. 5, 1988, pp. 481-484.

17. Ghafoor, A., Sajjad, M.,Akram, M., & Khan, Z. A. Histopathological Pattern of Enlarged Thyroid Gland. Gomal Journal of Medical Sciences, 2015;13(4), 2–5.

18. Patel, S., & Harish, S. Cytohistological Correlation of Thyroid Lesions with Special Emphasis on Recent Trends, 2016;3(10), 1–5.https://doi.org/10.17354/ijss/2016/19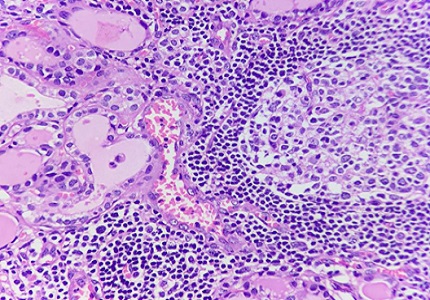 CITATION
DOI: 10.17511/jopm.2018.i01.07
How to Cite
Dr Sheela Lakshman rao Gaikwad, Dr. Santosh Baliram Bhokare, Dr.Vaibhav Vilas Deshmukh, Dr Mona Dhillon, & Dr Shivkanya Marotrao Kale. (2018). Clinico pathological study of thyroid lesions in a rural tertiary care centre. Tropical Journal of Pathology and Microbiology, 4(1), 40-45. https://doi.org/10.17511/jopm.2018.i01.07