Analysis of factors affecting the semen pathology i n male infertility
Dr. Hetal Kumari Kishor Bhai Tandel

Department of Pathology, GMERS Medical College, Valsad, Gujarat, India

Dr. Yogita Kumari Manilal Patel

Department of Pathology, GMERS Medical College, Valsad, Gujarat, India
Keywords:
Semen analysis, Smoking, Alcohol, Obesity, male Infertility
Abstract
Background: Abnormalities in the male are the sole cause of infertility in approximately 20% of infertile couple and important contributing factor in another 20-40% of couple with reproductive failure. Despite our ability to assess sperm quality through a semen analysis methodology harmonized across laboratories, the use of these parameters cannot precisely and accurately predict the fertility of a man presenting to a clinician.
Objectives: to evaluate various factors for male infertility and correlate various factors which affect the semen quality.
Methodology: It was a prospective observational study done over a period of two years. Semen was examined for physical appearance, viscosity, volume, pH, sperm motility, biochemical test fructose, sperm count and the morphology for sperm was done.
Results: 84% patients were presented as primary infertility and 16 % presented as secondary infertility. 35% of patients had oligozoospermia, 42.5% patients had oligoazoospermia and 17% of patients had azoospermia. Only 35 out of 118 smoker had >50% motility while 25 had motility of <5%. Also teratozoospermia dominated in alcoholics [65(32.5%)]. 25 out of 60 obese patients had sperm motility < 5%. While 10 out of 70 overweight and 5 out of 70 normal weight patients had sperm motility <5%.
Conclusion: Smoking and alcohol decrease fertility by decreasing sperm count, motility and also by changing the morphology of sperm. Obesity also directly contributes in the fertility of a person by altering the hormonal status of patients.
Downloads
Download data is not yet available.
References
1. Bayer, SR, Alper, MM, Penzias, AS, The Boston IVF handbook of infertility: a practical guide for practitioners who care for infertile couples. 2nd ed. London: Informa healthcare; 2007. p259.

2. Manson MC. Male infertility-men talking. London: Routledge;1993. p211.

3. Ring & scragg ,Rowe PJ, Comhaire FH, Hargreave TB, Mahmoud AM. WHO manual for the standardized investigation and diagnosis of the infertile male. UK: Cambridge University press; 2000. p91.

4. Fritz MA, Speroff L. Clinical gynecologic endocrinology and infertility. Lippincot Williams Wilkins: Philadelphia. 2012. P. 1266-1275.

5. Saxena SC. Proceedings of the all India obstetrics and gynaecological congress 1973.

6. Osegbe DN, Amaku EO.Semen features of 596 truly infertile men. Eur Urol. 1987;13(3):169-73. [PubMed]

7. Mclane. Parameters of male infertility. H.P. Publishing Co: New York, 1973.

8. Macleod J. The semen examination. clinical orbs and gynaec1965;8:115.

9. Zukerman Z, Rodriguez-Rigau LJ, Smith KD, Steinberger E. Frequency distribution of sperm counts in fertile and infertile males. FertilSteril. 1977 Dec;28(12):1310-3. [PubMed]

10. Zhang JP, Meng QY, Wang Q, Zhang LJ, Mao YL, Sun ZX. Effect of smoking on semen quality of infertile men in Shandong, China. Asian J Androl. 2000 Jun;2(2):143-6.

11. Villalta, J., Ballesca, J.L., Nicolas, J.M., Martinez de Osaba, M.J., Antunez, E.,Pimentel, C. Testicular function in asymptomatic chronic alcoholics(relation to ethanol intake) . Alcohol ClinExp Res. 1997;21:128.

12. Kort HI, Massey JB, Elsner CW, Mitchell-Leef D, Shapiro DB, Witt MA, Roudebush WE. Impact of body mass index values on sperm quantity and quality. J Androl. 2006 May-Jun;27(3):450-2. Epub 2005 Dec 8.

13. Nistal M, Paniagua R, Riestra ML, Reyes-Múgica M, Cajaiba MM. Bilateral prepubertal testicular biopsies predict significance of cryptorchidism-associated mixed testicular atrophy, and allow assessment of fertility. Am J SurgPathol. 2007 Aug;31(8):1269-76. [PubMed]

14. Al-Ali BM, Marszalek M, Shamloul R, Pummer K, Trummer H. Clinical parameters and semen analysis in 716 Austrian patients with varicocele. Urology. 2010;75:1069– 1073.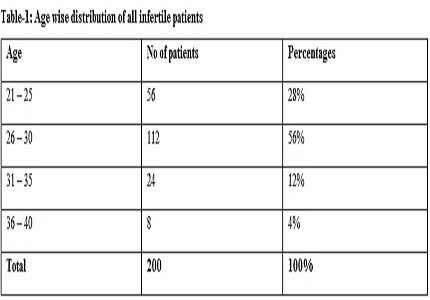 CITATION
DOI: 10.17511/jopm.2018.i01.03
How to Cite
Dr. Hetal Kumari Kishor Bhai Tandel, & Dr. Yogita Kumari Manilal Patel. (2019). Analysis of factors affecting the semen pathology i n male infertility. Tropical Journal of Pathology and Microbiology, 4(1), 14-21. https://doi.org/10.17511/jopm.2018.i01.03